Are you a serious Roger Federer fan? Then you might want to check out the Roger Federer collection as auctioned by Christie's.
The Roger Federer collection will be auctioned by Christie's and sold in benefit of The Roger Federer Foundation and comprises 20 prestigious lots, each signed and celebrating one of Roger Federer's 20 record-breaking Grand Slam tennis titles. The Christie's auction will take place in London and feature racquets and apparel from Roger's grand slam winning history, but there will also be an online auction where you can bid for slightly more "affordable" items.
From Christie's website: The sale has been curated to appeal to Federer fans around the world and Roger has personally expressed his wish to include accessible estimates starting from £100. Browse and bid on lots including tennis rackets signed by the Swiss icon interspersed with shirts, caps, wristbands, towels, and a famous Wimbledon blazer.
The Roger Federer Collection – Own a piece of Fedstory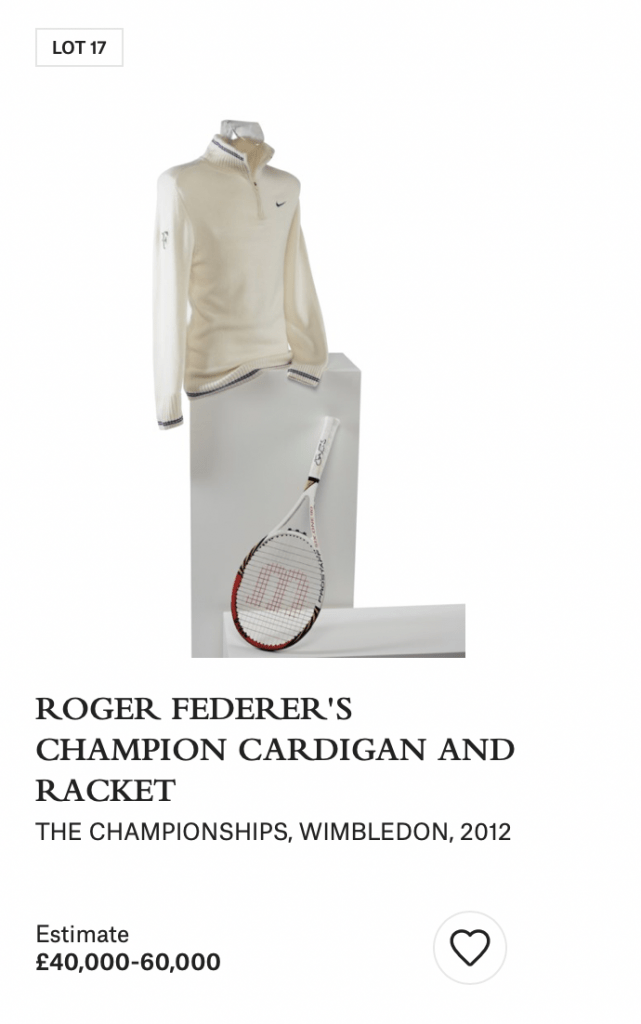 Even if he doesn't retire with the GOAT record, Federer will likely remain the most captivating and powerful ambassador for the sport of tennis that has ever lived. His personal brand translates across nations, sports and hobbies and is as strong as that of pretty much any legendary athlete today. There are many die-hard Federer fans desperate to own a piece of Federer's history at the slams and these auctions are a chance to do so while contributing to the Roger Federer Foundation, which supports educational projects in southern Africa and Switzerland.
The standard auction will include 20 lots from his 20 grand slam titles and will be held in London on June 23rd. Expect items to go for prices in the ballpark of 50 000 GBP or more. This will include a racquet used in the Wimbledon final 2007 and his shoes from the Roland Garros victory in 2009.
The online auction, which will take place between 23rd June until 14th of July, will include a wide variety of objects from the early 2000s until 2021. If you're a true Federer fan and got some extra cash to spare, this one is not something you'd want to miss.
What would be your dream Federer object to own?