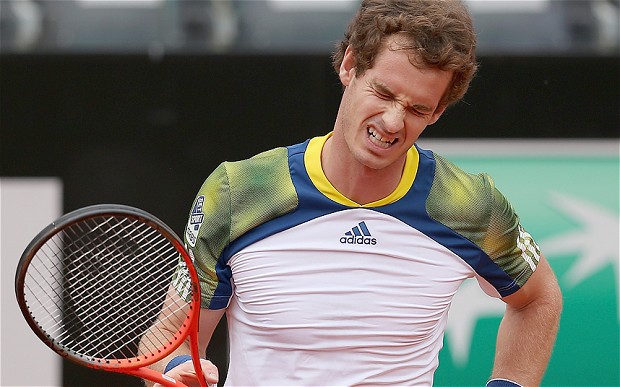 Yes. You have to ask that question after the Wimbledon champion's pretty "miserable" start to 2014. He's yet to win a title and 18-7 is not inspiring from a two-grand-slam-man who's been steady within the top 5 for years (now #8).
Of course, he was injured so that might be lingering. He split with his former coach Ivan Lendl after a good run together and rumours go around that hothead John McEnroe might be his next coach. Even in a trend of ex-stars helping current stars, this sounds a bit silly. John McEnroe knows a lot about tennis, but I don't think he'll provide the needed calm and confidence that Murray needs to get into second gear know that he's accomplished his life-time goal of winning Wimbledon.
And speaking of Wimbledon, is all the fizz out of the bottle now that the cork has popped? Has his hunger waned? Will he instead be paying more attention to hotels and possible marriages etc?
Andy Murray is a spectacular talent. He can do pretty much anything with a tennis ball, but his main issues has always been his attitude (he tends to get down on himself big time and could use a bit more "vamos!") and his passive game plan. Just retrieving your opponent's shots with a different spin or pace doesn't seem to be enough these days. The tour has matured a lot in a couple of years and we see more complete players than ever before. So you need to take the chances you're given and Murray hasn't been good enough at that lately.
Yesterday's loss to Santiago Giraldo 6-3 6-2 wasn't even unexpected. I actually thought he would lose against aggressive clay-demon Almagro in the round before that, but no matter what, it's clear that Murray's mind isn't clear on what he needs to do to get his "mojo" back.
Okay, in his favour, clay has never been a Murray mound, but he needs to start collecting some wins just to build confidence going into the short grass season where he is one of the favourites for Wimbledon still.
The question is if he can do it. Right now, I'm not so sure.