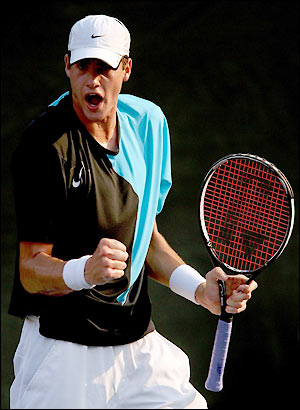 American tennis player John Isner is 2,06 meters above the ocean and weighs 110 kg. Obviously he has a good serve. But the rest? Pretty damn good too.
John Isner is one of those big players that has a big game, but also the feel and movement to back it up. Don't get me wrong, he will never move like David Ferrer, but he will pound groundstrokes past his head and he moves well enough to get to the net and finish the point off. That is why John Isner can be the next big thing in American tennis. Which is well needed.
I know who Sam Querrey is. He is good too. But I see an even higher level in John Isner, who packs more muscle, more power and a tougher mental game. In 2009 his was voted ATP most improved player and this year I think we will see why. There is simply not a guy on tour that this guy can't beat if on form and it will be interesting to see how he develops.
Today he is playing in the semi's in Belgrade. On clay! With Djokovic being out (he gave up against 18-year old countryman Krajinovic due illness and allergies after losing the first set) Isner is my favorite to win this tournament. Doing well on clay is excellent recognition of the big guy's big game.
What about Djokovic? Why is he so often ill and gives up matches? Is he afraid to lose? Is there something wrong with his conditioning? He is getting quite a reputation for being a quitter. Remember that press conference of Roddick's? If not, this shows why Roddick is the funniest press conference guy. Here it is: http://www.youtube.com/watch?v=RPgWoOon8-w
What do I want to say with this post? Watch out for John Isner. That boy got game, y' all!