There are always plenty of rumors going around on social media. One interesting question is: Will Kyrgios retire if he wins the U.S. Open?
Dennis and I get into this question and the more exciting one, who will be the next number one, on today's episode of the Tennisnerd podcast. You can listen to the episode titled: Will Kyrgios retire if he wins the U.S. Open? below.
I'm keen to hear what you think about this, but I assume we're on the same page. The answer for me is pretty simple: No, why would he? Kyrgios has had the best season in his career and is playing the most level-headed, confident and put-together tennis of his life. He won the Australian Open doubles title, reached the Wimbledon final, won the ATP 500 in Washington, D.C., and knows he will get a decent break after the last grand slam of the year. Retiring seems quite illogical.
He has also already said in interviews that his fiance Costeen Hatzi wants to see Paris, so he is planning to play in the French Open next year. On a more serious note, he has also commented in interviews and press conferences that he has battled many mental ghosts and demons in the past, and now he is feeling better. We can all tell by witnessing his results on the tennis court.
Kyrgios is unpredictable, but not that unpredictable, in my opinion. And for the entertainment value, he brings to the sport. I sincerely hope his comments were just a tongue-in-cheek joke.
Who will be the new world number one?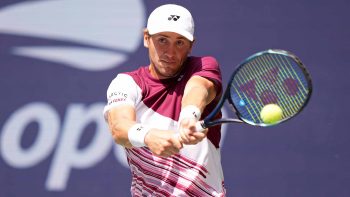 Casper Ruud (click to check out his gear at TW) has just beaten Matteo Berrettini (click to find out what racquet he uses) in the quarter-finals, which means he is in the running for being the world number one! He needs to reach the final and not face Carlos Alcaraz for that to happen. If he plays Alcaraz in the final, the man who wins that match will win his first grand slam and be crowned world number one. Wouldn't that be something?
If neither player reaches the final, Nadal will take over the top position in the rankings on Monday. Exciting times on the tennis tour!
In the podcast, we don't only talk about these topics but give our predictions about the remaining matches and discuss the recent results.
Do you have any questions you want us or me to tackle for future podcasts?