He covered tennis for 30 years for the New York Times and has written the bestselling Federer biography called "The Master". This is my podcast with Christopher Clarey.
Podcast with Christopher Clarey
This is something a little special for Federer fans. First of all, I want to say that if you haven't read "The Master", which is Clarey's excellent biography about the life and career of Roger Federer, then you should! It's a bestseller for a reason. Here is a link to The Master. Clarey has unique insight into the life of Federer, after having interviewed him for 20 years as a part of his work for the New York Times. Clarey did more than 30 years of sportswriting for the New York Times, but has now left the paper and is focusing on his next book, called The Warrior, which will deal with the life and career of Rafa Nadal.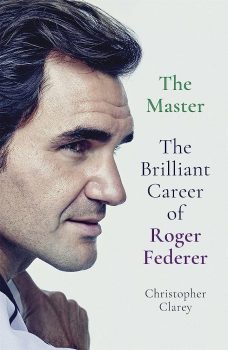 If you want to keep up with Clarey's writing, you can still do so on his Substack.
Listen to our podcast
You can listen to the podcast in the embedded player below, or on Spotify, iTunes, YouTube, or your favorite podcast player.
In this conversation, we obviously talk about The Master and his work with the upcoming book. Then we get into tennis and media, if rule changes are necessary, how tennis journalism has changed, going to school with Barack Obama and even racquets towards the end. I hope you like it and that you subscribe to the podcast. Below you can find the timestamps.
00:00 Intro and The Master and The Warrior
03:48 Twenty years of interviewing Roger
12:19 What magic ingredient is key in making a GOAT?
14:38 How far can Alcaraz go?
18:44 Tennis has changed during the years you have covered it?
23:10 Is Tennis getting older?
27:17 What do you think of Break Point? (We get into the weeds about tennis media here)
37:17 Tennis pros and social media
40:30 Chris' tennis background
43:21 What do you think about padel?
48:23 How is doubles doing in today's game?
52:22 Does the game of tennis need format changes?
57:29 How is your life during a Grand Slam like the French Open?
1:01:45 Schoolmates  with Barack Obama
1:03:55 Any deadline for the Rafa book?
1:05:10 Chris asks me about my racquet addiction and we get into racquet stuff, Rafa's racquet and so on…