This is quite provocative (like most headlines on the Internet), but it came up during the latest episode of the podcast. Why not doubles?
Why not doubles?
The question is very open and unspecific. But it can encapsulate many valid points. Dennis Timar and I wondered why some players don't go all in on doubles instead of struggling in singles. Two names that came up are Fabio Fognini and Jack Sock. Fabio and Jack seem to have the best times in their singles careers behind them, but they are also great doubles players. Sock is arguably one of the best doubles players ever, but Fabio's results as a doubles team with Simone Bolelli are also impressive.
Yes, you don't make nearly the same amount of money in doubles, but if you lose your first match in singles and go far in the doubles tournament, they start to line up. You wonder why players who have been around for a while and struggle on the singles tour don't just focus on doubles. It may not be feasible for them, but it's worth asking the question.
Doubles deserve a bit more attention in general. And you wonder, with the growth of padel tennis, where it is always doubles – could doubles tennis get its time in the sun? If you play doubles with, let's say, green balls, you get quite close to padel, and it is a far easier sport to get into.
Medvedev, Alcaraz and Swiatek
Last week, Medvedev collected trophies in Rotterdam, Alcaraz in Buenos Aires, and Swiatek in Doha. They all seemed quite outstanding compared to the rest of the field. Especially Iga, who only lost five games (!) on the road to the title! It was also nice to see Alcaraz back in action and straight to winning ways. On the podcast, we deem his chances of also winning the ATP 500 in Rio rather high. Alcaraz has said that he wants to get his number-one ranking spot back and then he needs to pick up some trophies.
Medvedev has had a bit of a slump recently, but it felt familiar to see him hoist the Rotterdam trophy. He played a shaky first match against Davidovich Fokina, but then came back in style and dominated the event. The most impressive player in the rest of the field was Jannik Sinner, who had a few good wins and took a set from Medvedev in the final.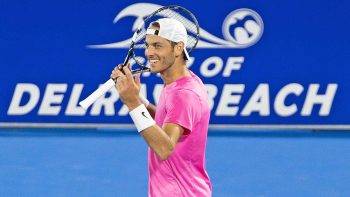 On the podcast, we also talk about Matija Pecotic, the "amateur" who beat Jack Sock in Delray Beach and went back to the office on Monday. I've seen Matija a few times around Malta, where he used to train as a younger man. The guy can play, so I am not shocked, although it is pretty cool to see an ex-pro beat a current pro.
Maybe it made Jack Sock ask himself, why not doubles?
Ps. You can also listen to the podcast via Podbean Ds.