If you're into predicting tennis matches or tennis draws or perhaps placing the odd bet on tennis, I'm sure you're checking the draw sheet. This is day 3 of Wimbledon 2017.
Here is a list of today's matches in Wimbledon 2017, courtesy of Bet365.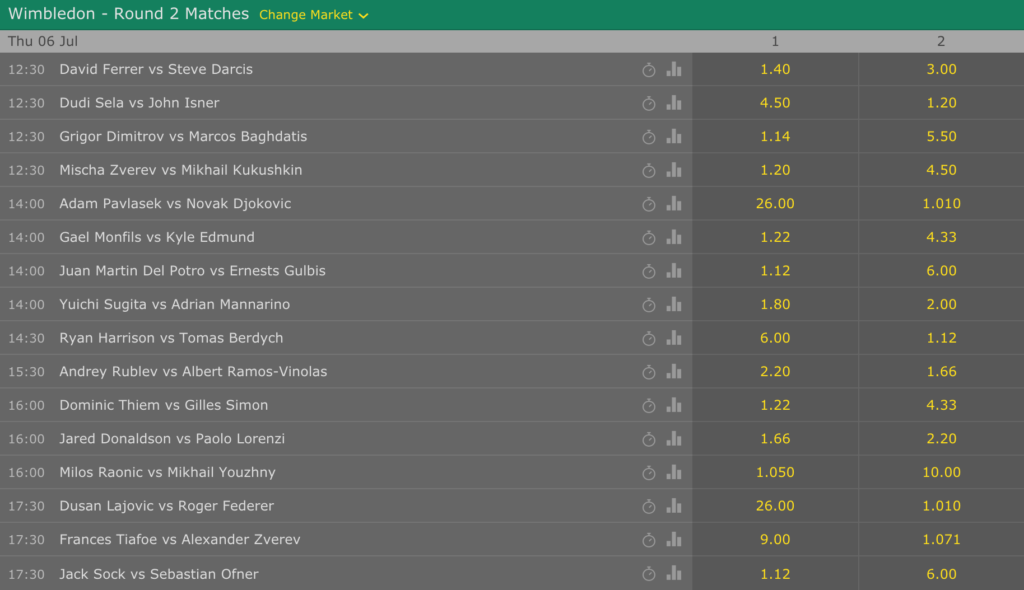 Let's run through them briefly and I'll give my thoughts and predictions. Click the name of the player to find out what racquet they play with. In some cases, there is no article yet.
David Ferrer vs Steve Darcis
Ferrer was amazing against Gasquet in the previous round and looks focused on reversing his disappointing form in 2017. Pretty sure he'll take this one.
Dudi Sela vs John Isner
This will be an interesting match to watch from a difference in height perspective. Dudi Sela is 5 foot 9 (175 cm) and John Isner is 6 foot 10 (208 cm). Isner's massive serving advantage will bring home the bacon in straightforward manner.
Grigor Dimitrov vs Marcos Baghdatis
When will Dimitrov realize his potential? We have been waiting. Despite the slight disappointment for such a graceful player – he has enough game to beat Baghdatis.
Mischa Zverev vs Mikhail Kukushkin
Not an easy match for the older Zverev brother, but he enjoys the grass and is in decent form. Might go five sets this one…
Adam Pavlasek vs Novak Djokovic
Not much to say about this one. Pavlasek is a talented, 22-year-old Czech player ranked 136 in the world. Novak Djokovic is Novak Djokovic.
Gael Monfils vs Kyle Edmund
A tricky match-up for the showman from France. A Brit on center court…but I think Edmund will be nervous and Monfils will win in four sets. But Edmund has a chance…
Juan-Martin Del Potro vs Ernests Gulbis
Del Potro looked sharp against Kokkinakis in the first round and should be the heavy favorite here unless something is wrong with his body.
Yuichi Sugita vs Adrian Mannarino
A rematch of the final in the ATP 250 in Antalya, Turkey. Sugita won then and has a solid grass court game. That's why he'll win again.
Ryan Harrison vs Tomas Berdych
Harrison impressed by beating Coric in round 1 but Berdych is one number too big.
Andrey Rublev vs Albert Ramos-Vinolas
Ramos-Vinolas is mainly a clay-courter, but is a tough fighter and I think he'll just be too strong for young Rublev.
Dominic Thiem vs Gilles Simon
Has Thiem figured out the grass to make a dent in the Wimbledon 2017 draw? Maybe. Enough to beat Simon at least.
Jared Donaldson vs Paolo Lorenzi
Tennis needs the next generation to do well so although this match is a coin-flip, I'd go with Donaldson. Lorenzi is a little bit too passive to reach success on grass.
Milos Raonic vs Mikhail Youzhny
Youzhny played a great first round, but it's not enough to stop Raonic and his missile serve.
Dusan Lajovic vs Roger Federer
No comment needed. If you're interested in Lajovic's racquet, he uses a Wilson Six One 95.
Frances Tiafoe vs Alexander Zverev
Next gen battle! But Zverev is older and has come further in his maturity as a tennis player. That's why he'll win, but maybe Tiafoe can snatch a set?
Jack Sock vs Sebastian Ofner
We all know Jack Sock can play a big game ,but who is Sebastian Ofner? He is a 21-year-old, 217-ranked, Austrian youngster. Talented, but not talented enough to beat Sock today.
What do you think about my above predictions? Am I delusional? Am I 100% correct? Please comment!
If you're into betting on tennis, I'd suggest three different options: Bet365 (Europe), Leo Vegas (Europe) or Bovada.lv (USA, Canada). All these sites have live betting, solid customer service and a vast selection to bet on. Bovada uses only Bitcoin however, so that's good to know.
PS. Never bet more than you can afford to lose and never heckle any players for a lost bet! The people that do that are absolute scumbags. DS.