The French Open 2017 starts tomorrow and we want to spice it up by trying to predict the draw. Would be nice to hear about your own French Open predictions in the comments below.
The draw for French Open 2017 is out and there are some blockbuster matches early on for the year's second slam. Let's have a look at a few of the key matches.
If you're interested in betting on tennis you can try Bet365 (Europe) or Bovada.lv (USA, Canada). Both sites have live betting, solid customer service and a vast selection to bet on. Bovada uses Bitcoin however, so that's good to know.
Back to the French Open 2017 draw. Here are my predictions:
FIRST HALF OF THE FRENCH OPEN 2017 DRAW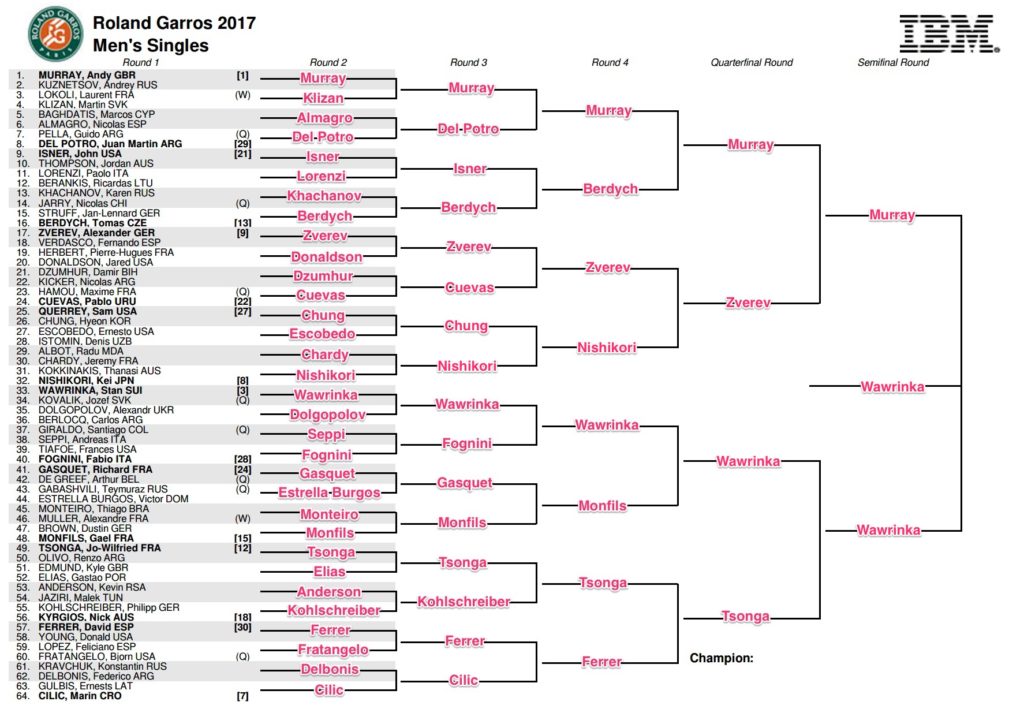 The big question in the first half of the French Open 2017 draw is if Andy Murray can find his form. As most people know he's had it quite rough the last couple of months and is looking for some well-needed confidence. When it comes to five sets however, I still think he's tough to beat and that's why I'll predict a semi-final for him.
My pick to reach the final is Stan Wawrinka who has just reached the final in Geneva and has a BIG clay court game as we all know. He has a tough road to the final with Fognini, Monfils and Tsonga (this is my guess) but he's a great grand slam player and in five sets he will be very tough to beat.
Alexander Zverev will otherwise be very interesting to follow. I think he'll go far but then again he has a very tough opponent in Pablo Cuevas already in round 3. If he gets through that one, I think he can take out Nishikori and possibly also Murray.
SECOND HALF OF THE FRENCH OPEN 2017 DRAW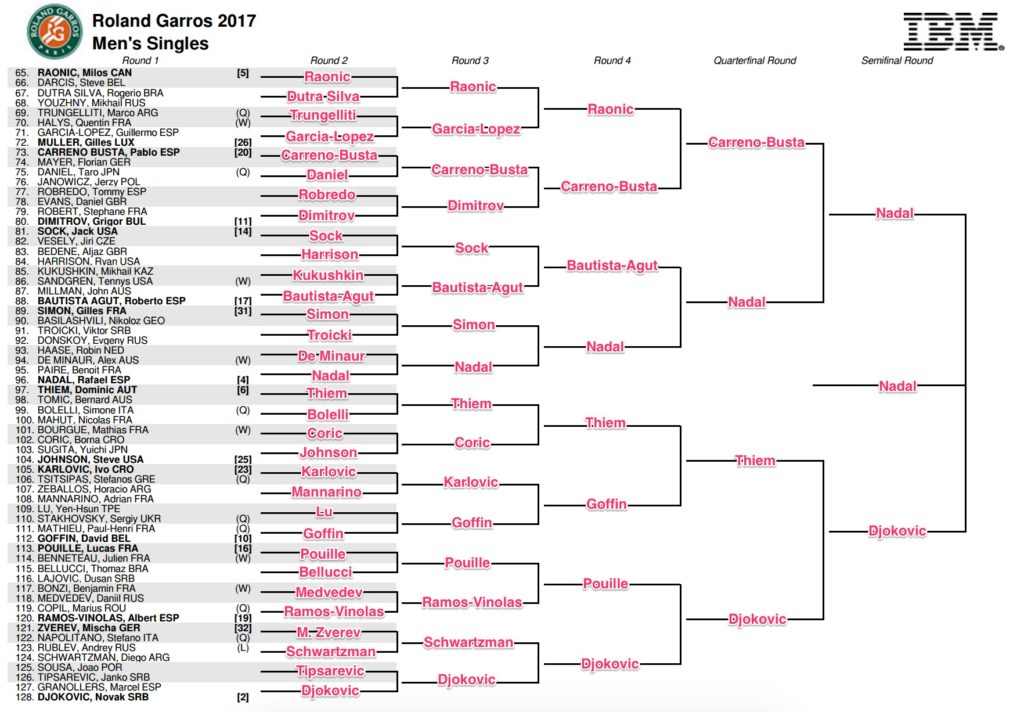 The second half of the draw is about three players in my mind: Novak Djokovic, Dominic Thiem and Rafael Nadal. Nadal has dominated the clay court season so far and should be the favourite to win in my mind, but Thiem has showed that he can beat him and Djokovic will always be dangerous.
There are a lot of dangerous Spaniards in this part of the draw besides Nadal: Bautista-Agut, Carreno-Busta and Ramos-Vinolas. Two other players to watch out for in the second half of the draw is David Goffin and Lucas Pouille. A question mark for me is how far Jack Sock can go. He has a solid clay court game, but somehow I think Bautista-Agut will be too difficult in the third round.
Who will be the champion after all is said and done? I think this Nadal's year. What do you guys think? Please comment and get a discussion going!