It's time for finals in Queens and Halle and we have two interesting match-ups to watch. Federer faces wunderkind Zverev and resurgent Feli Lopez is playing Cilic.
FEDERER VS ZVEREV IN HALLE FINAL
Federer's form hasn't been spellbinding so far but good enough to reach the final. Alexander Zverev has shown the rest of the tour that he's really growing into his big shoes of becoming a top ten ATP player. He's currently fifth in the race to London after Stan Wawrinka.
Can Zverev beat Federer in the final and thwart Swiss hopes of a ninth title in Halle? Very possibly. Federer hasn't been fantastic and Zverev should be inspired to play against the great champ in Germany. Will surely be a tough contest!
The bookies are aligned in their predictions: a Zverev win will pay out 3 times your money on and 1.40 on a Federer win at Bet365 (Europe), Leo Vegas (Europe) or Bovada.lv (USA, Canada).
Personally I think a Zverev bet might not be a bad idea. He is riding a wave of confidence and will enjoy the challenge of playing Federer in Halle. He also has a winning head-to-head against Federer as you can see in the stats below:
But despite Zverev's impressive form at the moment, I think Federer will find a way to win the title so the Tennisnerd pick is: Federer in three sets.
LOPEZ VS CILIC IN QUEENS FINAL
Feliciano Lopez has reached his second final in a row and is playing the best grass court tennis of his life. It is one of his career-long dreams to win in Queens and he will be focused and poised to play well in the Queens final against Marin Cilic.
A Lopez win in Queens will pay you 2.75 with Bet365 (Europe) and 2.85 with Leo Vegas (Europe) and a Cilic will pay out 1.44 at Bet365 (Europe) and 1.43 at Leo Vegas.
Let's have a look at the stats: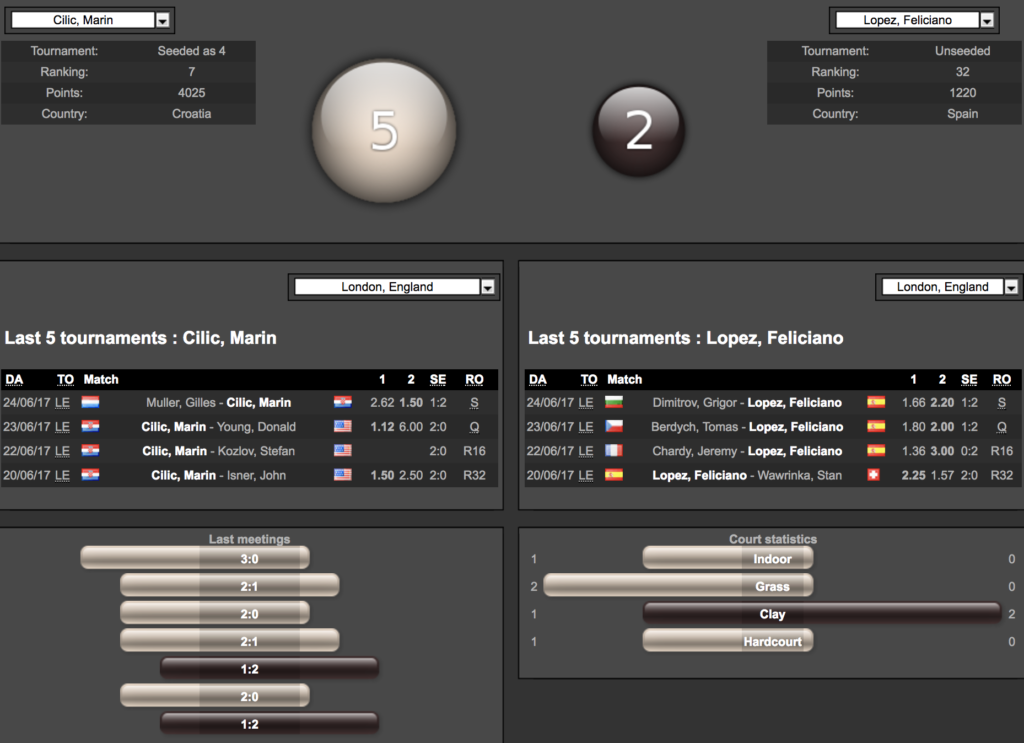 As you can see Cilic has quite an advantage in the Head-to-Head and has won their only two meetings on grass and the last four meetings in total. This should make him the favourite, which is clear in the odds on the match, but Lopez' impressive form at the moment and his desire for a Queens title (Cilic already has one), I think he has a very good chance at winning this match.
The Tennisnerd pick: Lopez in three sets.