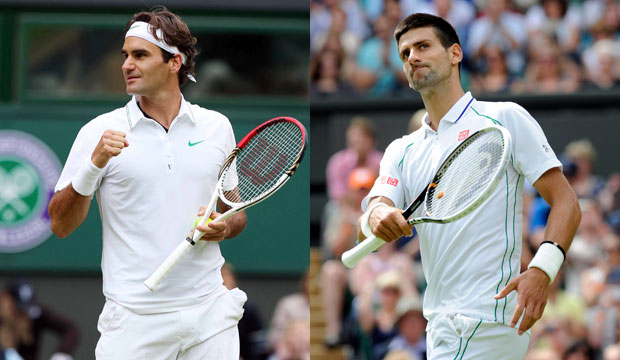 It's arguably the match of the year. With Nadal and Djokovic playing that one-sided quarterfinal at the French Open surely this must be the one to rule them all. After last year's five-setter it's hard to picture one of the players to walk away with this easily. But then again, if one were to do it, it would be Roger Federer.
Question is: did Federer peak one match too soon? Or did the royal beating he served to Murray work as a saver of energy and a hefty intimidation factor for Djokovic? Hard to say. Bookmakers put Djokovic as the slight favourite, but the odds did increase for him after Federer's semi-final. Then again, Djokovic is number one in the world and he will believe he can win this and should also be eager for some kind of a "revenge" after losing to Wawrinka in the French Open final.
Federer for sure needs to serve well and avoid getting stuck in lengthy baseline rallies. Djokovic on the other hand need to be quick to punish Federer's net-rushing and try to deter him from moving forwards as soon as he possibly can. There is always a risk against someone like Federer that you find yourself 3-0 and a double-break down with a bleak outlook for the rest of the match. The key in this match, I believe, is winning the first set. Getting that extra little wind in the sails will be crucial.
You can find their head-to-head stats and other computer-generated facts in many of the other tennis sites, I think we need to focus on what we know:
* Federer knows how to beat Djokovic and is in great form.
* He will want to win it before the fifth set – Djokovic is physically superior.
* The serve is the key to the match – Murray said he had never seen Federer serve better than against him in the semi-finals. Can he keep it up?
* Djokovic have to make sure not to get down on himself if he allows himself to fall behind on the scoreboard.
My pick: it's one of the most difficult ones so far. But my gut says it's Federer's turn this time.