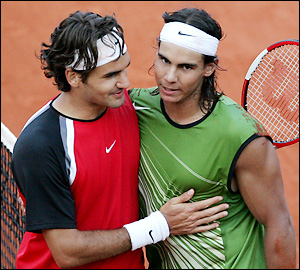 I am happy to announce that I was right in all my quarter-final bets/semi-final picks for the Madrid Masters. Federer managed to fight back after being a set behind against Gulbis. He looks more mentally ready now and seems to have that button he can switch on and off when a slam is drawing near. He is also lucky to play Ferrer in the semi. Ferrer is of course dangerous, he beat Murray, but he has 0-9 in head to head against the Fed express and you don't see him change that stat in this match. Ferrer just doesn't have enough power or shots to bother Federer, although he might take a set. So, Federer in the final!
Nadal is wasting no time in his matches. He is crushing everything. He looks fit and plays aggressively. Almagro is in great form but he won't even get a set against the king of clay. Remember that match 6-1 6-1 6-1 in the French Open 2008? This won't be as crushing, but a 6-4 6-4 is not a bad bet.
There are not that many interesting bets for the semis. But if all goes well we will have a very interesting Madrid final to look forward to. But I find it hard to see how anyone can threaten Nadal right now, not even Federer.