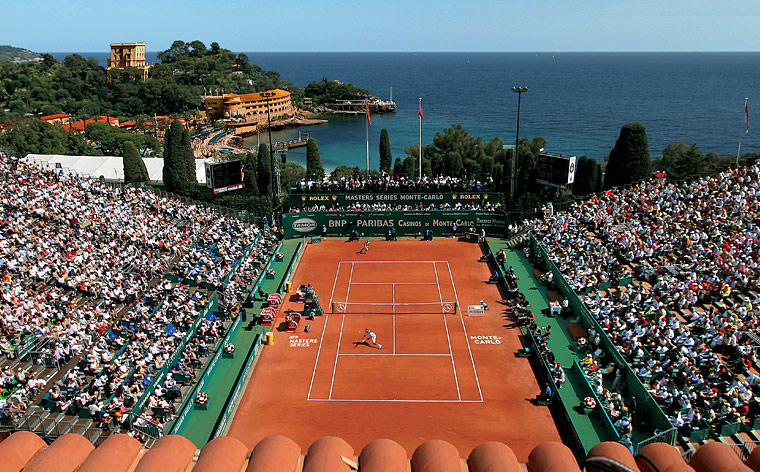 There a few really nice matches in today's Monte Carlo Masters. Let's have a look at the line-up.
Ljubicic vs Berdych
Berdych is the obvious favorite, but both players looked very good in the opening rounds and Ljubo is – surprisingly for his size – a very competent clay court player. I got pretty good odds on Ljubicic so decided to give it a shot, but I think Berdych might be too tough.
The H2H is 2-2, but they have never played on clay before.
Raonic vs Ferrer
Canadian youngster Milos Raonic is doing great strides this year, but against the ferociously fighting Ferrer he will have huge problems winning rallies from the back of the court. The "Maple Leaf Missile" as famous tennis coach Brad Gilbert calls him will have to rely almost solely on his monster serve and try to approach the net as often as possible. Ferrer in two relatively easy sets.
Nadal vs Gasquet
Baby Federer has been playing well of late but how can he even win a set against the clay court demon? Look out for some nice aggressive one-handed backhands for the Frenchman though.
Robredo vs Troicki
Really tough one to call. Robredo is an excellent clay courter who once bagged a Masters title in Hamburg, but nowadays is mostly forgotten among the Spanish armada of great tennis players. Troicki is an up-and-coming Serb who certainly has the game win some ATP 250 titles, but likely nothing bigger than that. Robredo's movement is better on clay so I would go with him in the end, but it might well take him three tough sets.
Keep an eye of that funky jump-serve motion of Troicki – don'try that at home kids!
Cilic vs Federer
The press grinds their teeth while waiting for the fall of the great Federer. I think they should hold their horses for a while more though as the mighty Swiss maestro seems to have no intention of leaving Nadal and Djokovic alone at the top. His impressive beat-down of competent claycourter Kohlschreiber in his first match should be sign that Federer is ready to play. Fed in two.
Gil vs Monfils
I don't have much to say about this one. Monfils likes it on the clay and Gil is not really close to his level on any surface. Look for some awkward sliding spaghetti leg positions from Monfie.
Melzer vs Almagro
Almagro always looks angry to me. I don't know why. Maybe he is pissed off at all the other surfaces because he can't seem to do well on anything but clay.
Melzer is a happy chap and before he was maybe to happy to play really well. Last year that changed with a victory against Nadal a Roland Garros semi etc and he really climbed the rankings. This year he is not on the level he wants to be yet and definitely on the clay level of Almagro. Almagro in two.
Murray vs Simon
Murray looked comfortable on court yesterday. For a change. This doesn't mean that outfoxing Gilles Simon will be easy. The Frenchman runs like Ferrer but lacks that deadly weapon that would make him win more matches. I have a feeling the Scot will take it in two if he can avoid going all grumpy on us.