The Wimbledon 2017 Draw is here and as usual, we try to predict the results. This time you'll see Rafa go out rather early and Murray and Federer play a final that Federer wins.
Yes, you read that correctly. Despite his stellar year with a grand slam final, two Masters titles and a tenth Roland Garros trophy, I feel that Rafa's big strokes and game style will continue to have a relatively hard time on the Wimbledon grass. Yes, he's won the prestigious grand slam title twice, but the last one came seven years ago and there are simply too many good grass court players for Nadal to go all the way. Do you disagree? Please comment on this post.
Here is the first half of the Wimbledon 2017 Draw with my predictions: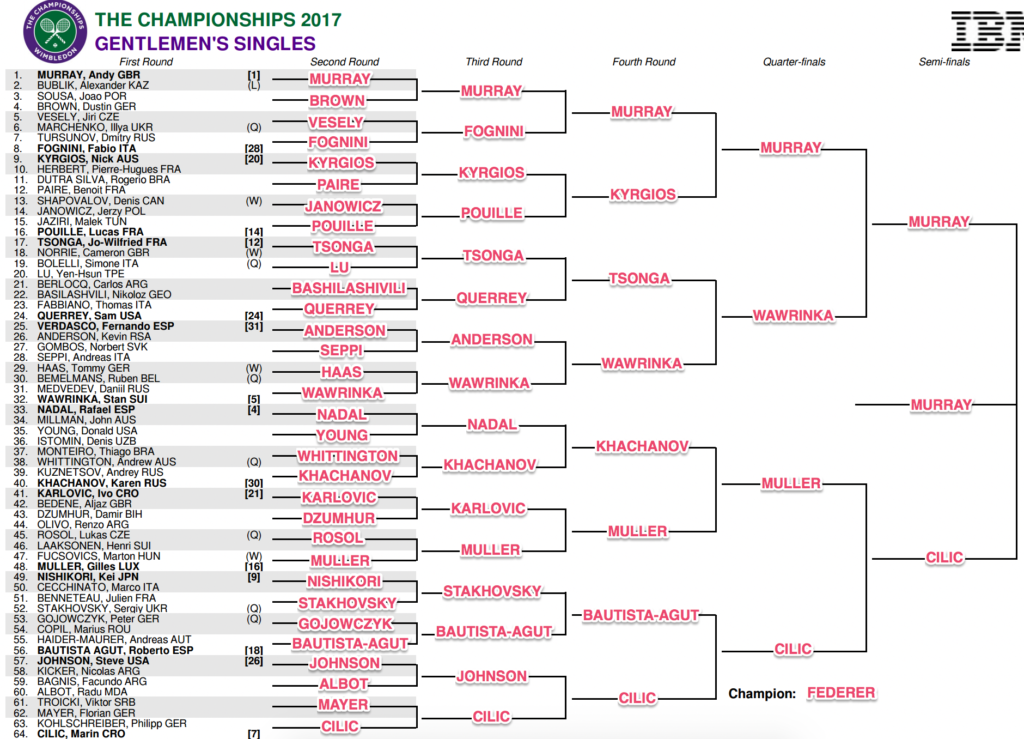 Andy Murray has won Wimbledon twice and despite injury problems and a rather lousy 2017 so far (with an early Queens exit), I think he's happy enough to be on the grass in front of the British crowd to take his way to another final. The biggest threat on the way is Wawrinka if the Swiss can get his game together and get past the nervous early rounds. We know that when Wawrinka gets into a rhythm in a slam, he's very difficult to beat.
Marin Cilic can play spectacular tennis at times but also seem quite nervous/uninspired at other times so his first match against talented German Philipp Kohlschreiber is crucial. If he wins that one he has a relatively friendly draw all the way to the quarter-finals where he can face Nadal, but as I wrote earlier I think Nadal will exist against a big hitter before that (Khachanov in this case) and this leaves the road open for Cilic to reach the semi-final where Murray willl be too tough.
Gilles Muller needs to be mentioned too. He's playing the tennis of his life quite late in the career and has won his two career titles in 2017. His game is perfect for grass and if he can avoid Nadal I think he can make it all the way to the quarter-finals.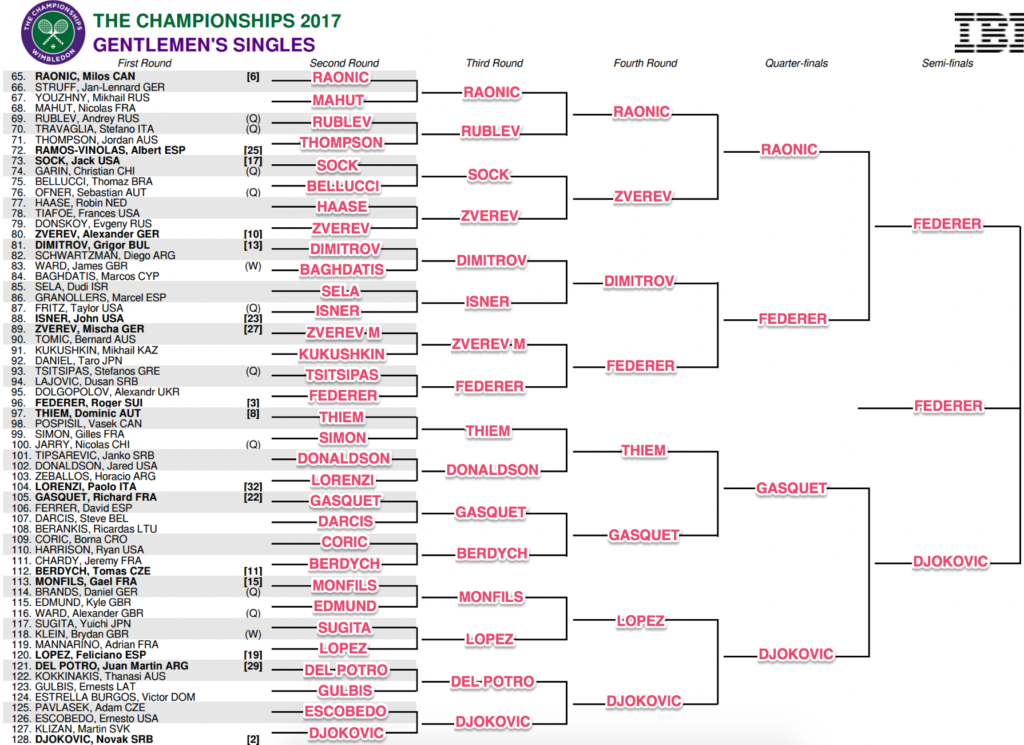 The second half of the draw is far tougher in my opinion. We can have a match like Djokovic vs Del Potro already in the third round. The draw is simply full of dangerous players. Still, I think Federer, in his current form, should be able to move through the draw relatively comfortable before a tough semi-final against Djokovic and a reprise final from 2012 vs Murray. Dimitrov likes the grass, but he's simply not confident enough to beat Federer.
How far can youngsters Thiem and A Zverev go? I think Thiem's swings are too big (meaning his game is more suitable for a clay court) and he hasn't been able to make the necessary adjustments to play successfully on grass yet (okay, he won Stuttgart in 2016, but to reach far in Wimbledon is another level). Zverev is the most successful of the next generation with a Masters title, but he had some injury concerns before Wimbledon and I think those will hamper him. Same goes for Raonic who has struggled to keep his body healthy, but his serve bites well on the grass and I think as long as he's relatively healthy he can reach the quarters.
Richard Gasquet is perhaps my surprising pick to go far on this side of the draw, but he normally plays well on grass and not many expect him to reach the semi-finals which is why I think he's the dark horse in the draw. Another player you need to watch out for is Feliciano Lopez who won Queens and reached the final in Stuttgart. He's playing the best tennis of his career and will be a test even for Djokovic.
Djokovic's success in this year's Wimbledon is difficult to predict. Like Murray, he's had a rough year by his standards, but now he's healthy and has played well in Eastbourne. Also, the pressure is more on Federer and Nadal this year which is why I think he'll play better than many expect. I don't think it's enough to go all the way, but I would be surprised if Djokovic doesn't reach the semi-finals.
What do you think of these predictions? Do you have a different opinion? Please share in the comments. And if you like betting on tennis (please do it responsibly), check out our betting friends Bet365 (Europe), Leo Vegas (Europe) or Bovada.lv (USA, Canada). All of them offer betting on the winner of the tournament as well as live betting on the matches. Betting on tennis can be a fun way to inject some extra excitement into a match.