Like I've talked about in a previous post I do a Wimbledon 2021 Daily Vlog covering my commentary around results and predictions.
A Wimbledon 2021 daily vlog is not my usual type of content, but I thought it would be fun to cover the event really closely this year because it is the most prestigious grand slam and it was canceled last year. It also feels like a more normal event than most this year because a decent-sized crowd is allowed inside the stadium. The Covid-19-influenced tournaments have always felt a bit weird due to the lack of crowds.
The number of matches played in a grand slam tennis tournament every year is pretty bonkers. Just look at the results of  Day 4 at Wimbledon 2021.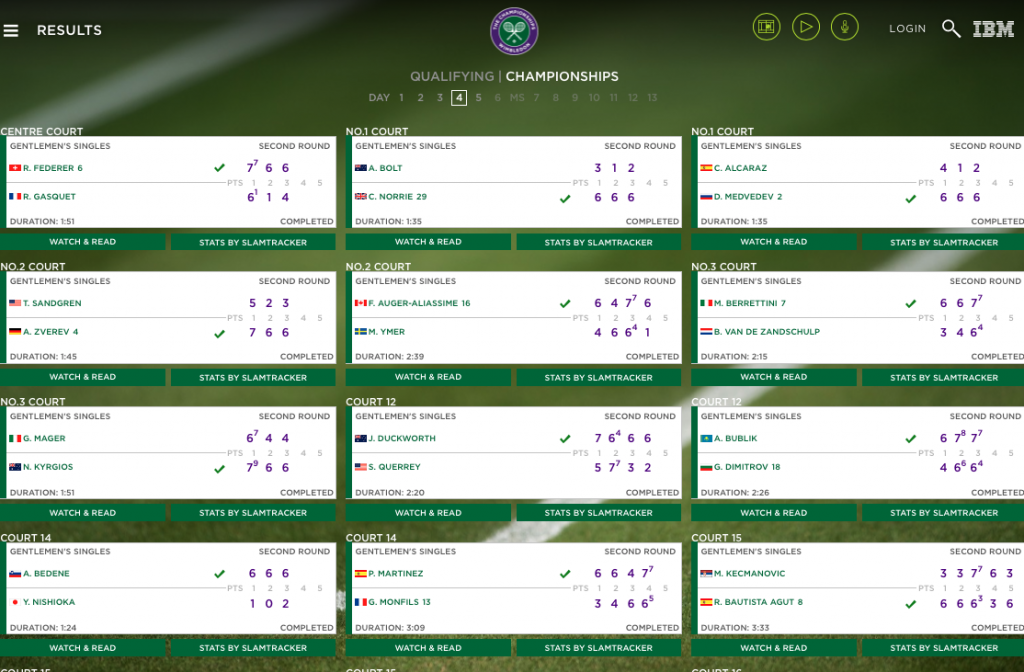 That's a remarkable amount of tennis matches!
If you want to listen to my thoughts about these matches, check out my daily vlog of day 4 below.
Wimbledon 2021 Daily Vlog Day 4
What I try to do in these vlogs is cover the results, but also look into future matches and give my predictions. Predicting tennis matches can be quite difficult, but the best of five format makes it a bit fairer and easier in my opinion. The more sets you play, the more likely it is that the best or most in-form player wins, right?
There have been no huge shocks in Wimbledon 2021 so far and nothing on day 4 really surprised me either. Federer, Zverev, Medvedev and Kyrgios move on pretty confidently along with Cam Norrie, Berrettini and Bublik. I think we will see tigther matches for these guys in the next couple of rounds. Federer plays Norrie, which might tough as Norrie is a very solid lefty, without any fantastic shots, but just an overall well-rounded game. Kyrgios will also have a tough one in Auger-Aliassime.
The action is heating up in Wimbledon 2021. It's been a great event so far and more to come!