Racquet companies and tennis pro's go to great lengths not to reveal their true racquet specifications, but is it really such a vital secret to keep? Since player specs are so personal what would it matter to other pro players?
You who have been following this blog has for sure seen the post "Tennis Racquets of the ATP Professionals" where I try to research and list the racquets and specs of the some of the best players in the world. This requires that either someone gets the actual racquet somehow, has close footage of the racquet, are in touch with stringers on the tour, etc etc. Most players are not keen on giving out their racquet specs, possibly due to that the companies are selling racquets that they "endorse" but actually doesn't use.
Yes, it might not be financially feasible to sell a hundred percent exact spec racquet of Stan Wawrinka or Novak Djokovic, but isn't it better to at least be honest that the Djokovic is actually playing something quite different than the HEAD Graphene Touch Speed Pro
 (click here for my review)? Djokovic can still openly endorse the model that is the closest to the racquet he uses?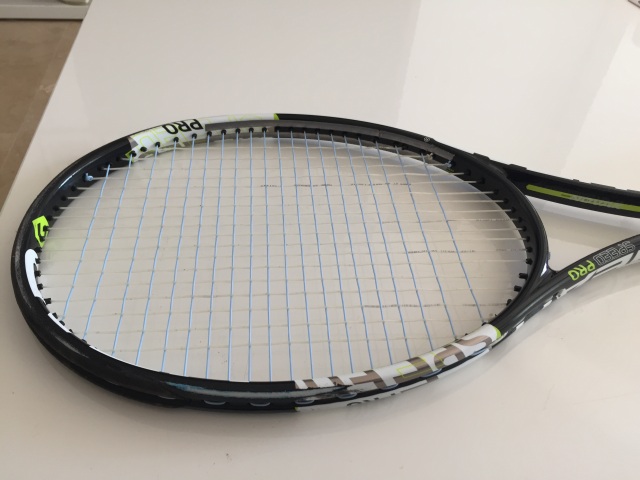 OR, they sell Novak's actual mold and let people customize it to their liking. They could give away the exact specs Novak plays with for the more adventurous types, but for 90% of recreational players it wouldn't make sense to play with these specs, but at least they could try it if they wanted to.
I don't really understand what the danger is among pro's to know each other's specs. You won't figure out weaknesses in a game based on highly personal racquet specifications so that must be a non-issue. And if the manufacturers perceive that it's going to be too difficult for most amateurs to play with the kind of low-powered control racquets that most professional tennis players use, I think we should let the customer decide that!
Most sources claim that even the Wilson Pro Staff Roger Federer Autograph
is quite different than the one that Federer actually uses. I'm not sure if that is true or not, I'm sure Roger has plenty of customization on his frame such as extra lead, a personal grip shape, etc, but the mold is hopefully the same. I would however not be surprised if Federer's racquet is more flexible than the 68 RA strung specs of the Wilson RF97A but that's also pure speculation.
I would love for more racquet brands to stay honest to their buyers. If Stan the Man uses the Yonex VCORE 95D, why not keep selling that racquet in new paint jobs like Wilson did with the Pro Staff? It just gets slightly ridiculous when even the players themselves can't be a hundred percent honest with what equipment they use. And why can't HEAD make the PT57A 16×19 available to the tennis playing population? Even if it cost 350 USD or something due to higher manufacturing costs, at least it would be far more honest and sympathetic than selling a HEAD Graphene Touch Radical Pro
that is lightyears away from what Andy Murray actually plays with!
I think there are ways to make this work financially and I sincerely hope that some racquet manufacturers start to take this situation seriously, because it's frankly quite silly.
What do you think of paint jobs and pro stocks? Can the racquet companies afford to be honest or would it hurt their bottom line? Please comment below.
***
Do you like Tennisnerd? Don't miss a word or video by stalking us on social media. Every like and follow is appreciated!

YouTube
Instagram
Twitter
Facebook Page
Racquet buying guides
Here is a great racquet buying guide to get you started.
What tennis racquet should I buy?
Top tennis racquets to buy right now
The Gear of the Year 2016
Tennis racquets for juniors
Tennis racquets for kids
Buy tennis gear
EU
Racquet Depot
Pro Direct Tennis