So before it's time to post more content about tennis racquets and strings, I wanted to give you a personal update on what's going on and also an invite to send over questions that might become posts.
I'm receiving lots of questions over Instagram, E-mail, the comments section, the Facebook page and YouTube. I appreciate the feedback, keep it coming! I try to answer everything as fast and as well as I can, but if it's taking a little long, please be patient, after all I'm only one guy! 🙂
Some of the questions I receive can be useful for a lot of players so if possible keep them open so I can either reply on social media or in the comments field. In some cases I'll turn a bunch of them into a post.
As some of you might know, I've moved back to Malta again after nine months in Stockholm. This means less indoor tennis and more outdoor footage. Racquet shipping might be slightly more complicated/expensive for the racquet manufacturers to send me review samples, but I hope it won't affect the racquet reviews coming in any big way.
I'm preparing to play more tournaments in 2018 and this is why I've committed to using the HEAD Liquidmetal Radical Tour for match play and although I've enjoyed recent tests from Luxilon Alu Power Ice, MSV strings
and RS Paris Octagon, but for now I play my best tennis with Solinco Hyper-G
strings. Although I'll keep testing to find that extra edge (and because it's fun of course!).
UPDATE ON ANGELL K7 RED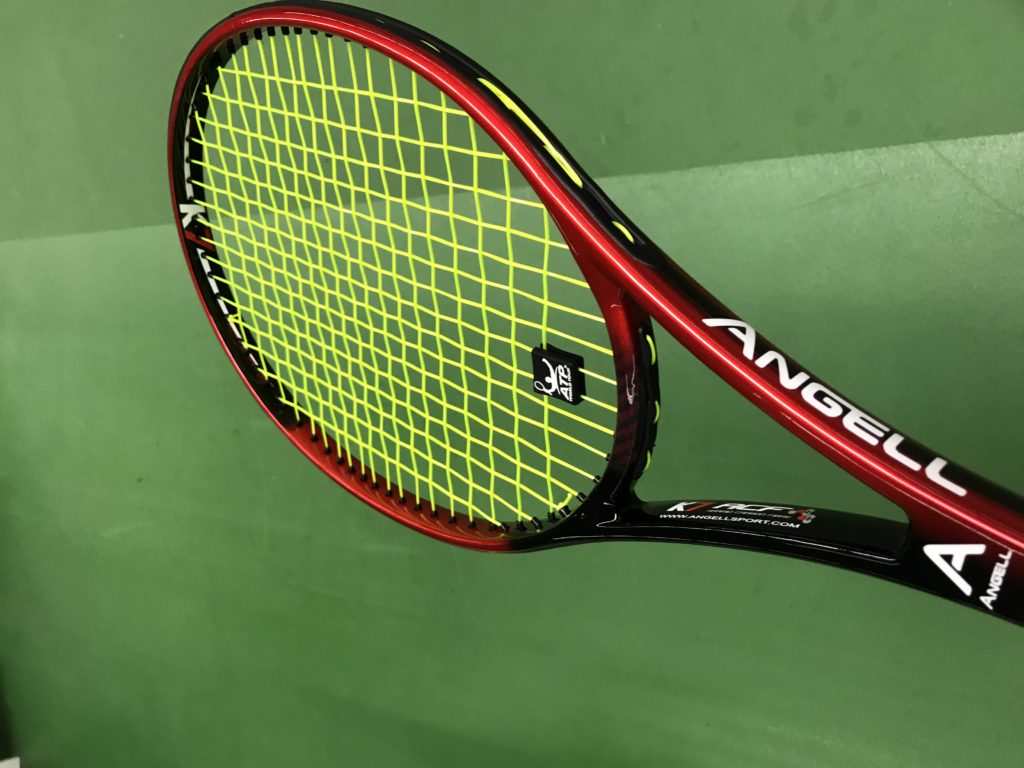 I get a lot of questions about the Angell K7 Red with a different set of strings. I'm currently testing it with another favorite string of mine: Volkl Cyclone
 (yellow). It's playing more controlled than the Weiss Cannon Ultra Cable so the Angell K7 Red is definitely a keeper in the racquet bag. I know you are more curious than that so I will give you a few more insights:
The K7 Red is definitely a flexible frame and you feel the flex more and more when you hit with it. This makes it supremely comfortable, but it doesn't mean it will work well for your game. Some players don't like flexy racquets at all and then the K7 Red would be a no-go. A crisper version of the K7 Red would be the Yonex DR 98
, which is also a great racquet.
Despite the flex, the K7 Red supplies decent power, so either you need a control focused string (Solinco Hyper-G, Luxilon Alu Power or Volkl Cyclone are all great options) or play a modern game with top spin ground strokes. I added some lead at 3 and 9 and didn't counterbalance in the handle, because I don't mind a not so head light balance, but that is of course up to your personal taste.
I won't switch to the K7 Red for competitive play, simply because I prefer 95 sq inch racquets that move faster through the air and am getting in tune with the HEAD LM Radical that I've been using for a while. However, if I would go up in head size, it is a top contender for my next racquet.
PLAYING WITH ROOSTERS IN MALTA
I've recorded two videos while in Malta. Below is the most recent one. Complete with rooster/chicken sounds and everything. Let me explain why: the Birkirkara Tennis Club is basically two courts on a farm ground surrounded by a farm animals (they are not loose, but I heard that a goat got loose once not long ago and ran around the courts!). That means that you need to be able to block out animal sounds if you play competitive matches there. A quite novel issue for tennis players,
More posts to come on Tennisnerd shortly. We're looking at the most exciting racquets out recently, the new Babolat Pure Drive series of racquets, we're looking at more racquet lingo and we're reviewing more stuff.
PLEASE CONTRIBUTE
Is there something else you want to see on tennisnerd? Don't hesitate to comment! I also welcome contributions to the website. Have you been testing product or are knowledgeable about a certain tennis subject. Don't hesitate to write! All contributions are appreciated and will be read by thousands of tennis nerds worldwide. (Also: contributing to tennisnerd can lead to review samples being sent your way later on)…
MY CURRENT GEAR
I recently got asked what gear I use right now so here's the current rundown:
HEAD LM Radical Tour (you know this by now, will stop repeating myself)
Solinco Hyper-G strings

Nike tennis apparel
(mostly)
Asics Gel Resolution 6 shoes
***
Do you like Tennisnerd? Don't miss a word or video by stalking us on social media. Every like and follow is appreciated!

YouTube
Instagram
Twitter
Facebook Page
Amazon Influencer
Buy tennis gear
EU
Racquet Depot
Pro Direct Tennis

USA
Tennis Express
Do It Tennis
Amazon.com
Racquet buying guides
Here is a great racquet buying guide to get you started.
What tennis racquet should I buy?
Top tennis racquets to buy right now
The Gear of the Year 2017
The Gear of the Year 2016
Tennis racquets for juniors
Tennis racquets for kids
Popular posts
What the ATP pros play
Questions about pro stock tennis racquets
Is a pro stock racquet better than a retail one?
Do professional players change racquets?
Racquet Commitment Issues