The Angell K7 Red is something completely new from Angell Tennis – 98 sq inch frame that is not a part of the Angell Custom program, but tailored towards a broader audience. This is the Angell K7 Red racquet review. 
If we look at the specs of the Angell K7 Red we can see that they are quite close to a Yonex Ezone 98
, or a Wilson Blade 98
or a Babolat Pure Strike 98
, but there is one outstanding factor here that really makes a difference and that is the pronounced flex of the Angell K7 Red. This flex contributes to a lovely feel that really made this an extremely enjoyable Angell K7 Red racquet review.
Check out the Angell K7 Red and other Angell tennis racquets here.
With an RA of 64 unstrung (becomes something like 61 RA strung, but has been measured as even lower), you really get something quite unique in the market place, a modern racquet with old school flex. All other Angell tennis custom frames (such as the Angell TC 97 Custom) have been foam filled for a more comfortable and solid feel, but the K7 Red is built with a mix of aramid and carbon fibre which makes a stable yet remarkably comfortable racquet.
Angell K7 Red Racquet Review – Specs
Not everyone wants a flexible tennis racquet however, in the contrary, a lot of players prefer the direct feedback and crisp nature of stiffer frames. Let's say you're loving the raw power feel of a Babolat Pure Drive
(read my review here), then the Angell K7 Red is likely not for you. But if you're a player that enjoys plush player frames but want to try something with a lower static weight, then this racquet could be your next best friend!
ANGELL K7 RED RACQUET SPECS
Headsize – 98
String Pattern – 16×19
Weight -305g / 10.7oz
Balance – 320mm / 7 pts HL
Stiffness – 64RA
Length – 27" / 685.8mm
Grip shape – B
Grip type – High Tack PU Black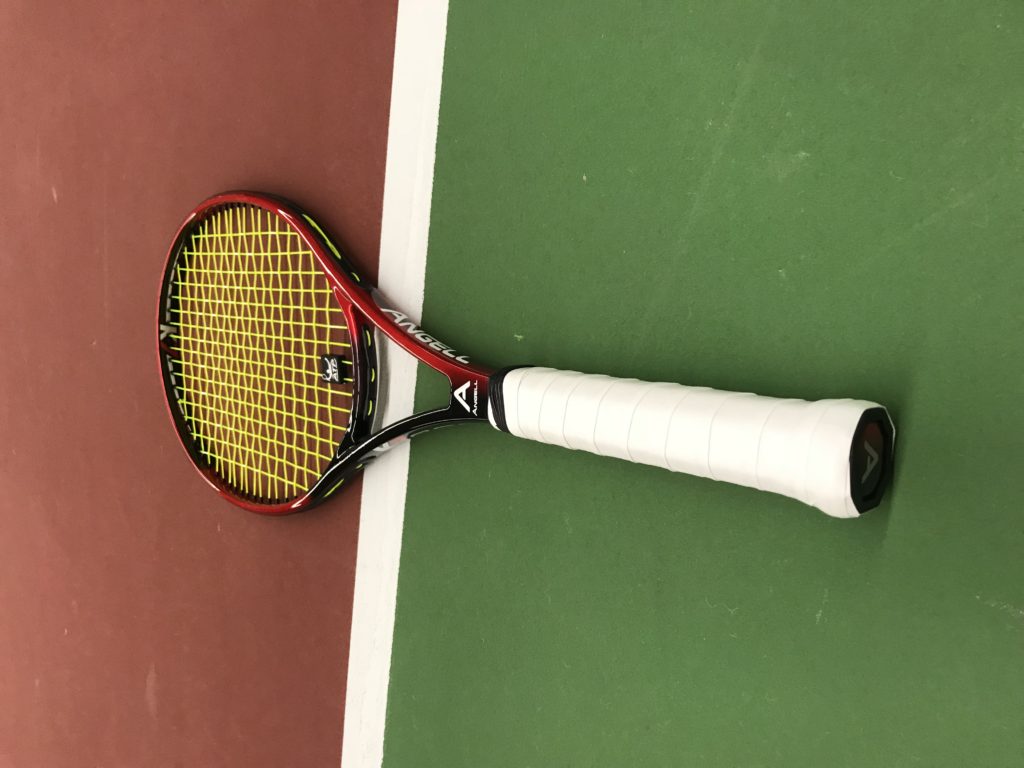 The weight of 305 grams unstrung is not a lot for a players' racquet but gives you the chance to add lead tape to find your ideal spec. I've been playing around quite a bit with lead
and think it plays great with strips at 3 and 9 (and a little on the handle) and a total weight of around 335 grams strung with over grip.
Angell K7 Red Racquet Review – Performance and ratings
Before we go into each area and how the racquet performs, below is my video review:
CONTROL 8/10
The Angell K7 Red is really a more control-oriented modern racquet. With the right string you really feel like you can attack the lines and go for your shots with confidence. I really like hitting aggressively with it on both wings and never felt that I had to hold back on my swings. The launch angle is thankfully low and the string bed response consistent with the right string.
POWER 7/10
I wouldn't say that the Angell K7 Red is a very low-powered racquet. With its open string pattern and large sweet spot it still can bring some heat to the ball. Comparing it to the Pure Strike and Blade 98, I would say it has a little less power however.
SPIN 8/10
I would never have expected the Angell K7 Red to be such a spin racquet, but the more than standard open string pattern really creates massive RPMs on the ball without having a high launch angle. The extra spin really helps when you go for your shots, but it does eat strings so I'd recommend going with something more durable in this racquet. Even a stiff poly string such as the Volkl Cyclone
or Luxilon Alu Power 
will be relatively comfortable in this racquet.
COMFORT 9/10
The standout feature of the Angell K7 Red is really the comfort. It's probably the most comfortable modern racquet I have ever hit with. Not sure if it's the construction of Aramid and Carbon fibre or just the low RA of 64, but it really is a good choice if you have sensitive arms.
TOUCH 8/10
The pronounced flex of the Angell K7 Red really creates the feeling that you can place the ball wherever you want. I loved it for drop shots and quirky slice shots, but struggled a little bit with on volleys. I guess it because I'm more used to a heavier, slightly stiffer racquet with a tight string pattern where the response will be stable and ultra predictable. But once I figured it out the ideal lead tape placement for me, it wasn't hard to get it dialled in. Still, it's not my favourite racquet for serve-and-volley tennis.
OVERALL 8.5/10
As you might have guessed, I have pretty much only positive things to say about this racquet from Angell. It's so refreshing to play with a modern racquet that is as flexible as this one. And it's not low-powered by any means! I found myself hitting plenty of winners with the racquet with the ball just dipping in a couple of inches from the line and the feeling that I can stay on the gas and play aggressively, is definitely a winner with me.
I've been playing with this racquet for quite a while now and could happily take it into a tournament. I might even be switching to it, but I still have a few interesting play-tests coming up before I can make that kind of commitment. No matter what, this is a brilliant racquet and something of a must try if you're open to racquets that can flex!
Buy your K7 Red or Angell custom tennis racquet here.
Are you tired of me writing and talking about this racquet now? Or do you have more questions? Please comment below!
***
Do you like Tennisnerd? Don't miss a word or video by stalking us on social media. Every like and follow is appreciated!

YouTube
Instagram
Twitter
Facebook Page
Amazon Influencer
Buy tennis gear
EU
Racquet Depot
Pro Direct Tennis

USA
Tennis Express
Do It Tennis
Amazon.com
Racquet buying guides
Here is a great racquet buying guide to get you started.
What tennis racquet should I buy?
Top tennis racquets to buy right now
The Gear of the Year 2017
The Gear of the Year 2016
Tennis racquets for juniors
Tennis racquets for kids
Popular posts
What the ATP pros play
Questions about pro stock tennis racquets
Is a pro stock racquet better than a retail one?
Do professional players change racquets?
Racquet Commitment Issues