Here is my Angell TC 95 racquet review. My Angell TC 95 specs: 18×20, 320 grams, 31,5 cm balance, 63 RA unstrung. I had it strung with MSV CO-FOCUS 1.18 at 23 kg and weighted it up to 350 grams and 32,3 cm balance for better plow-through. But tried both specs.
I have been using the Angell TC 95 for a couple of weeks and consider myself ready to write the Angell TC 95 racquet review. I have been playing enough with 95 sq inch as well as Angell racquets to form an opinion about this racquet.
The Angell TC 95 Custom 18×20 is a stable, quite plush and control-oriented racquet that will give you exactly what you put into it. It has a decent power level and spin for a tight pattern, 95 sq inch racquet, but ultimately, 95 sq inch racquets are really for players looking for pinpoint control and ready to supply the legwork and technique it requires to play well with it. If this sounds like something you are looking for, I am sure you will enjoy the performance of the Angell TC 95 Custom 18×20. And remember that you can order it to the specs you like at Angell Tennis.
Angell TC 95 Racquet Review – Performance areas
Let us look at the various different areas of the Angell TC 95 Custom 18×20 so you get a complete picture of how the racquet performs.
CONTROL 8/10
The racquet is relatively powerful for a 95 sq inch racquet with a tight pattern, but definitely not compared to racquets with larger head sizes. I think it had a little more power than the HEAD Liquidmetal Radical Tours that I've been playing the last four months, but the power level is lower than for example the Yonex VCORE 95D or Wilson Six One 95 (buy the Wilson Six One 95 here
). This means that if you are looking for control – the Angell TC 95 Custom 18×20 will provide it.
Since the racquet is solid and stable, it should work well for players who hit flatter shots, like to play with touch and attack the net.
SPIN 7/10
Despite the tight string pattern, I felt the TC 95 could generate some decent spin with the right technique. This goes for most racquets, but is obviously slightly more difficult the smaller the head size gets. That's why Federer shanked a lot more on his backhand with his Wilson Six One 90
than he does with the Wilson Pro Staff 97 RF Autograph
. If you're a player with high swing speeds who like to put plenty of top spin on the ball, I would look towards a racquet with more real estate in the string bed. I find the Angell K7 Red (click the name to read my review) is a really spin friendly racquet, but still has a nice, soft response.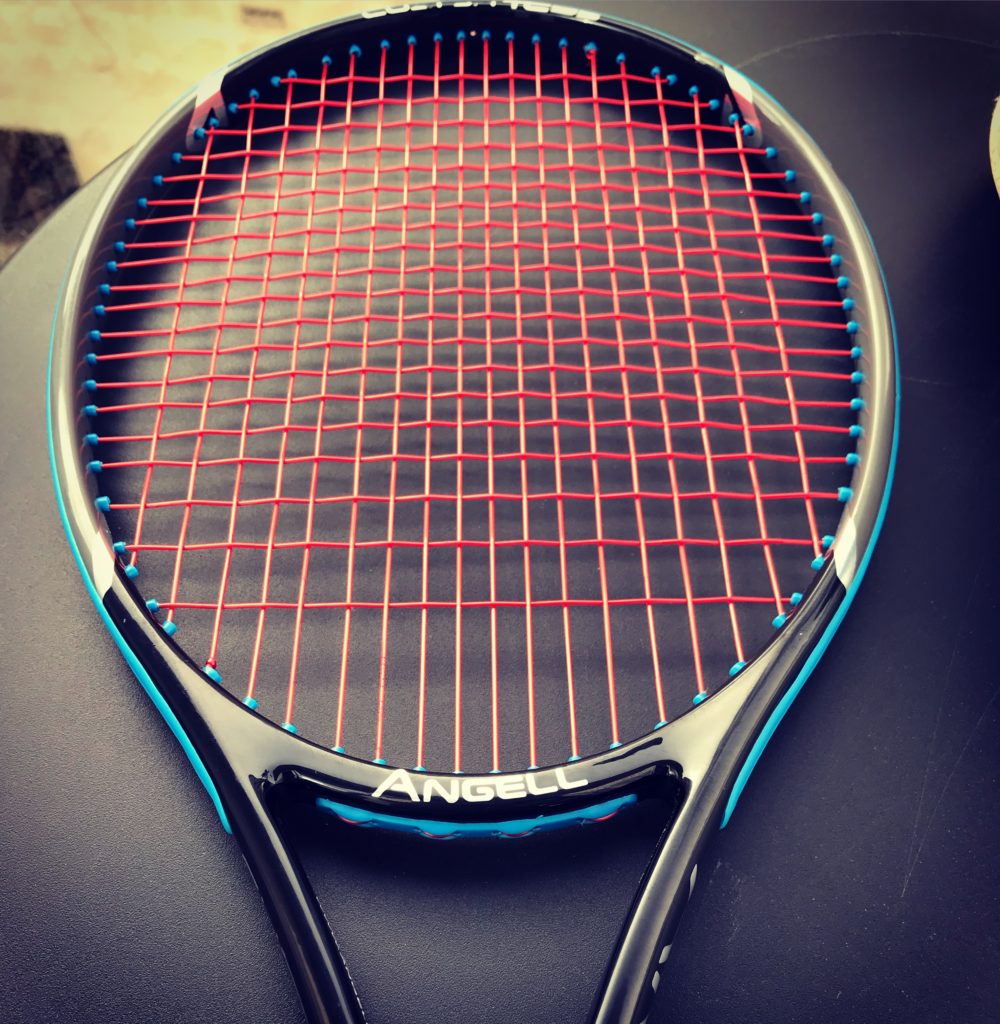 TOUCH 9/10
I really felt confident placing the ball with the Angell TC 95. As long as you find the sweet spot you get pinpoint precision on pretty much all shots and it volleyed really well, especially with some extra lead tape in the hoop.
COMFORT 8/10
I've never experienced any arm discomfort when using Angell racquets, but I'm a starting to personally feel more shoulder stiffness after a match with a heavier (345+ grams) racquet than with a lighter spec. Even top players are now slowly, slowly moving towards lighter racquets due to that the game is changing and requires more speed and power than ever before. This is why I'm personally moving towards racquets that are a little easier to hit with.
DESIGN 8/10
Angell racquets are clean and sparse in their design which is something I personally prefer. Also the paint doesn't chip easily and if you want to spice it up you can use their new frame wraps that adds an extra touch to the frame.

How the Angell TC 95 performs on various strokes
Serves – This racquet worked really well for me on serve and I was more consistent with this racquet than with my Angell K7 Red. However, with my leaded up spec I got a bit tired in the arm and shoulder after a match.
Groundstrokes – This is not your top spin grinder's dream, but more for players who hit with flatter shots and like to slice and mix up their games.
Volleys – Great touch and stability on volleys.
Drop shots – The racquet is a control racquet and offers good touch and feel which makes drop shots a joy to hit.
Angell TC 95 racquet review – Summary
The Angell TC 95 Custom 18×20 is a great racquet for players looking for control and who like to move their opponents around the court with clever shot-positioning and move towards the net to finish the point with a well-timed volley. It's not the ideal racquet for players who like to hang around the baseline and push their opponents back with heavy top spin shots, it's more of a classical-style frame that performs great on touch shots and slice.
I've now tested Angell TC 97, TC 95 and K7 Red and enjoyed all three frames. It's clear that Angell makes high-quality products for players looking to get their preferred specs in a frame that's comfortable and performs well from all areas of the court.
Check out Angell tennis racquets here.
Angell TC 95 racquet review – Video to come

Have you played the Angell TC 95? What did you think of it? Please comment below!
***
Do you like Tennisnerd? Don't miss a word or video by stalking us on social media. Every like and follow is appreciated!

YouTube
Instagram
Twitter
Facebook Page
Amazon Influencer
Buy tennis gear
EU
Racquet Depot
Pro Direct Tennis

USA
Tennis Express
Do It Tennis
Amazon.com
Racquet buying guides
Here is a great racquet buying guide to get you started.
What tennis racquet should I buy?
Top tennis racquets to buy right now
The Gear of the Year 2017
The Gear of the Year 2016
Tennis racquets for juniors
Tennis racquets for kids
Popular posts
What the ATP pros play
Questions about pro stock tennis racquets
Is a pro stock racquet better than a retail one?
Do professional players change racquets?
Racquet Commitment Issues