I have been testing the Angell TC 97 Custom 18×20 for a few weeks and here are my thoughts on this racquet. You can of course get your own specs at Angell tennis.
Since the point of Custom Angell racquets is to be able to order the racquet to your ideal specs, I better start off by giving you my specs: standard length, 320 grams, 10 pts head light, 18×20 string pattern, Angell leather grip. These specs are right in my wheelhouse, but you can get your preferred style of racquet when ordering a TC Custom at the Angell website.
Angell TC 97 Custom Review – Racquet design and build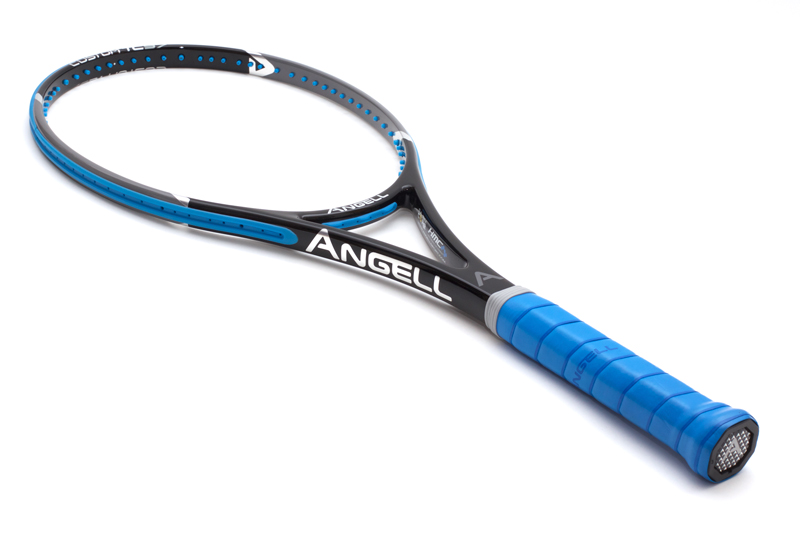 The base of the racquet is sleek, black and stylish, but you can of course choose more adventurous grommet colours when you order yours (I went with black). Head sizes come from 90 to 105 square inches, and all Angell Custom racquets are built with the following:
High Modulus Carbon
Foam Core
We can all appreciate the lack of fancy technology promises or amazing dampening materials such as Countervail, Graphene or Textreme. Depending on the model/head size you choose you will be able to choose your stiffness (RA rating), string pattern, grip shape and more. The TC 97 series comes with pre-built stiffness of 66 unstrung, which strung translates to a rather soft 62 (approx).
So Angell offers a "no-bullshit" tennis racquet experience. You get a high quality carbon fibre construction racquet which is then filled with foam, not only in the handle but also throughout the racquet to dampen vibrations. That is all. And it looks and feels like a high-quality product.
Angell TC 97 Custom Review – How does it play?
There has been a lot of buzz on the tennis forums around the classical, timeless feel of the Angell racquets and I can only concur. The Angell TC 97 is in the ballpark of the HEAD Pro Tour 630 (280 in the US, PT57A in pro stock lingo) and the legendary prestige series.
Below you have a video of me playing a point with the Angell. I am going to amp up my video game, bear with me, but what I want to illustrate is the sound. The Angell has the wonderful flex that really makes the ball sink into the racquet bed and pocket the ball. That in itself creates a beautiful sound when you hit the ball. I also appreciate that you can really go all-in on your shots and still feel like you control the ball. The Angell is not a very powerful racquet but like I often say, if you want to learn proper tennis technique and better footwork, you should play with a low-powered frame. Arming a ball with a Pure Drive (for example) can give decent results, but it will not improve your actual game a whole lot. It might even give you arm pain and injuries in the end.
I have not customized the Angell TC 97 Custom myself at all so far, and I am still fiddling around with strings. Right now, I am testing the Halo multifilament string, but it is feeling a little bit too soft. I might throw in my trusted Solinco Hyper-G
or RS Lyon in there and see how that works out. Other tennis nerds recommend trying a soft hybrid in the Angell and I could see the potential in that. After the Hyper-G that might be what I will try next.
Angell TC 97 Custom Review – Angell is made for racquet nerds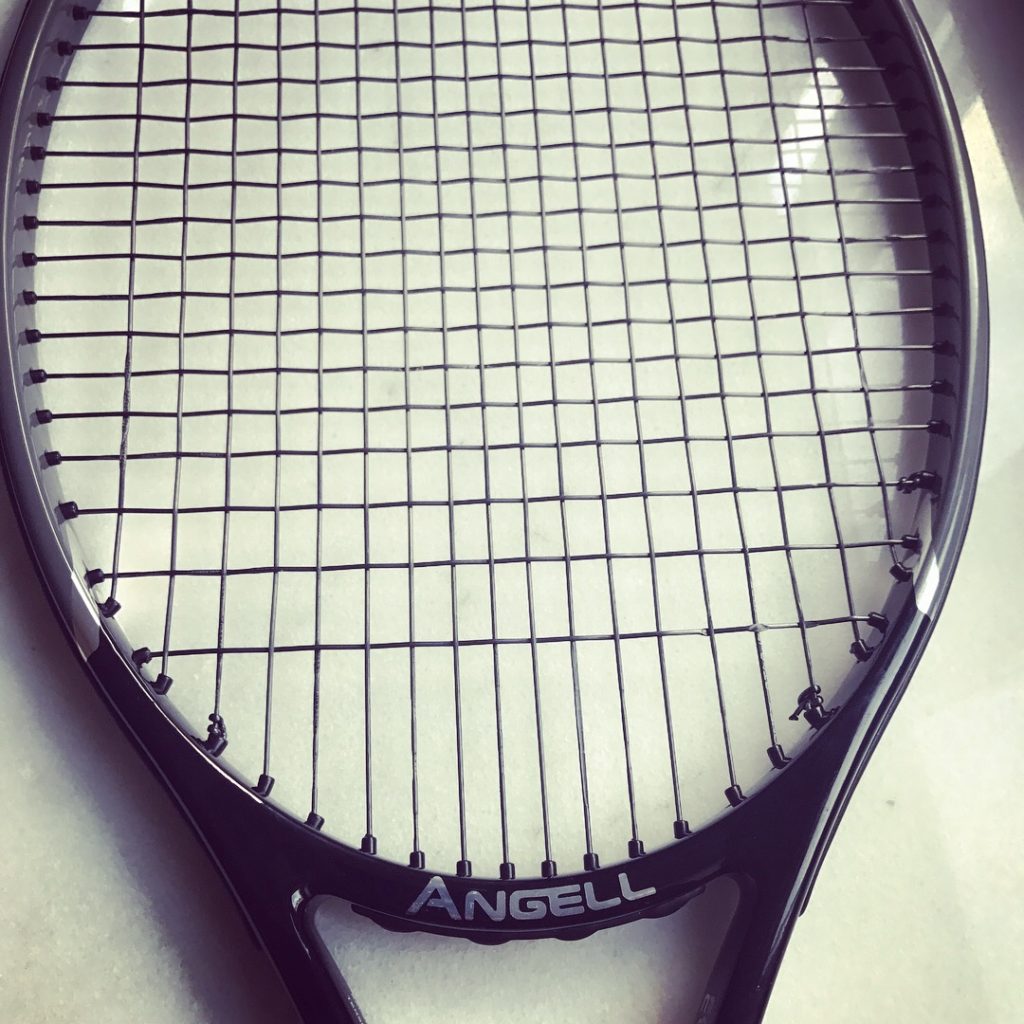 Angell tennis racquets are made for players who care about what they play with and who go for feel before power. They might not be everyone's cup of tea, but among racquet enthusiasts they have already built quite a strong following, and I think that it is going to grow with time. The number of flexible, control and feel-oriented racquets has dwindled significantly in the last couple of years. Wilson tennis however, has finally picked up the bat with the Wilson Ultra Tour and right now this is the only real new racquet competitor to Angell tennis racquets. If you are looking for a great-feeling stick that gives you confidence to really go for your shots – an Angell racquet should be on your top 3 list of racquets to buy/demo.
Angell TC 97 Custom Review – Check out and buy Angell tennis racquets here.
Let us hope it inspires other racquet companies to come up with tour models that actually reflect what a lot of professional players are using on the ATP tour. The Prince Textreme Tour 95 was a great example proving that you can really create a new, great feeling racquet that does not kill elbows and wrists. The Tecnifibre Tfight 315 ATP Ltd was another one. Now Wilson releases the Ultra Tour
and the ball is in Babolat and HEADs court to bring out a true "classic". HEAD did it a few years back with the excellent Innegra series (HEAD IG Prestige MP
and HEAD IG Radical Pro were amazing racquets). Now they have been focused on racquets such as the HEAD MxG (Pure Drive
and Pure Aero competitor) which I understand in way, but there is a portion of the market screaming for a HEAD Prestige Tour, which would ideally be a version of the PT57A/E. So if you HEAD reps are reading this, you know what to do next!
Angell TC 97 Custom Review – Paul Angell
Paul Angell runs Angell tennis, a tennis company which specializes in racquet customization, but also sells tennis bags and strings as well as other tennis gear. Paul has more than 20 years experience in the tennis industry and has worked as head of design at Dunlop Slazenger. He has personally manufactured the final Max200G racquets for German sports legend Steffi Graf. He has also been responsible for racquet development for players such as Tim Henman, Tommy Haas, Nicolas Almagro, John McEnroe, Wayne Ferreira, Mark Philippoussis, Marat Safin, and Amelie Mauresmo.
He started Angell tennis in 2012 and has gained a loyal following, especially among racquet aficionados who crave a high-quality product customised to their liking.
Have you had any experience with Angell racquets and/or strings? Please comment your thoughts about their products below!