Angell Tennis has just revealed a new racquet model for January 2018: the Angell K7 Red. A lighter, spin-friendly yet pretty soft racquet with an Aramid and Carbon fibre matrix.
According to the Angell website, the Angell K7 Red is "a master of power and touch". The newly introduced material Aramid is supposed to provide all the dampening and shock absorption needed and replaces the foam-filled core of other Angell racquet models. The new K7 racquet is however also built with high modulus carbon.
This is what Wikipedia says about Aramid:
Aramid fibers are a class of heat-resistant and strong synthetic fibers. They are used in aerospace and military applications, for ballistic-rated body armor fabric and ballistic composites, in bicycle tires, marine cordage, marine hull reinforcement, and as an asbestos substitute.
Considering the success of Angell Custom racquets, which had more traditional look and feel, it's quite logical for Angell Tennis to also try to launch a lighter, more spin-friendly and modern frame. The K7 Red doesn't offer the customer any customization options as of yet, but at 305 grams unstrung it leaves plenty of room for lead tape and a leather grip.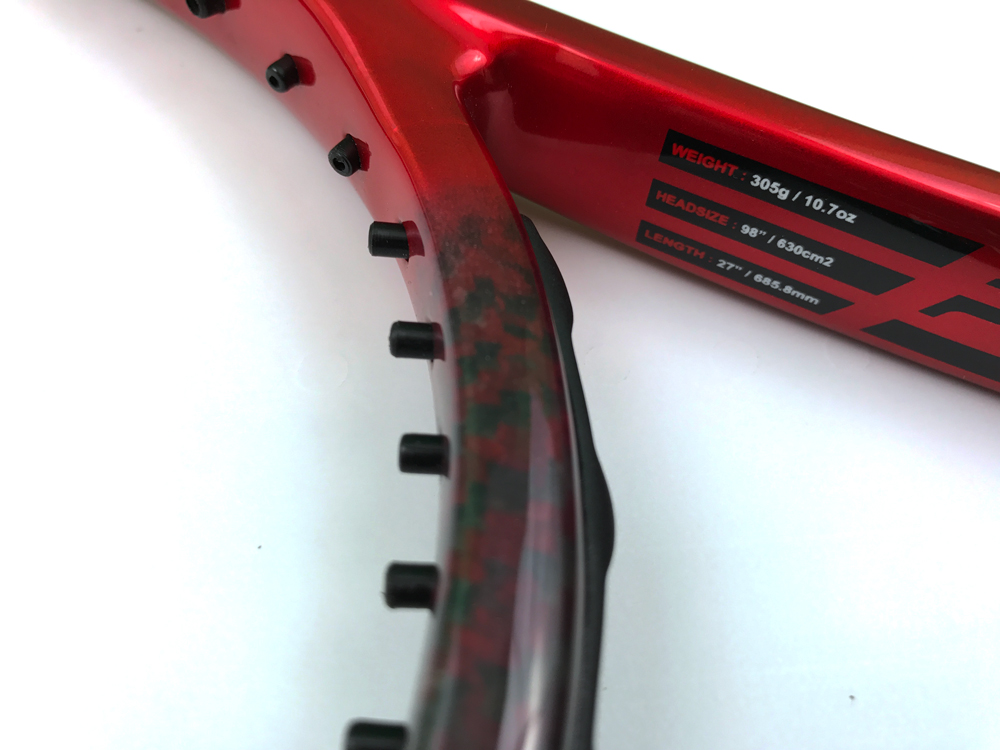 The specs should be appealing to a broad range of players. They come very close to a Wilson Blade 98 (2015)
which was a racquet I enjoyed tremendously. One thing that stands out is the low stiffness of 64 RA unstrung which would translate to around 61 RA strung. This should create a soft, yet not not mushy response and be arm-friendly enough for most players. The grip shape is in Angell's most popular option: B (Wilson and Prince-style) and the pattern is open 16×19.
I'm very curious about this racquet and can't wait to test it. Angell tennis hasn't disappointed in the past and I like this venture into a new racquet market. I also understand that it must be difficult for a smaller tennis company such as Angell Tennis to keep up with the various customization requirements of recreational players so having a few models based on the most popular options of customers would be a sensible way to cut time and costs in my opinion. On the other hand, the able to buy a racquet(s) made to your exact specification is truly a large selling point for Angell as well so it's going to be interesting to see how the more commercially-minded K7 will do.
I hope to come back to you with a in-depth review of this racquet and I'd appreciate if you write in the comments field what you think about the K7 on paper, and possibly later, on the court. No matter what, it's exciting to see Angell tennis developing new racquets and to keep challenging the large tennis manufacturers.
What I would like to see next is some sponsored professional players…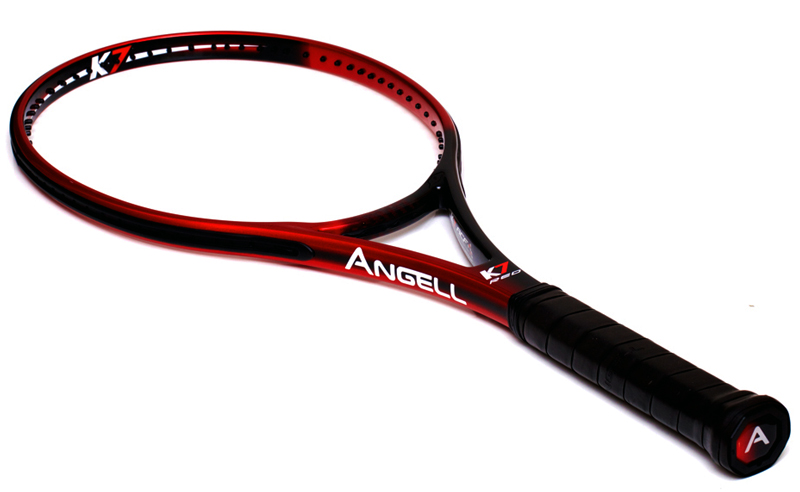 Unstrung Specifications Angell K7 RED
Headsize – 98
String Pattern – 16×19
Weight -305g / 10.7oz
Balance – 320mm / 7 pts HL
Stiffness – 64RA
Length – 27" / 685.8mm
Grip shape – B
Grip type – High Tack PU Black
Would you buy an Angell tennis racquet? What do you think about Angell racquets in general? Please comment below!
***
Do you like Tennisnerd? Don't miss a word or video by stalking us on social media. Every like and follow is appreciated!

YouTube
Instagram
Twitter
Facebook Page
Racquet buying guides
Here is a great racquet buying guide to get you started.
What tennis racquet should I buy?
Top tennis racquets to buy right now
The Gear of the Year 2016
Tennis racquets for juniors
Tennis racquets for kids