Unless you haven't already noticed, there's an on-going quest among the tennis shoe majors to come up with the lightest tennis shoe ever possible, supposedly without sacrificing stability or comfort. Can the Asics Gel-Solution Speed 3 shoe deliver?
Our guest writer and fellow racquetholic Magnus Pettersson will give his take on the Asics Gel-Solution Speed 3
in this shoe review. If you want to contribute your thoughts about racquets, strings or other tennis gear, or other tennis matters completely where you feel you have something to say, don't hesitate to e-mail us to helloATtennisnerd.net (AT = @). Sadly, we can't offer any payment at the moment since this is a humble tennis website without significant profits, but making your thoughts heard to fellow tennis lovers should be payment enough, right? Okay, back to Magnus!
Of course, there's a strong selling point to be able to provide "speed" to the customers. Not surprisingly, there's in general a hefty premium to be paid for these "high-tech" shoes. Is the price for "speed" really worthwhile?
I've played with the 3rd iteration of the Asics Gel-Solution Speed
series for about a year now. I play 2-3 times a week normally, about 1-2 hours each session, and usually indoors on hardcourt. During the summer (which is about three months where I live), I play much less and rarely outdoors. I haven't tried any of the previous Asics Speed iterations but I've played the Gel-Resolution 6, which I liked a lot. I've also tried many of the other well-known brands so I'm reasonably able to compare.
I'll try to fast-forward directly to how I perceive these shoes perform on the tennis court. There is a slight break-in period required, slightly more than for the Gel-Resolution 6 series, which is a softer shoe overall. The heel section on Speed 3 is slightly firmer. And, one of the few knocks I have on the Speed 3 is that the upper inside part of the lacing digs slightly in to my ankle. It's not as bad as with some other brands I've tried (Adidas Barricades 7
 is the worst) and with some medical tape on the ankle you're ready to go!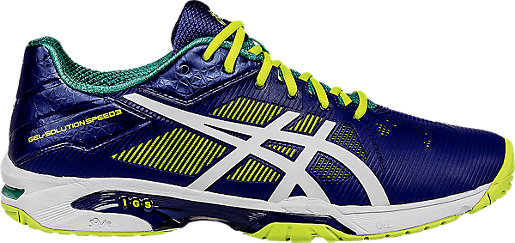 The shoes are light and there's absolutely enough stability for my level of play. I'm never afraid to roll the ankle in any situation. Comfort is good but not great. There's a low-to–the-ground feeling, a feature I like in general. Cushioning is perhaps not enough for long days on the court. I've felt some soreness in my knees compared to when I've played other shoes (or maybe it's my ageing). One other slight knock I have is the ventilation. The quest for reduced weight means that a lot of plastic has replaced other more breathable materials.
Playing indoors it's not a huge problem but I can image that these shoes can get quite warm if you play in hot conditions. The Gel-Resolution 6 had better ventilation. So would I choose Speed 3 over Gel-Resolution 6? Frankly, there's not a huge difference but I do feel that the Gel-Resolution 6 is slightly more comfortable and offer better ventilation. There's also a slight price advantage in Gel-Resolution 6's favour. The weight difference, to me, is barely noticeable. Durability-wise I would say the shoes are about the same, not the best in class but not a reason to avoid a purchase. To sum it up, both are great tennis shoes but if I had to choose I'd pick the Asics Gel-Resolution 6
. However, the Asics Gel Speed 3
is an excellent game-day shoe.
What do you think of Asics Gel Speed and Gel Resolution shoes? Do you have another favourite tennis shoe? Please comment below!
***
Do you like Tennisnerd? Don't miss a word or video by stalking us on social media. Every like and follow is appreciated!

YouTube
Instagram
Twitter
Facebook Page
Amazon Influencer
Buy tennis gear
EU
Racquet Depot
Pro Direct Tennis

USA
Tennis Express
Do It Tennis
Amazon.com
Racquet buying guides
Here is a great racquet buying guide to get you started.
What tennis racquet should I buy?
Top tennis racquets to buy right now
The Gear of the Year 2017
The Gear of the Year 2016
Tennis racquets for juniors
Tennis racquets for kids
Popular posts
What the ATP pros play
Questions about pro stock tennis racquets
Is a pro stock racquet better than a retail one?
Do professional players change racquets?
Racquet Commitment Issues