On Tennisnerd.net I mostly write about racquets and tennis gear, but I also enjoying predicting matches and writing about the ATP tour. Let's look at Day 5 of the US Open.
The US Open organizers were holding their breath as Federer went down 1-2 in sets to Youzhny. Another star gone would have been a huge blow to the tournament. Federer eventually managed to right the ship and is ready for the third round, but what it means for the rest of his tournament to have played two shaky five-setters in the first two rounds, is another story. Read about the Federer vs Youzhny match here.
But Federer now gets some rest before his match against Feliciano Lopez (who is sporting the nice new Wilson Ultra Tour paint job by the way) while the bottom half of the draw gets ready to fight for a place in the fourth round.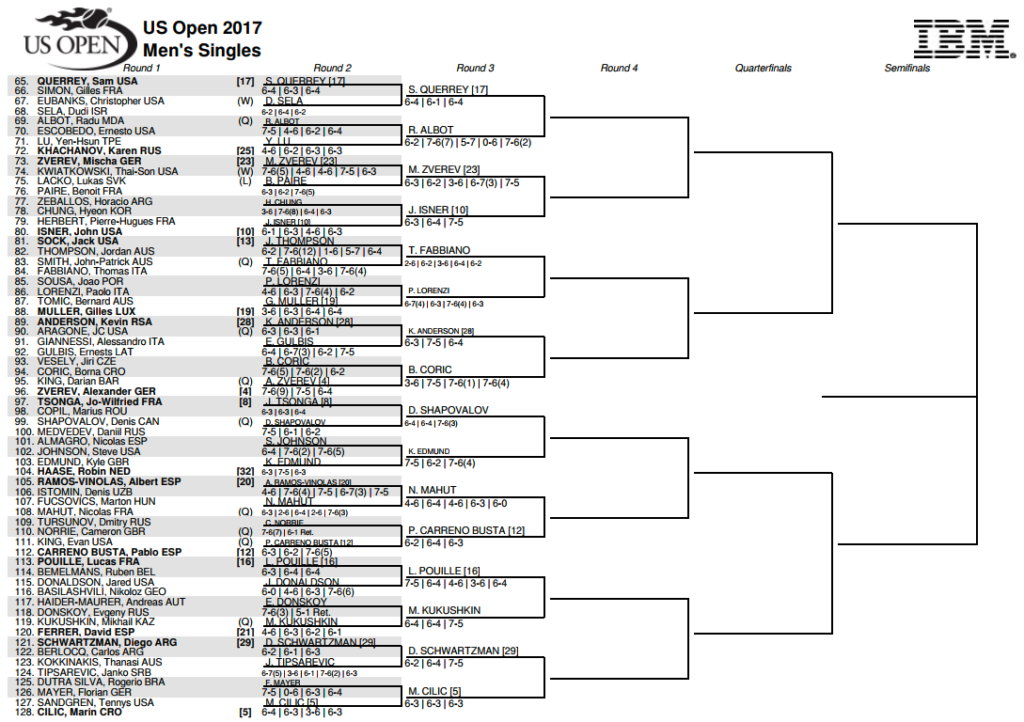 US Open Day 5 Predictions
Winners are in bold. Click the linked name to find out which racquet they play with.
Sam Querrey vs Radu Albot

Sam Querrey is a sneaky player to face in a grand slam draw. The guy has a big game in him, but only shows it occasionally. He should be a number too big for Albot however.
The theme for this round is American. I think John Isner will set up a serving contest of a fourth round against Querrey. Isner has looked solid the last couple of weeks and his serve is on fire at the moment. I think he will battle through a tie-break ridden contest in four or five sets.
Tomas Fabbiano vs Paulo Lorenzi
A somewhat surprising third round in a US Open. Old man Lorenzi is a fighter and a runner and far more experienced on the big scene than his compatriot, who mostly hangs around the Challenger Tour.
Kevin Anderson vs Borna Coric
Borna Coric surprised a lot of people when he beat Alexander Zverev. Coric can definitely play when he's mentally a hundred percent there and that win should give him the confidence to knock out big-serving Anderson, but it will for sure be a tough match.
Denis Shapovalov vs Kyle Edmund
Shapovalov played a spectacular match when he beat Jo-Wilfried Tsonga in straight sets and the Canadian next generation player has the kind of game that can lead to number one in the rankings. Does he use too much energy when playing? Well, we said that of Nadal as well in his younger days. I'm personally a big believer in Shapovalovs abilities and believe he can go far in this US Open and in his career as a whole.
Nicolas Mahut vs Pablo Carreno-Busta
Mahut has been around for a while and it's nice to see the grass court specialist still playing well also on other surfaces. Will his aggressive game take him further in this year's US Open? No, I don't think so. Carreno-Busta is simply too good of a player and a fighter.
Lucas Pouille vs Mikhail Kukushkin
Pouille is a very promising player while Kukushkin is more of a side note on the ATP tour. This should be relatively comfortable for Pouille.
Diego Schwartzman vs Marin Cilic
Schwartzman is one of the shorter players on tour, but still packs a punch in his groundstrokes and his incredibly fast around the court. Marin Cilic, on the other hand, has won this tournament before and has a possible dream draw if he can reach good form. I think Cilic has a good chance of reaching the final in 2017.
If you're interested in placing a bet on any of these matches, check out Bet365 (Europe), Leo Vegas (Europe) or Bovada.lv (USA, Canada). Both sites have live betting, solid customer service and a vast selection to bet on. Bovada uses Bitcoin however, so that's good to know. Remember to bet responsibly.
Most betting sites offer some kind of first deposit bonus and they're usually quite generous. Remember that when you take such a bonus it is usually tied to wagering requirements meaning you have to reach certain turnover requirements to be able to withdraw your money.