Canadian young talent Denis Shapovalov, who is perhaps most famous for unintentionally hitting a referee with a ball in the eye, is switching racquets from Wilson to Yonex.
Shapovalov has been using the legendary Wilson Six One 95
 (this classic and popular line of racquets have recently been re-issued) for most of his young tennis life, but is now being sponsored by Yonex and will be playing with the Yonex SV 95 (read about the well-reviewed Yonex SV line)
. This is another interesting endorsement from Yonex who has been snatching market share from the big racquet dragons since they got a hold of a certain Stan Wawrinka (what Yonex racquet Stan Wawrinka uses? Read this post!) with players such as Frances Tiafoe, Steve Johnson and Hyeon Chung to name a few.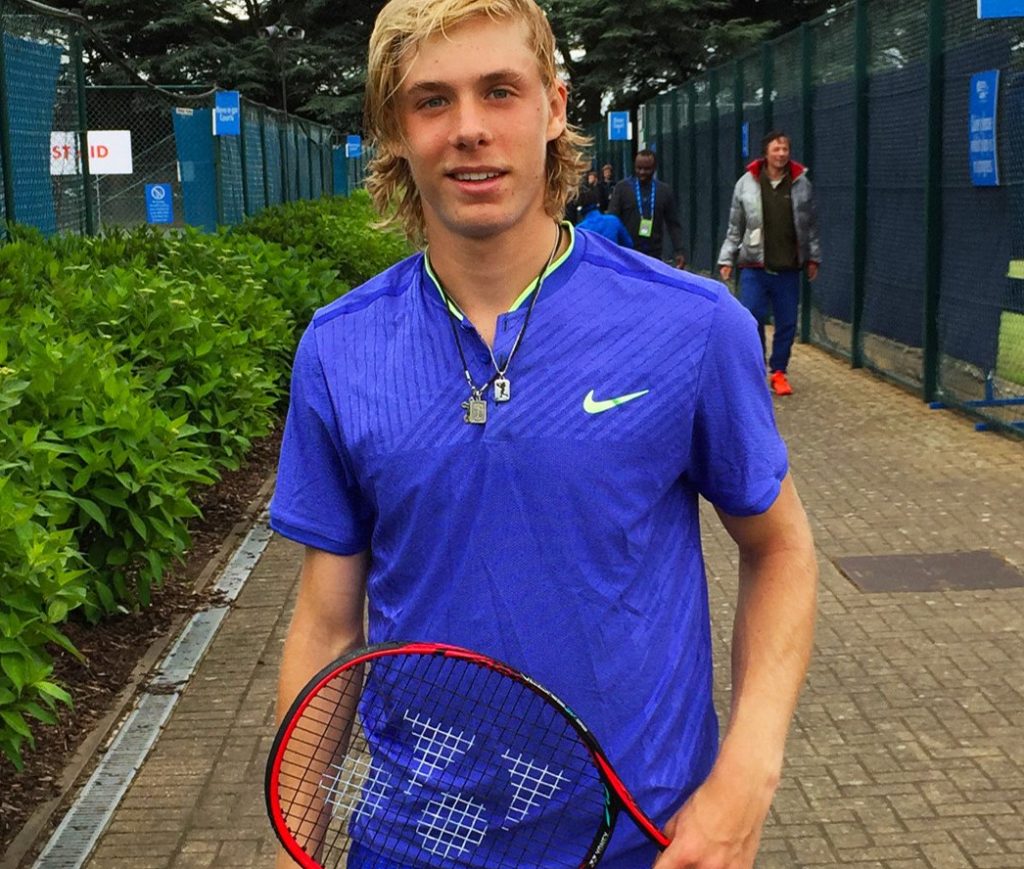 Yonex players mostly use Yonex strings and Shapovalov will also play with a Yonex string such as the Yonex Poly Tour Pro
or Yonex Poly Tour Spin
, potentially in a hybrid with natural gut string
. Shapovalov describes his racquet choice like this on the Yonex official website (which by the way needs a re-design):
"I asked Yonex players on tour about what they think of the Yonex team and the racquets and all I heard were positive responses. When I tried the frames I instantly fell in love with it."
Yonex themselves describes Shapovalov as a: "big serving left hander has great promise to become a future star of the ATP Tour with his strong forehand and single handed backhand." 
And they're right in doing so. Shapovalov is likely a future star and Yonex might very well have opened up the market for Yonex racquets in Canada through this endorsement.
What do you guys think of Yonex racquets? Please comment below. I always carry my Yonex Ai 98 in my bag (although my current match-racquet is the Babolat Pure Strike 16×19) and I string my Yonex racquets with the Yonex Poly Tour Pro 1.25
 which I believe is a great combo. What Yonex does well is quality control which has a tendency to be slightly wonky with Wilson and Babolat. You rarely see Yonex racquets fall completely out of given spec range for example.
It will be interesting to see how Shapovalov performs the coming year with his Yonex SV 95
, which he describes as: "It gives me more pop on my serve, better touch on my volleys and more spin on my ground strokes. It's a very complete racquet."
Sounds good, right? I think the specs for the Yonex SV 95 can fit a lot of players, but I would definitely add some lead to increase the stability in the hoop and get a bit more plow-through. It seems like Yonex has created a worthy successor to the popular Yonex VCORE 95 D.
Below you have some more information about the Yonex SV 95:
Technical Specifications YONEX SV 95
Length
27 in
69 cm
Head Size
95 sq in
613 sq cm
Weight
11.5 oz
326 gm
Balance Point
12.6 in 32 cm
7pts Head Light
Construction
21mm / 21mm /20mm
Composition
H.M. Graphite/ Black Micro Core/Nanometric XT
String Pattern
16 Mains / 20 Crosses
Babolat RDC Ratings
Score
Grade
Flex Rating
65
Range: 0-100
Swing Weight
324
Range: 200-400
Places where you can buy the Yonex SV 95 and other tennis racquets.
EU
Racquet Depot
Pro Direct Tennis
USA
Tennis Express
Do It Tennis
Amazon.com
Racquet buying guides
Here is a great racquet buying guide to get you started.
What tennis racquet should I buy?
Top tennis racquets to buy right now
The Gear of the Year 2016
Tennis racquets for juniors
Tennis racquets for kids