The first ATP Tour finals of 2017 are set: Murray vs Djokovic in Doha and Nishikori vs Dimitrov in Brisbane (click each name to get to articles about what gear they play). The Aircel Chennai Open is still one round behind at the moment of writing, with the semi-finals being: Daniil Medvedev vs Dudi Sela and Benoit Paire vs Roberto Bautista.
What can we read from 2017 so far? Well, more of the same it seems like. Murray and Djokovic are still the players to beat with guys like Nishikori and Raonic knocking on heaven's door. Yesterday I wrote a post that Raonic might as well be the next number one due to his dedication and efficient game, but then he went and lost against Dimitrov so what do I really know…
Djokovic on the other hand, managed to save 5 match points in the second set tie-break against Fernando Verdasco and didn't look at all sprightly or confident in that match. But that could also have something to due with the very windy conditions. Shame for Verdasco due to all those missed chances, but Djokovic is one of the toughest players on tour to put away.
Murray had a more straightforward win against the guy who always seem to come up a little bit short – Tomas Berdych.
So the Doha final is set to be another Murray vs Djokovic affair with the Serb leading their Head-to-Head by 24-11. The number one ranking title is not on the line in this match, but it is still interesting to see who will take an extra boost of confidence before the Australian Open starts. My pick is Andy Murray. He seems to be the more self-assured player at the moment. If he can win his first Australian Open in a couple of weeks however is another story.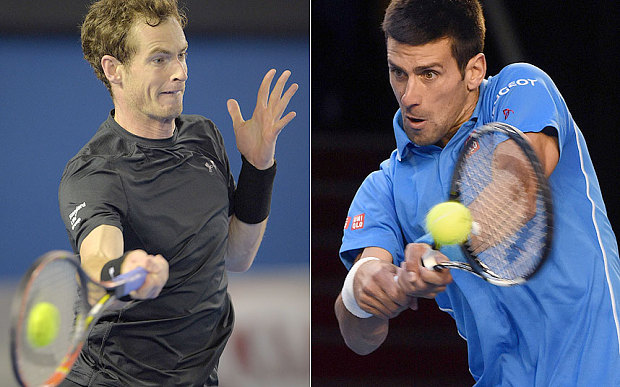 In Brisbane, I thought Raonic and Wawrinka was moving towards the final, but Dimitrov and Nishikori had other ideas. Nishikori has never lost against Dimitrov (3-0 H2H), but the Bulgarian seems to be back in high spirits after two mediocre years and maybe it's his turn to lift his fifth title of his career. This is what he said about the challenge:
"We played a pretty close match last year. I felt like I had my chance and my momentum," said Dimitrov. "I'm not playing anything next week, so I'm going to get out there and leave it all on the court."
Who do you think will win in Doha and Brisbane? Please comment below.