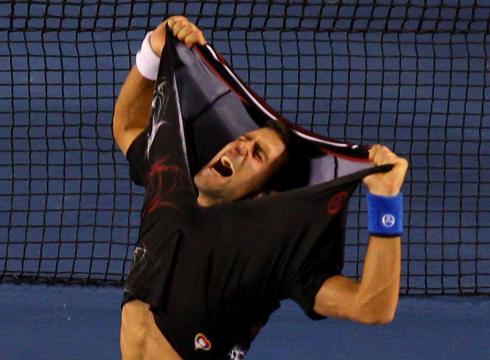 He was the favorite and he took on the expectations and met them. But it was close, so close. In a nail-biting almost six hour long match Djokovic managed to serve out the fifth set 7-5, making the final scoreline 6-7 6-2 6-4 6-7 7-5.
After losing six straight finals to Djokovic there was no doubt that he was the underdog for this encounter. Djokovic has undoubtedly all the weapons to beat Nadal over and over again, a heavier serve, a better backhand and also better footwork. What Nadal has and kept him in the match for long stretches was a big, big heart. In the end it hurt really bad to see him lose this match after all the effort he put in. But Djokovic has the mental edge against him, but with this match it seems Nadal is edging closer when he's playing a more aggressive game.
We have come to an interesting situation in men's tennis. Federer can beat Djokovic but not Nadal, Nadal can beat Federer but not Djokovic, and Djokovic always seems to win against Nadal but is something around 50/50 against Federer. There's no doubt in my mind that Djokovic is the worthy number one and considering Nadal's record against Federer he should be number two. The interesting question right now is rather how good Djokovic will make 2012. He doesn't look as hungry as he was in 2011, but his game is still up there on astronomical levels and he is definitely a huge threat to wrestle the Roland Garros trophy from Nadal's tight grip.
But clay is a different story with the Spaniard as we all know…
If Djokovic manages to win Roland Garros then we can have a REAL Grand Slam with four consecutive trophies on our hands. He's that good.
Let's see what the rest of the tour comes up with against him…
You want to try Nadal's, Djokovic's or Federer's racquets? Click the names and check them out on Amazon. Djokovic and Nadal's racquets are a bit more amateur-friendly. If you prefer other racquets why not take a look at Tennis Express?