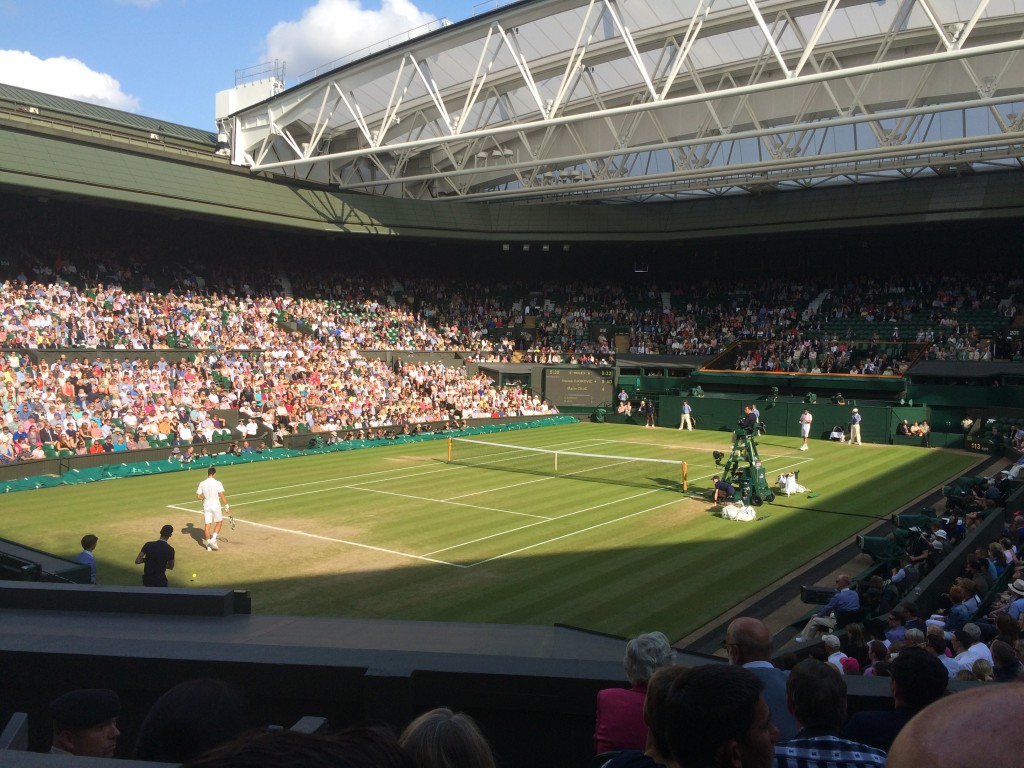 Got to enjoy the men's quarter-finals live in Wimbledon and here are some likely incoherent thoughts:
You could see in the training that Gasquet is doing something differently. I watched for a good 15 minutes and I don't think he missed a ball. And it's not like he was slicing them over either. The guy seems to have a plan and looks more focused than before. Enough for Djokovic? No, I don't think so.
Talking about Djokovic. Cilic is now 0-13 in matches against him. You knew before the match that it wasn't about to change and Cilic's body language didn't tell you anything different. The Croat got broken in the first game and there was never a scent of a chance really.
Federer was confident despite rain breaks against Simon. He looks so relaxed this year it's hard not to give him at least a 50-50 chance against Murray. 50%! Am I crazy, you might ask. No, Murray is my pick to win the tournament.
And Murray didn't have any problems at all with a tired-looking Pospisil. Neither the audience nor the umpire did the Canadian any favours. Two time violations and I think I heard one "Go Vasek!" during entire match. Got to give it to Murray for knowing how to turn on the crowd. Then he puts them to sleep in the press conference, but that's another story.
So how will Wimbledon play out?
Murray will beat Federer in five sets. Djokovic will beat Gasquet in four. Murray will beat Djokovic in four sets in the final.
What's your prediction? Let me know in the comments field. I always reply to comments.