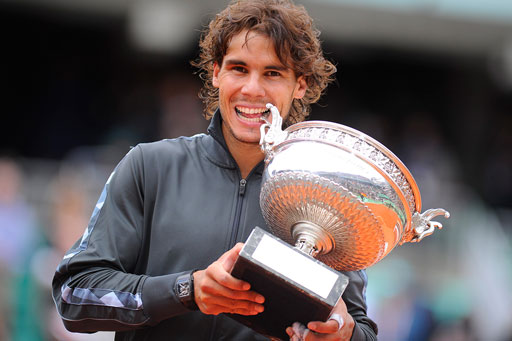 It wasn't pretty, it was gritty. The rain ruined the rhythm of the players and the history of the moment made their nerves dangle like telephone cables in a storm. Nadal came out of the start blocks like a super-doped 100 meter runner, rushing off to 3-0 in the first set, but then the monster in his head called Novak started roaring and he got back to 3-3. The match was on and what a match it turned out to be.
It wasn't pretty though. The play didn't really reach the standards of the Australian Open final, but the amount of fight in both players did. They fought for history: Nadal for a seventh title and Djokovic to hold all the four Grand Slams at the same time and it showed. It mostly showed in how nervous they both were.
It wasn't pretty, at least not the way Djokovic reacted to the frustrating aspect of playing Nadal on clay; you have to be perfect almost all the time, otherwise you won't win. Djokovic wasn't a hundred percent all the time, especially not in his behavior. He talked to himself animatedly, he hit a racket through the Perrier bench, he hit himself in the head, he screamed and looked to be on the verge of dispair for long stretches in the match. Nadal on the other hand, was more nervous than I've seen him in a long time. You could understand it in a way, he had lost three straight GS finals to Djokovic even in matches that went the distance and I think if the match had reached a fifth set, Djokovic would have been the slight favorite.
It wasn't pretty in the end, because on match point, serving 5-6, 30-40, and down two sets to one, Djokovic double-faulted and walked towards the net with slumping shoulders and his head bent down. Nadal on the other hand, lay on the soft wet clay in his traditional winner's pose and cried in happiness. There was a lot at stake for him in this one. After his handshake with Djokovic, he ran up to his parents, his girlfriend and his coach Toni and hugged and cried and celebrated his win, Nadal family style.
It wasn't pretty, but it was a big one for Nadal. And it was a big one for tennis history.