It makes you sad to read stories about players fixing matches to make a buck from betting. One of the latest most shocking stories was about Oliver Anderson, previous Australian Open Boys' Champion, who was charged with match-fixing by the Tennis Integrity Unit. Besides the match fixing you also see a lot of rage from losing punters directed to the sports stars who just do their best to win a match. Tennis betting can just be a fun past time and you should obviously never bet more than you can afford to lose. This is common sense. And social media shaming players for losing matches should be downright illegal.
Anyway, I think it's fun to predict results in tennis. I've tried to predict the draw for grand slams for quite a while and I did the same through TourneyTopia for Australian Open 2017. Why not enter the Tennisnerd racquet bracket contest here? (It's free of course).
I also occasionally place a small bet to spice up match and challenge myself to see if I can call it right. Using the bookies odds from Bet365, I'm going to try to more of the same.
Australian Open Round 1 Draw
I've split the draw up by screenshots. What I think is most fun is to look for possible upsets. The first section of the draw doesn't give much hope for those. I would say Andrey Rublev is underestimated by the bookies at 3.5 times your money against Yen-Hsun Lu. I also think Nicolas Mahut might be the actual favourite in the match against Ryan Harrison. 17-year-old wunderkind Alex De Minaur can be dangerous for Gerald Melzer. And if Nishikori is suffering from some lingering ache (which he kind of usually does), I think Kuznetsov could be a match for him. I also think that Estrella Burgos has a much better chance against Bedene than the bookies think. Same goes for Jerzy Janowicz who has been injured, but who is always dangerous – even against Cilic.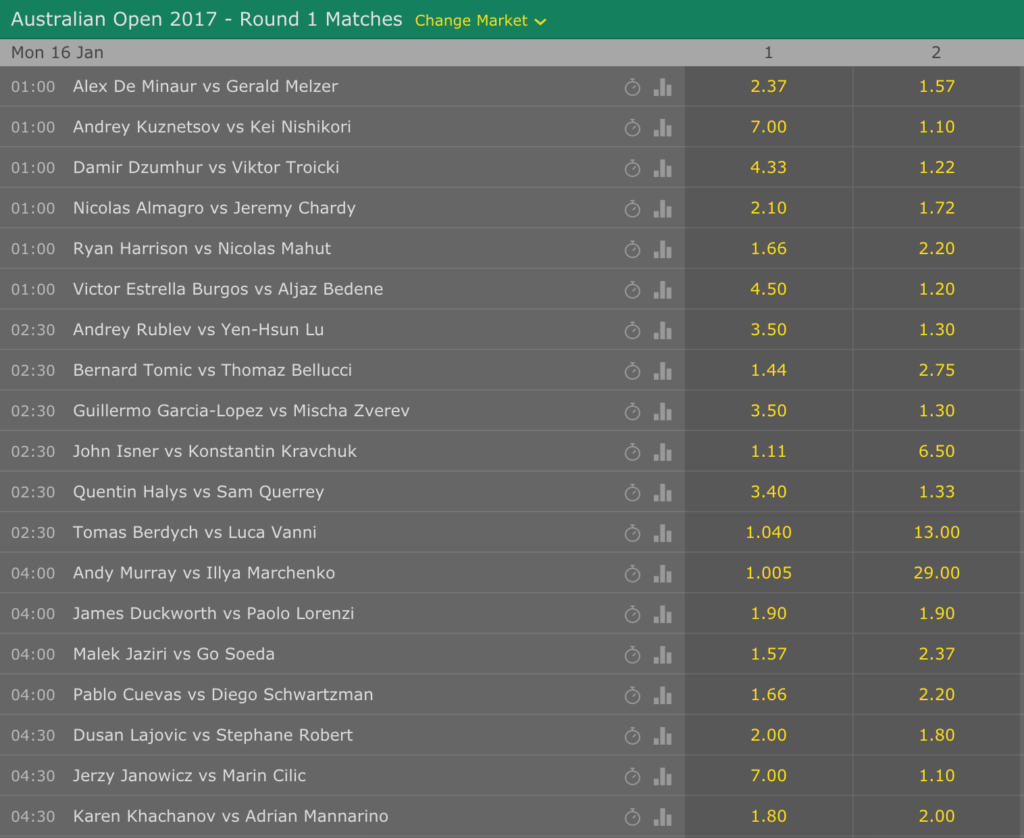 Mathieu vs Seppi should be a good struggle. Seppi had an off year last year, but can be dangerous and beat Federer in Australian Open 2014. It will be fun to see young and interesting Alexander Bublik vs another spectacular player in Louis Pouille. Can Daniel Evans take the good form from Sydney ATP 250 (where he reached the final) into the Australian Open or is he spent?
Klizan is definitely not an easy first round opponent for Stan the Man Wawrinka. The Slovak lefty can play great if he's inspired and Stan is known to be a bit nervous in the early rounds of tournaments. Federer should be fairly confident against older brother Melzer.
I'm curious to see if Dolgopolov, aka the Dog, can dispose talented Borna Coric. Both have struggled with their results of late (Dolgopolov has been injured however). A good young-gun match-up is Medvedev vs Escobedo. Escobedo has a thunderous forehand and could be dangerous for the young Russian if he keeps his head stable.
The oldie-but-goldie match between Tursunov and Stepanek is a takeback to the early 2000s. Fun to see those guys in action!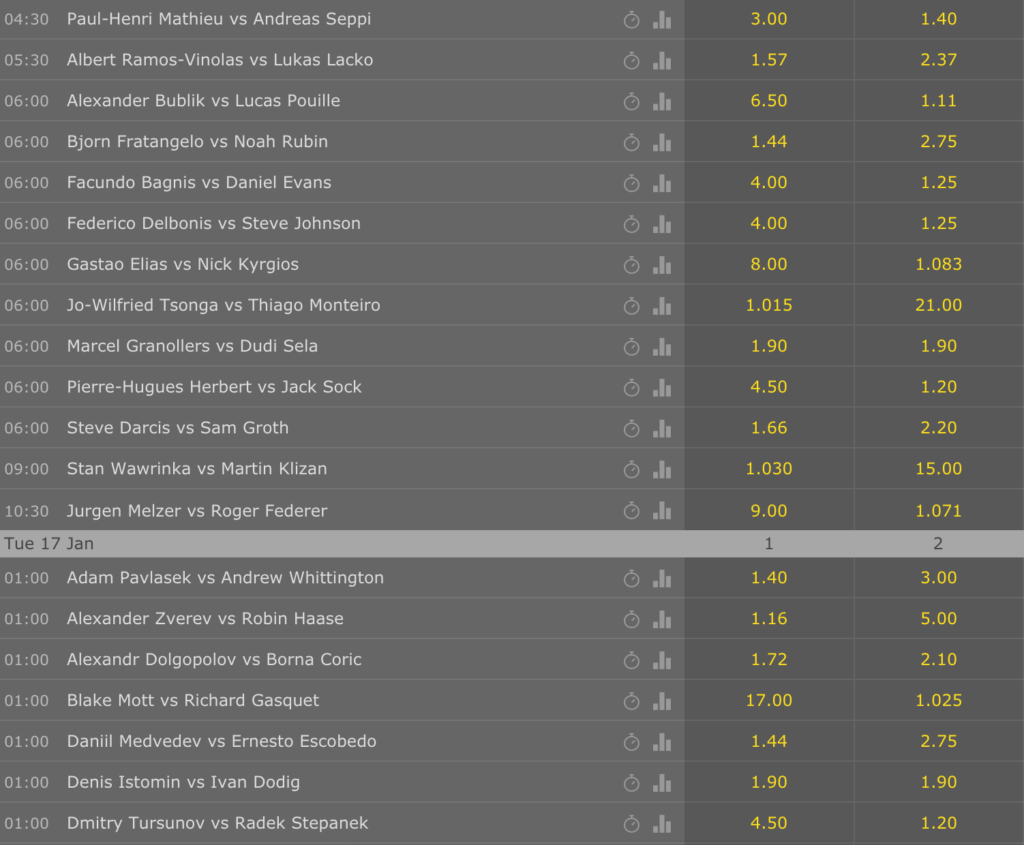 Dominic Thiem has struggled in the end of 2016 and hasn't really looked sharp in 2017 either. Struff is a loose cannon, but not an easy opponent on a good day. A potential upset!
Fognini vs Lopez is a great match. But Fognini doesn't seem all the way there in 2017 so my money would be on the Spaniard. Another interesting match-up is Verdasco vs Djokovic. Verdasco had 5 match points against the Serb in Doha, but wobbled and lost the match in the end. We all know that Verdasco can beat anyone, but the Doha match can be a mental ghost for him. Due to that I think Djokovic will win relatively easily.
Nadal has a new haircut and a new coach in Carlos Moya. He has looked ferocious in the pre-season and his arms is bulging like it was 2008. Florian Mayer is a tricky serve-and-volleyer, but should be nothing for Nadal's biceps.
Frances Tiafoe is a young American star in the works and very few (outside us tennis nerds) know who Mikhail Kukushkin is. Kukushkin is a great player however and I think he's the favourite here, not Tiafoe.
Gilles Muller won his first title in Sydney after 15 years on tour. He cried in front of his children and Rod Laver in a very moving moment. The guy deserved it. Will this have tired him out when he's facing the hungry and talented Taylor Fritz? Hard to say. I think Muller will ride his wave of confidence and win.
Tall, big-serving, Wimbledon Boys' winner Reilly Opelka is in action against David Goffin. He won't win, but I think he'll take a set. Good test for the young American.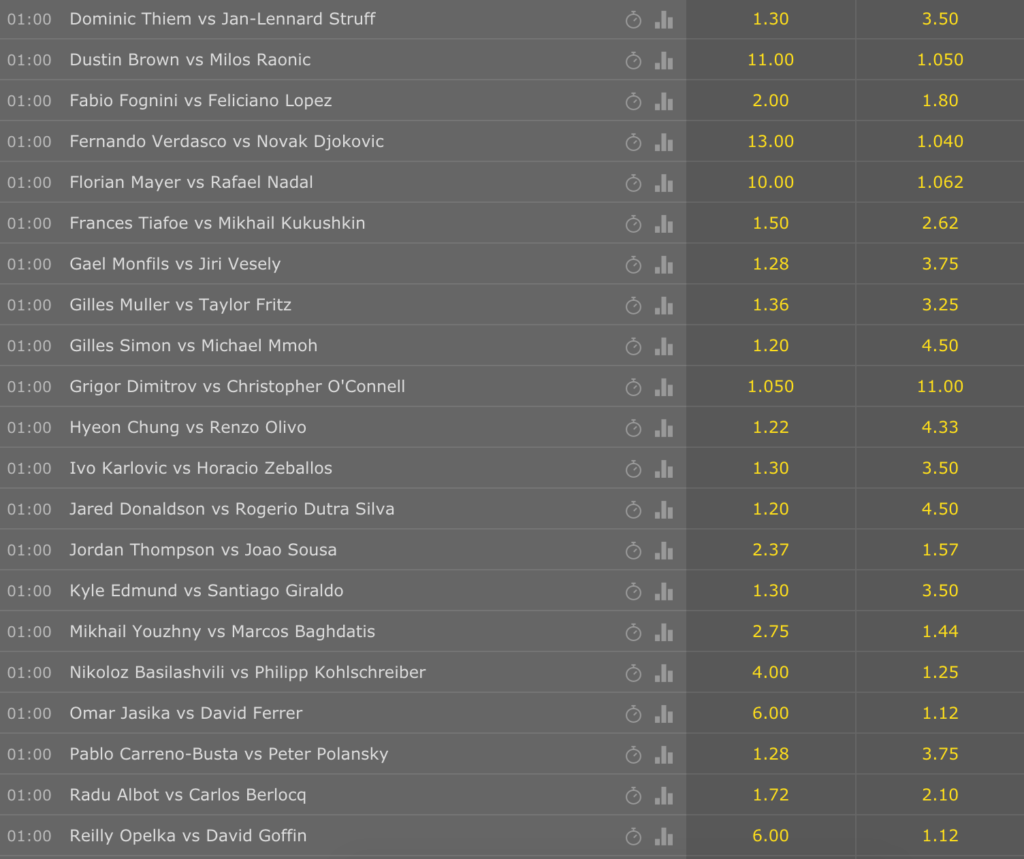 It's great to have Tommy Haas back on the tennis court again! He doesn't get an easy opponent in head-case Benoit Paire however. I would say 4.50 times your money is good value on Haas because you never know what Paire will show up to the game.

Those are some of my thoughts on the first round of the Australian Open. What do you think? Am I crazy? Am I missing something substantial?
Please comment below and let the first grand slam of the year begin!