Before the French Open 2017 started, I tried to predict how the draw would play out and I'm pretty happy to get lots of things right, such as the Wawrinka vs Nadal final.
Find my original predictions post here. If you look at the table below you'll see that I predicted Nadal and Wawrinka to be in the final and that Wawrinka would beat Murray in the semi-final (and what a fantastic five-setter that was!), but that Nadal would beat Djokovic instead of Thiem. It was difficult to foresee that Dominic Thiem would be able to beat the odds and his lousy 0-5 record against Djokovic and it was impressive that he was able to do it in three straight sets with a bagel at the end. The question that pops into your head is what kind of energy injection Djokovic will need to get back to the kind of form where he dominated the tour. Would be interesting to hear your thoughts here!
FIRST HALF OF THE FRENCH OPEN 2017 DRAW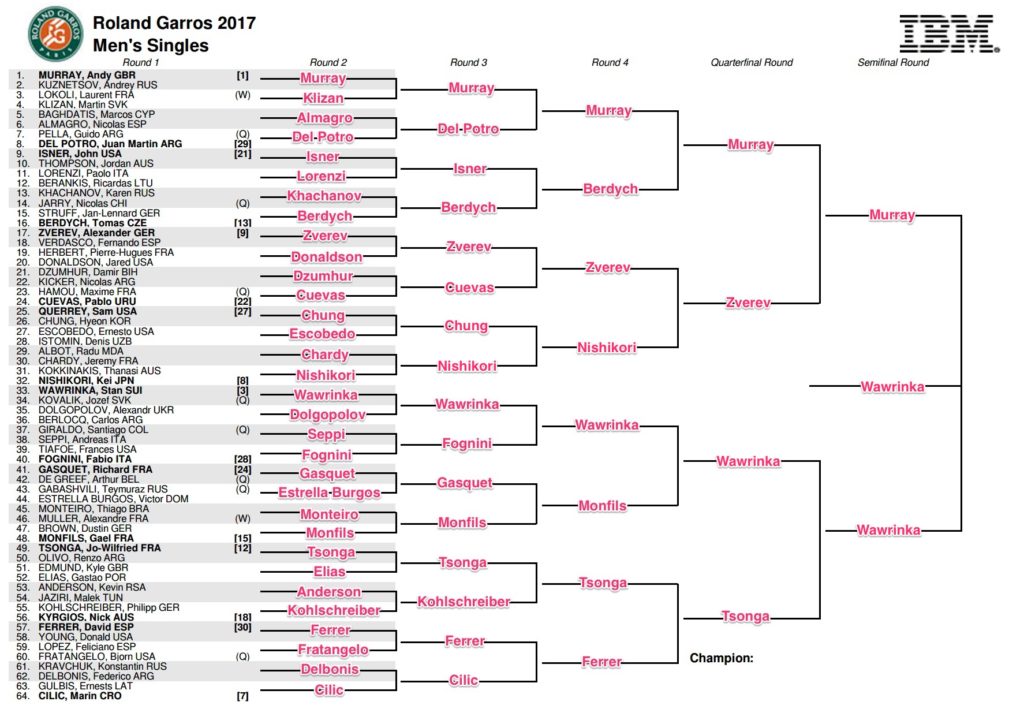 On the other side of the draw I also predicted Pablo Carreno Busta to continue his improvement and it's a shame that injury stopped him in the match against Nadal (although I don't see how he could have been able to beat Rafa in his current form). I didn't get the Poulle vs Ramos match right, but that was a tough five-setter so nothing big. I thought Jack Sock would fare better and I didn't foresee Karen Khachanov's progress.
SECOND HALF OF THE FRENCH OPEN 2017 DRAW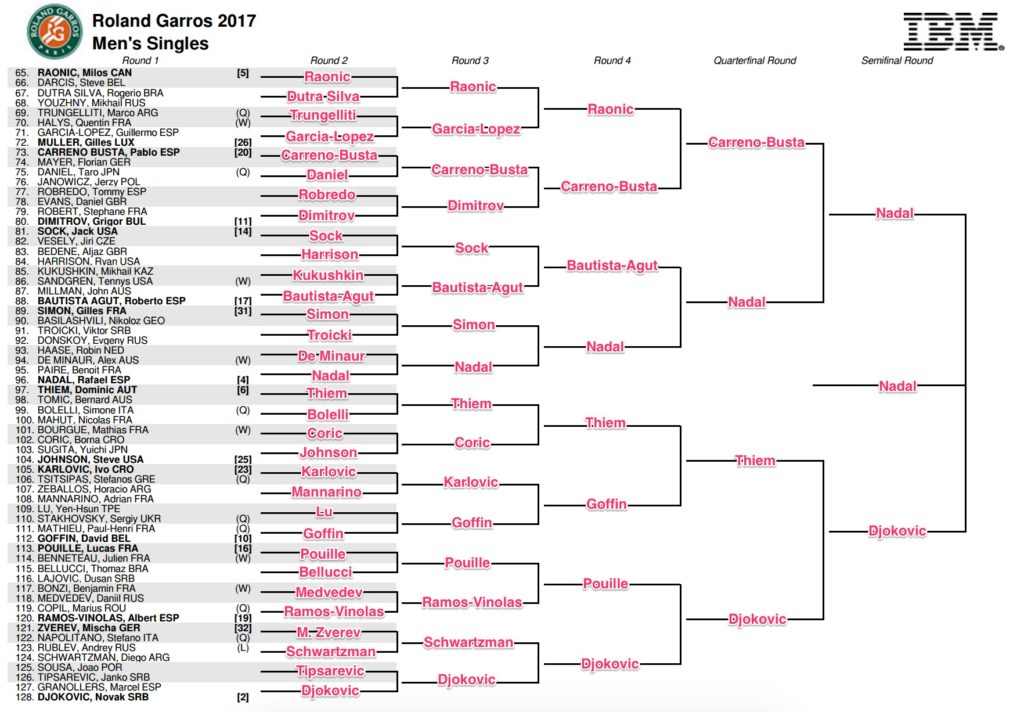 THE FRENCH OPEN 2017 FINAL BETWEEN NADAL AND WAWRINKA
So how will the final play out? I predicted before the tournament that Nadal would win and I will stand by this also against an in-form Wawrinka. Wawrinka has an amazing 3-0 record in grand slam finals, but against a hungry Nadal at Roland Garros, the task is almost inhuman. He would need to hit so many good shots over and over and over and to add to that, Wawrinka has used up far more mental and physical energy on the way to the final than Nadal who hasn't lost many games even! I would actually be very impressed if Wawrinka manages to steal a set.
It has still been a great tournament for Wawrinka and he has yet again showed how dangerous he is when he's playing focused and with that strong hunger to win. The way he beat Murray in the semi-finals was a treat to tennis fans the world over and although he might not be able to get that kind of battle going against Nadal, I'm sure he'll feel pretty confident going into Wimbledon.
If you're interested in betting on tennis you can try Bet365 (Europe) or Bovada.lv (USA, Canada). Both sites have live betting, solid customer service and a vast selection to bet on. Bovada uses Bitcoin however, so that's good to know.
Who will be the champion after all is said and done? I think this is Nadal's year. What do you guys think? Please comment.