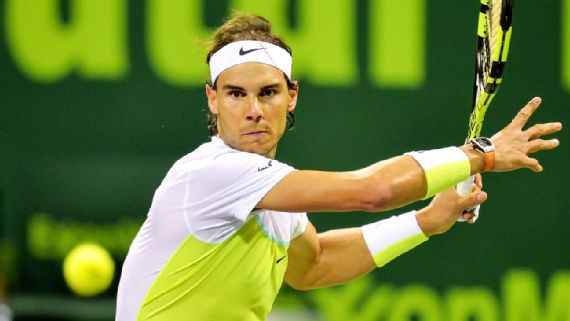 No, Nadal wasn't tested by the famous fast-lipped rapper, but by his countryman, 24-year-old Pablo Carreno-Busta ranked #67 in the world. A solid player on the Challenger Tour who is having difficulties cracking the upper levels of the ATP.
Everybody including myself expects Nadal to have a far better 2016 than last year, but it has to be seen to be properly believed. Confidence can be a tricky thing on a tennis court, especially when other players treat you like you have a target on your back and start believing they might actually hit it.
Carreno-Busta had the belief that he could inflict harm on Nadal's game, that much was evident. He's tall, moves reasonably well and can both hit with spin and flat. And players willing to hit through Nadal without abandon has been his toughest opponents in the past.
It's also much easier for a player like Carreno-Busta to play his best game against a living legend like Rafa. He has nothing to lose and can go for the lines because he knows he needs to. And he did play his best tennis in the first set, winning it 7-6 after a close breaker where Nadal saved four set points.
But I think few people thought Carreno-Busta would sustain his game long enough for him to emerge the winner. Nadal didn't look like the Nadal of 2015, he was playing pretty well and he looked determined not to lose his first competitive match of 2016.
And that's exactly what happened. He broke his countryman twice in the second set and won the third set 6-1. it showed promise for things to come. He was tested, but came through in vintage Rafa style.
Later today Nadal plays Haase (shouldn't be a problem) and Djokovic faces Verdasco (potentially interesting).
Random thought around Rafa's gear: Is Nadal using the Pure Aero with the FSI string pattern or his old Babolat Aero Pro Drive Original? He tried the Pure Aero last year, got more power with it, but in the end opted not to use it due to lack of control. Interesting to see if he goes back to that frame in 2016 or stays with the tried and tested. My guess is that he will use the original and if he isn't happy with his results after Roland Garros, he will use the Pure Aero with the FSI string pattern for the second half of the year.