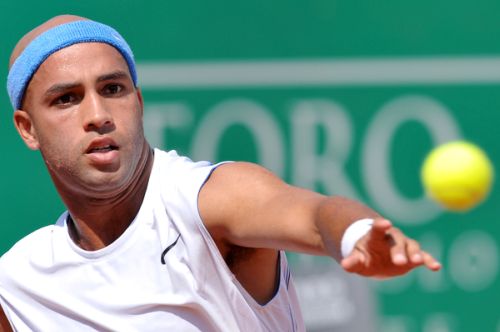 Found this on erikzona.com: James Blake. One of the most exciting players on the ATP tour. Explosive power, great personality, sportsmanship, fantastic returns and a killer forehand. Always positive. Always going for the lines.
He sure is exciting, James, but not so much anymore. Yesterday he played a miserable match against Denis Istomin and lost 3-6 0-6 after making tons of unforced errors. No wonder James has been talking about retirement.
What goes through his head there when he tries to make a winner on every other shot? Why doesn't he change his game plan? Just hit the ball in with some depth is sometimes good enough to win matches.
I think he dreams of the kind of tennis he could play a couple of years ago, when he reached Masters finals and won tournaments. But the game has changed and there are too many players today that will punish you for that all-in approach. A guy like Denis Istomin, maybe not the most exciting player on tour, but very competent, is bound to punish that kind of play and then you need to adapt, to change it up. Blake sometimes seem to lack that extra gear.
A player in that kind of funk that Blake is in is interesting in his own right, although it may sound sadistic. You see him on court, battling with himself, and you really hope he can get his game together. I have my doubts about Blake, he seems very pessimistic about his own chances and you have several players who fell out of the game completely after a while like for example Gaston Gaudio. But on the other hand you look at Ivan Ljubicic who was pretty much down and out when he suddenly popped up and won a Masters title.
Hopefully we will see Blake rise to the occassion and play his old game again. He will likely never win a Masters title, but it would be nice to see him at least win a couple of matches here and there.
Good luck James! Stay positive!