What professional players use and endorse are two different things. Grigor Dimitrov endorses the Wilson Pro Staff 97S, but uses a different racquet. What?
Baby Federer. That's what we used to call him, the stylish Grigor Dimitrov, with strokes that looked eerily similar to the great Swiss champ's. But along the line and the years, something happened. His style didn't change, but his results were "unspectacular" if you will. Brilliance mixed with mediocre. Seemed to get tight when closing out matches. There was the famous meltdown in Turkey in May this year where he broke a couple of racquets and in an embarrassing manner forfeited the match in anger against Diego Schwartzman.
Pressure and disappointment was getting to him, so he needed to start afresh. One step of the way was to hire Berdych's old coach Daniel Vallverdu. Step 2 was to, after numerous racquet changes, go back to his 93 inch Wilson pro staff with 18×17 string pattern. And voila! Suddenly he is playing well again.
Wilson must be a bit tired of giving him new racquets to test out however. Lots of work was put into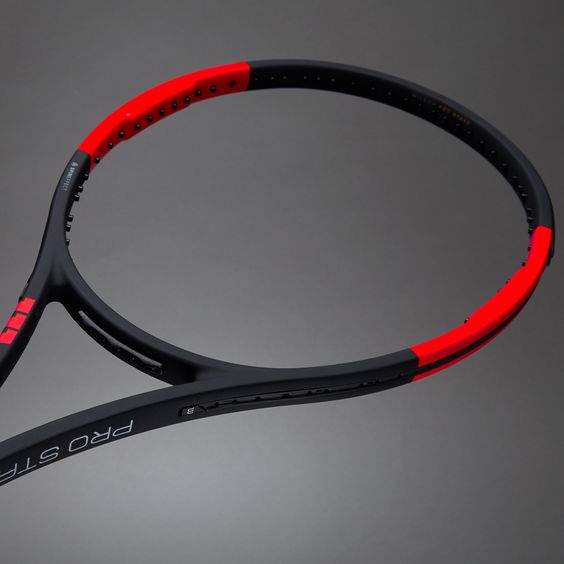 releasing his signature model, the thin-beamed and relatively flexible Wilson Pro Staff 97S
, but he didn't end up using the racquet himself for very long and went back to his more trusted 93-inch (that's not in stores and never has been). He might get less power with that one, but you can already see that he's more comfortable taking the ball on the rise with confidence and he's attacking more frequently now. Maybe it has some to do with the racquet, maybe it's all in the head.
Buy Dimitrov's Gear at Tennis Express.
What are Dimitrov's racquet specs then? Well, he used to play a relatively head-heavy spec with (like most pro's) a hefty swing weight.


The pics above are from prostocktennis.com where you can actually buy Grigor Dimitrov's actual racquet.
Grigor Dimitrov racquet specs:
Head size: 93 sq. in. / 600 sq. cm.
Length:27 in. / 68.6 cm.
Strung weight:12.5 oz. / 353 gr.
Strung balance:329 mm
Stiffness:60
Grip size:L4 (4 1/2)
Grip type:Wilson Leather + Overgrip
String pattern:18 Mains / 17 Crosses
Paint:Pro Staff 95S
Silicone:No (Epoxy filled by Wilson Pro Room)
Lead:No (At least not visible)
Those specs and a 93-inch head are not exactly retail friendly specs which would make the racquet a rather hard sell. The Wilson Pro Staff 97S is more user-friendly, but still made for a relatively small user group:
Strung Specifications for the Wilson Pro Staff 97S.
Head Size: 97 sq. in. / 625.81 sq. cm.
Length: 27in / 68.58cm
Strung Weight: 11.5oz / 326.02g
Balance: 13.18in / 33.48cm / 3 pts HL
Swingweight: 325
Stiffness: 66
Beam Width: 19.5mm / 19.5mm / 19.5mm /
Composition: Braided Graphite
Power Level: Low-Medium
Stroke Style: Full
Swing Speed: Fast
Racquet Colors: Black/Red
Grip Type: Wilson Leather
String Pattern: 18 Mains / 17 Crosses
Mains skip: 8T,10T,8H,10H
One Piece
No Shared Holes
String Tension: 50-60 pounds
His strings were (I don't know the latest configuration – players are more keen on testing new strings than new racquets):
Mains – Wilson Natural Gut 17 @ 25.0 KGS (with a 15% pre-stretch)
Crosses – Luxilon 4G 17 @ 24.0 KGS
If you want to get a the Wilson Pro Staff 97S or other tennis supplies, check out the online shops below.
***
Do you like Tennisnerd? Don't miss a word or video by stalking us on social media. Every like and follow is appreciated!

YouTube
Instagram
Twitter
Facebook Page
Amazon Influencer
Buy tennis gear
EU
Racquet Depot
Pro Direct Tennis

USA
Tennis Express
Do It Tennis
Amazon.com
Racquet buying guides
Here is a great racquet buying guide to get you started.
What tennis racquet should I buy?
Top tennis racquets to buy right now
The Gear of the Year 2017
The Gear of the Year 2016
Tennis racquets for juniors
Tennis racquets for kids
Popular posts
What the ATP pros play
Questions about pro stock tennis racquets
Is a pro stock racquet better than a retail one?
Do professional players change racquets?
Racquet Commitment Issues