HEAD is releasing their Graphene Touch line across all racquet models and this time it's the Extreme line that gets the treatment with HEAD Graphene Touch Extreme MP.
The HEAD Extreme line has always felt like a push towards Babolat Pure Drive and Pure Aero
sticks with a user-friendly, powerful response. I was particularly impressed by the HEAD IG 2.0 Extreme Pro racquet
 which pretty much had everything you're looking for in a tweener racquet and still was rather comfortable. In general the whole HEAD IG (Innegra) line was a hit with their more traditional feel, but obviously the game is changing and Graphene is their way to introduce more stability/stiffness into their racquets.
I previously wrote about the HEAD Graphene Touch series in this post and they've also launched the Graphene Touch Adaptive which allows you to customize your racquet with different string pattern, length and lead inserts (this is nothing revolutionary however, Donnay and other brands have tried this before with limited success).
So what is new in the HEAD Graphene Touch Extreme MP? Well, a couple of things:
Wider spacing in the string bed, supposed to give more spin.
Lower stiffness (64 compared to 66)
360 Grommet system with larger, funnel-shaped grommets to promote greater string movement (to create snapback = power and dwell-time).
Here's a video of me hitting with the HEAD Graphene Touch Extreme MP.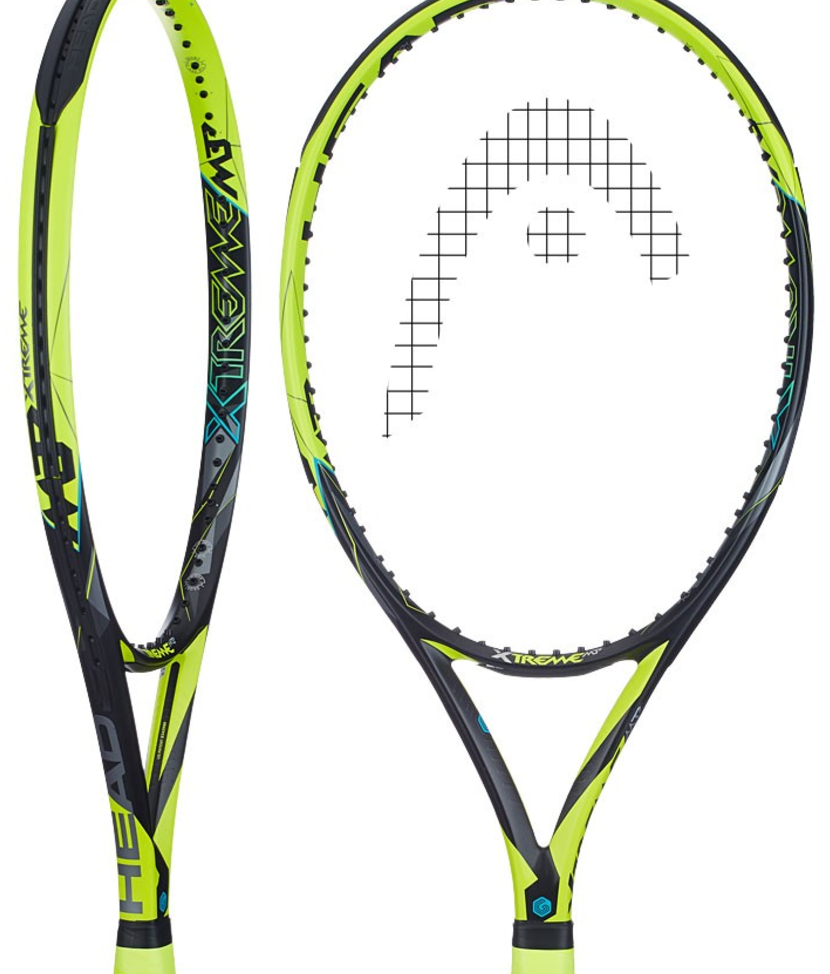 How does it play?
The HEAD Graphene Touch Extreme MP is a powerful beast. With a relatively high swing weight, despite the low static weight this racquet packs a lot of heat. Actually so much heat you need to make sure you get ample spin on the ball for it to stay within the lines.
The racquet feels kind of like a toy in your hand (and in a way it also looks like one) which made me want to play "ping pong tennis" instead of use my so called kinetic chain to generate power. This is one of the points I've tried to make many times and that's that a powerful racquet can harm your technique because even poor stroke mechanics can create a powerful shot. It's not as easy to start arming the ball with a heavy and flexible racquet.
But my own personal preferences aside, for a typical "tweener" racquet, the HEAD Graphene Touch Extreme MP
was quite a nice experience. It was remarkably stable on volleys, pretty easy to serve with and could generate massive top spin on the ball. If you have flat strokes however this racquet would be difficult to control.
What I also noticed was some arm discomfort after only two hours play with the racquet (the racquet was strung with co-poly strings at 23 kg)! This is a reminder that you can't only look at stiffness ratings when deciding whether a racquet is comfortable or not. RA 64 strung is not a high stiffness rating by today's standards, still I felt ache in my arm afterwards and before I went to sleep at night. I haven't felt arm pain in quite a while so this was unsettling.
This is why I would urge you to really try this racquet before you buy it. HEAD has long been synonymous with classic-feeling and arm-friendly racquets, but with the introduction of Graphene they've done their best to move into a territory that mostly Babolat and Wilson has fought over. So far I haven't hit a single Graphene racquet that has impressed me, perhaps despite the HEAD Graphene Radical Pro, which was a nice, modern stick.
The HEAD Graphene Touch Extreme MP is a fun racquet to play with and could be an excellent choice if you're looking for power and spin, but if you have arm issues, this is a racquet I would stay away from. Compared to the HEAD IG Extreme Pro 2.0, which I think is an excellent racquet that is still relatively comfortable, the Touch Extreme MP is a bit too harsh for my liking.
The HEAD Graphene Touch Extreme MP has the following (strung) specs:
Head Size: 100 sq. in. / 645 sq. cm.
Length: 27in / 68.58cm
Strung Weight:11.2oz / 317.51g
Balance: 13.12in / 33.32cm / 3 pts HL
Swingweight: 325
Stiffness: 64
Beam Width: 23mm / 26mm / 23mm /
Composition: Graphene Touch/Graphite
Power Level: Low-Medium
Stroke Style: Medium-Full
Swing Speed: Medium-Fast
Racquet Colors: Black/Yellow
Grip Type: Head Hydrosorb Pro
String Pattern: 16 Mains / 19 Crosses
Mains skip: 7T,9T,7H,9H
Two Pieces
No Shared Holes
String Tension: 52-62 pounds
Racquet buying guides
Here is a great racquet buying guide to get you started.
What tennis racquet should I buy?
Top tennis racquets to buy right now
The Gear of the Year 2016
Tennis racquets for juniors
Tennis racquets for kids
Places where you can buy the HEAD Graphene Extreme MP and other tennis racquets.
EU
Racquet Depot
Pro Direct Tennis