The HEAD MxG series is a new line of powerful racquets with an interesting bridge design. Tennis legend Goran Ivanisevic was recently seen using the HEAD MxG during an exhibition.
Tennisnerd recently reviewed the HEAD MxG 3
and 5 (read the HEAD MxG review here) and we were positive towards the racquets, although they did pack a little too much power for our own personal taste. Rafael Nadal actually came to the same conclusion when he was testing the HEAD MxG
during the off-season and he decided to stick with his Babolat Aero Pro Drive Original (read more about what Rafael Nadal is actually using in this post). But him just testing the MxG racquet shows that HEAD had grand plans for their new racquet line. Nadal in the end decided to add more lead tape to the hope to increase the power of his forehand, but I'm sure the MxG will find some fans and if you need more weight to the racquet you can always customize it to your liking.
On the tennis forums there have been pictures of tennis serve legend Goran Ivanisevic playing an exhibition with the HEAD MxG racquet. I'm personally surprised by this since this is far off the HEAD Prestige Classic 600 he used to play with, but the game of tennis has changed since those days.
This is a pic posted on TW forums by handle "mpournaras":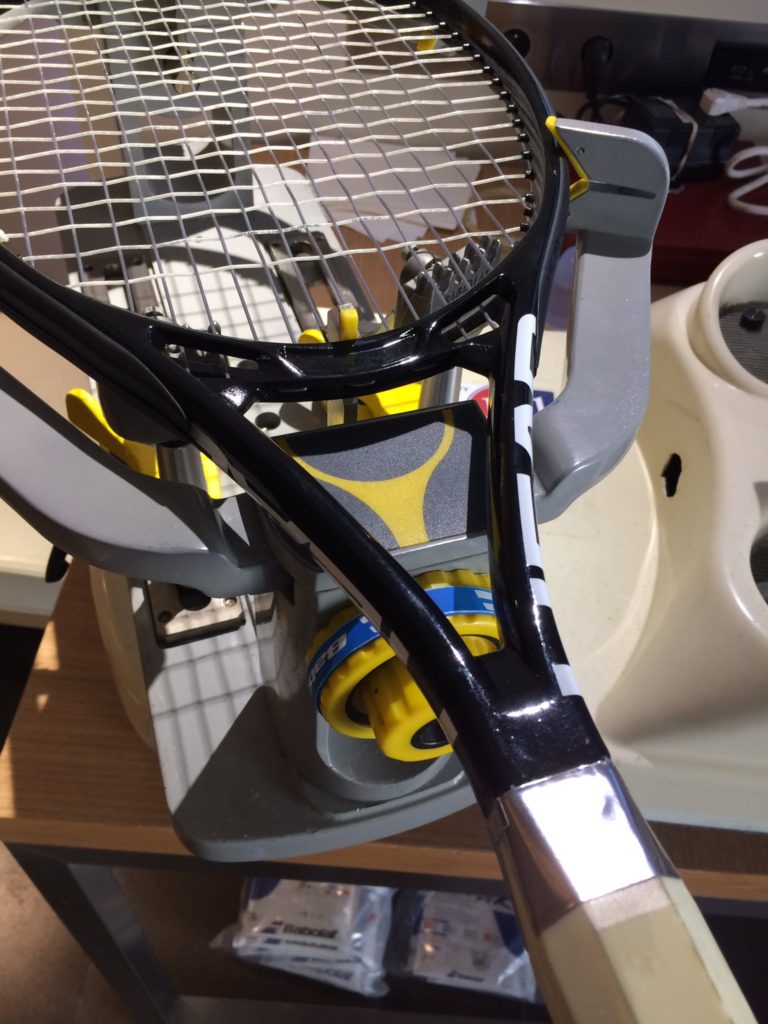 It seems like Ivanisevic is also trying out the new HEAD Primal string
that was specially designed for the HEAD MxG racquets. I have yet to test the string myself, but it is supposed to be a hybrid that takes some of the harshness out of the HEAD MxG – which is a rather stiff racquet.
You will also notice in the picture the generous amount of lead tape
that Ivanisevic has applied (I mean his racquet tech has applied) to his HEAD MxG. I didn't try leading up the HEAD MxG racquets myself, but I'm sure they would have played even better with some lead in the handle and at 3 and 9 to increase the stability and the comfort of the racquet. After all, 295 grams unstrung is a very good starting point for customization and this is where most pro stock hairpins weigh before they are modded to the players' liking.
Seeing ex-professionals such as Ivanisevic playing with more modern racquets is nothing new. Pete Sampras, who was an ardent user of a heavy, heavy Wilson Pro Staff 85
(St Vincent) has been seen using a Babolat racquet and there are other ex-professionals commenting on how much easier tennis would have been with a lighter racquet with a larger racquet face. Being a traditionalist isn't always the right choice, sometimes new technology is simply too good.
On the other hand you have plenty of ATP professionals (read this post to know more about the racquets of the current ATP Pros) using much older models. I've previously mentioned Andy Murray, Tommy Haas, Pablo Cuevas, Gilles Simon and a bunch of other players using the PT57A/E – a pro stock tennis racquet based on the 20-year-old Head Pro Tour 630.
Is a pro stock racquet better than a retail tennis racquet? (Click the link to read a post about the subject). The answer in short: no. Most pro's use variations of retail racquets and there is no special magic in a pro stock tennis racquet.
Should you check out the new HEAD MxG racquet? Why not? If you're looking for more power in a pretty cool package, it sure can do the trick for you. Beware of using a stiff co-poly string however, I think a hybrid such as the HEAD Primal
will be the way to go.
Places where you can buy the HEAD MxG and other tennis racquets and gear:
EU
Racquet Depot
Pro Direct Tennis
USA
Tennis Express
Do It Tennis
Amazon.com
Racquet buying guides
Here is a great racquet buying guide to get you started.
What tennis racquet should I buy?
Top tennis racquets to buy right now
The Gear of the Year 2016
Tennis racquets for juniors
Tennis racquets for kids