Argentinian ATP player Leonardo Mayer was in the spotlight again after a tough season yesterday when he beat top-seed Albert Ramos-Vinolas in Hamburg. What racquet does he use?
Mayer's season has so far been in stark contrast to for example 2015 when he was as high as number 21 in the world, but he can play really good tennis when he's in solid form and his one-handed backhand can be a joy to watch. Like so many Latin-American players he's most comfortable on clay courts and the surface in Hamburg seems to suit him just fine.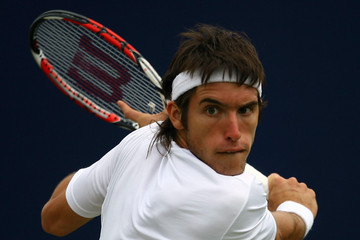 Mayer is currently endorsing the Wilson Burn FST
racquet, but what is really underneath the paint job is the legendary Wilson Six One 95. I'm not exactly sure which generation, but if I would guess based on hearsay, it is the K-factor one as you can see in the picture to the right (also note the lead tape
, that is not present on more current pics of his racquets). His choice of strings I'm not sure about, but I would tip my hat towards Luxilon Alu Power
.
There are a lot of players using the Wilson Six One 95 on tour in various different paint jobs:
Juan Martín del Potro 18×20 TITLES: 19 SGL 1 DBL
Roberto Bautista Agut 18×20 TITLES: 4 SGL
Philipp Kohlschreiber 16×18 TITLES: 7 SGL 7 DBL
Leonardo Mayer 18×20 TITLES: 1 SGL 1 DBL
Thomaz Bellucci 18×20 TITLES: 42 SGL 1 DBL
Lukas Rosol 18×20 TITLES: 2 SGL 3 DBL
Kyle Edmund 18×20
Daniel Evans 18×20
Dušan Lajovic 18×20 TITLES: 1 DBL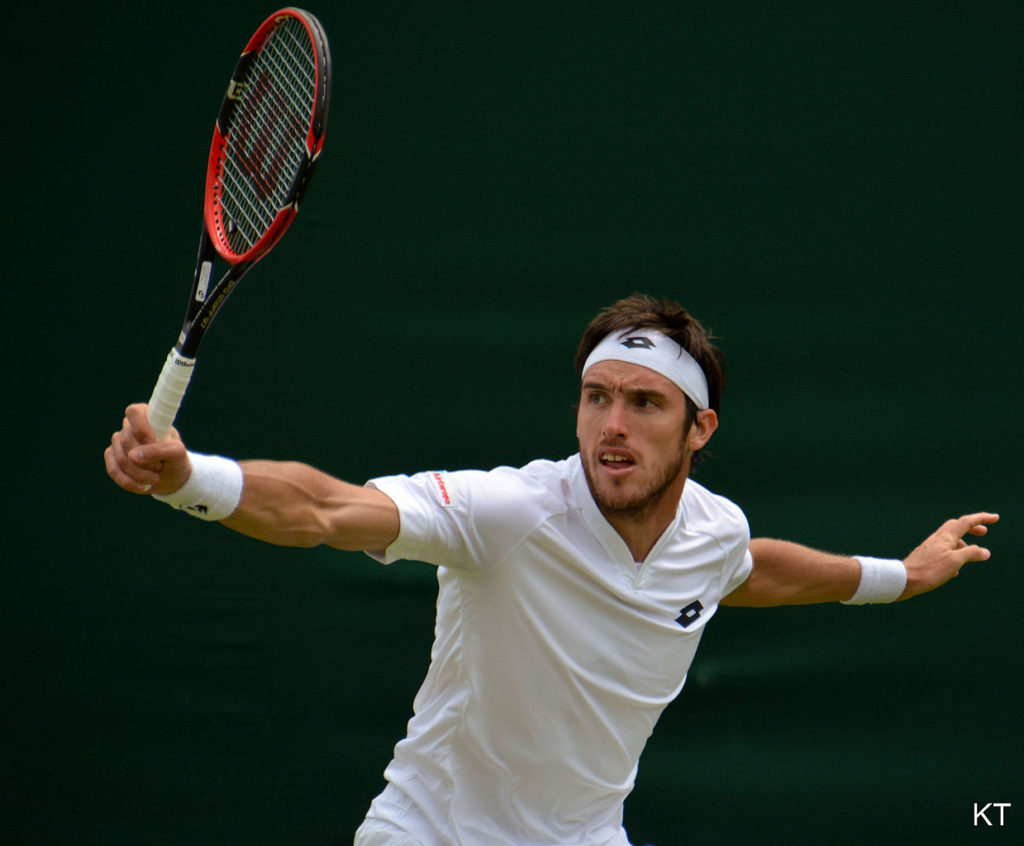 Buy the Wilson Six One 95 and other tennis racquets and gear at one of our affiliates:
Europe
Racquet Depot
Pro Direct Tennis
Amazon.co.uk
USA/CANADA
Tennis Express
Do It Tennis
Amazon
If you want to know more about tennis racquets and what racquets to buy for your game and so on, don't hesitate to ask or check out one of these articles:
Racquet buying guides
Here is a great racquet buying guide to get you started.
What tennis racquet should I buy?
Top tennis racquets to buy right now
The Gear of the Year 2016
Tennis racquets for juniors
Tennis racquets for kids