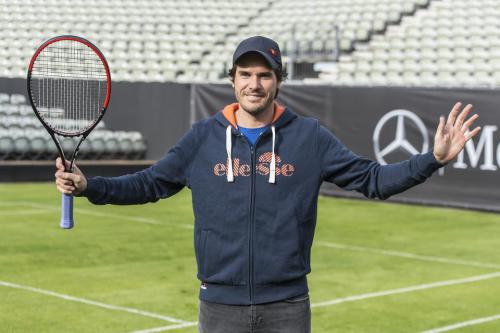 Yes, Tommy Haas is back on the tour after a year absence due to injury. [Why Haas has struggled so much with injuries over the year is hard to know, he sure seems to have a playing style and technique that's ideal for not getting injuries, but some bodies are just more injury prone, I guess.] Anyway, today he played and won his first match in a year at the Mercedes Cup in Stuttgart against Kukushkin 6-4 7-5.
Will be interesting to see how the 37-year-old does against the 22-year-old (yes, he's still THAT young) Tomic in the next match. They're both good grass court players so should be interesting.
The difficulties with playing on grass was something 18-year-old Borna Coric got to witness first hand in his 6-2 6-0 loss against Troicki today. It was his first competitive match on the surface and it showed.
Another player who's more comfortable on the green stuff is Baghdatis. He beat ex Wimbledon Nadal-destroyer Rosol to set up a match with…Nadal. Nadal has a tough first singles round on his hands, that's for sure.
Next: How you play well on grass.