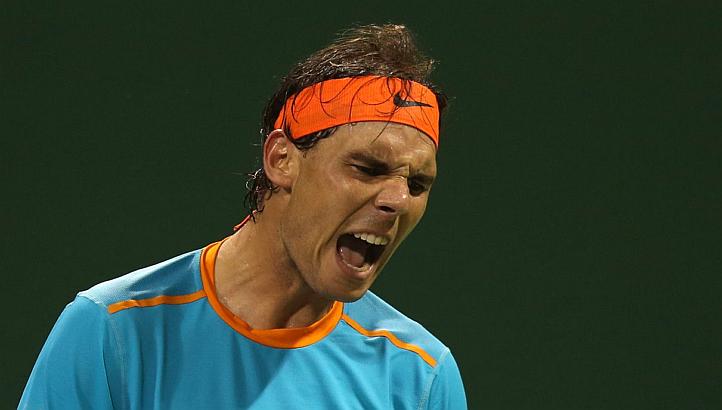 I'm sorry about the over-dramatic headline, but I obviously want you to read the post.
Today Rafael Nadal played his first match of 2015 and his first match since his appendix surgery in November. He faced Michael Berrer, number 127 in the world rankings. Berrer is a leftie who hits hard off both wings, but is usually far too sketchy to be a threat to a player of Nadal's calibre.
I tuned in to the third game and saw Nadal up 2-0 and 30-0. He played a bunch of pretty remarkable points and it looked just like the good old days – hooking crazy banana forehand winners like this one:
I logged out of the stream after Nadal won the first set 6-1. Tennis TV tweeted this:
Rafa #Nadal playing some superb #tennis in #Doha today. He takes the first set 6-1 against Michael #Berrer. pic.twitter.com/O6mc0hpLYW

— TennisTV (@TennisTV) January 6, 2015
"There is nothing left of this match," I thought, excited to see Rafa back in action. Although I'm more of a Fed fan (not terribly original, I know) the sports needs heroes like Nadal and he's always fun to watch.
But when I tuned in again sometime later to confirm the scoreline, Michael Berrer was serving for the match at 1-6 6-3 5-3. I had to check the score three times before I believed my eyes.
But suddenly Rafa had a few break points and it seemed like things would sort themselves out, kinda. But Berrer, who deserves credit, played cool during the break points and served well enough for Nadal hardly being able to return them inside the court. He fought of a total of three break points and when Nadal's return sailed long he had scored the biggest win of his career.
Rafa said of his defeat:
"These things happen after [a] long time without being on the road, being on rhythm, being in competition," said Nadal. "So I think I played a great first set [with] a lot of winners with my forehand [and] no mistakes."
He is right, of course. He played an amazing first set for not having played competitively in a while, but still, I don't think this would have happened three years ago. He's simply a veteran and a legend in the game now and like Federer he won't be spectacular all of the time. His body has taken too much over the years and you have to remember that he started on the ATP Tour as a 15-year-old. So, I'm sure he will be back to fight for more trophies, especially on clay, but I doubt him dominating a year like he did in the past.
Let's see how things play out. But I want to end with Rafa's point of view, because I think that's the one that matters. Because only he can know how his body feels and how hungry his mind is. The ability is there – that we know for sure.
"There is risk," said Nadal (about coming back from injury). "You can see all the comebacks from a lot of players when they were injured from long time. The comebacks are tough; I'm not an exception.

"At the end, that's the sport. I'm going to work hard to try to make it less tough as possible, but my motivation and my hunger to keep doing the things well [are] still the same. I am sure that I'm going to come back to my best. I hope to be soon."
We hope so too, Rafa.