What is Rafael Nadal's tennis racquet? Nadal endorses the Babolat Pure Aero but plays with an AeroPro Drive Original painted to look like one.
Rafael Nadal's tennis racquet is not what a lot of people will tell you it is. Rafa endorses the Babolat Pure Aero racquet
 but actually uses the Babolat AeroPro Drive Original that he strings with Babolat RPM Blast strings
. Like I've written about so many times before, what you see on TV is not really what the tennis pros actually play with (except for in some rare cases, like with Roger Federer's tennis racquet. The pro players are most often using pro stock racquets in various paint jobs. If you want to find out what racquets other ATP pros actually use…read this post.
So why is Rafael Nadal's tennis racquet painted like the Babolat Pure Aero? Well, because Babolat want to sell more racquets and selling a more than ten-year-old model is not really feasible for them (or other brands in the tennis industry). So instead they do what most racquet companies do these days, keep producing the Aero Pro Drive Original for Rafa, but paint it like the latest model.
Check out the racquet Nadal endorses (the Babolat Pure Aero) at our affiliates Tennis Warehouse, Tennis Warehouse Europe and Tennis Only.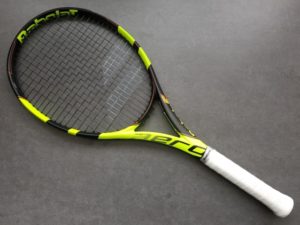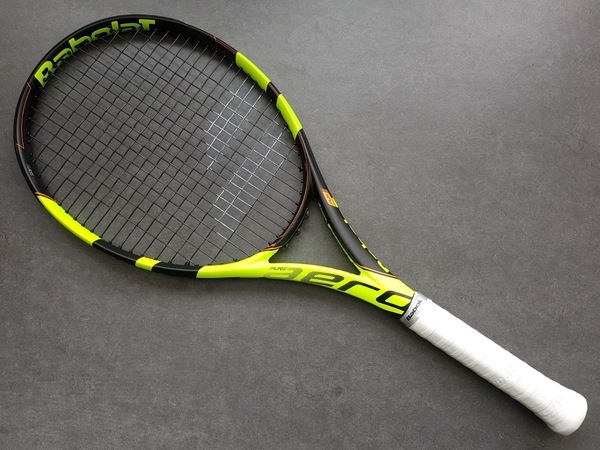 Rafa did try to play with the Pure Aero
model (or at least the similar FSI string pattern) for a few tournaments while he was struggling, but he didn't get the results he was looking for and didn't completely trust his shots with the added power that the Pure Aero is offering. So he went back to the Aero Pro Drive Original.
Rafael Nadal's Tennis Racquet – The Specs
If you ask the tennis gear lovers at forums like TTW, you'll get detailed answers like this (from poster "Romain", but it's hard to know for sure. What I do know for sure is that Nadal over the years has kept adding more weight to his racquets to increase power and stability. Ways you can add weight and customize your racquets include adding lead tape
to the frame, there is also so-called balancer tape from Babolat
 that includes tungsten and not lead (which can be poisonous, so wash your hands when using it!).
– Babolat Aero Pro drive 2005 (4 1/4) in Pure Aero 2019 paint
-17g lead: 12g at 12 and 5g in the handle
– Babolat Syntec Pro Black + Babolat Vs Original White
– Babolat Custom Damp
– Balance Strung: around 335 mm
– String: Babolat RPM blast 1.35
– Racquet weight strung: 340 grams (including dampener and overgrip).
Rafael Nadal normally wear Nike shoes, a market leader in sports shoes for basketball and volleyball and other sports.
How do you feel about this? Do you feel cheated because the racquet companies aren't upfront with what their top players are playing with? Or is this just marketing and we should let it go? Let me know in the comments.
Rafael Nadal's list of tennis gear
Babolat Pure Aero Play edition

Babolat RPM Blast

Nike Lunar Ballistic Tennis Shoes

Nike Men's Challenger Rafa
tennis shirt
Nike Men's Summer
tennis shorts
Babolat Pure Aero tennis bag
Some general info about Rafael Nadal:
BIRTHPLACE

MANACOR, MALLORCA, SPAIN

RESIDENCE

MANACOR, MALLORCA, SPAIN

PLAYS

LEFT-HANDED, TWO-HANDED BACKHAND

COACH

CARLOS MOYA AND TONI NADAL