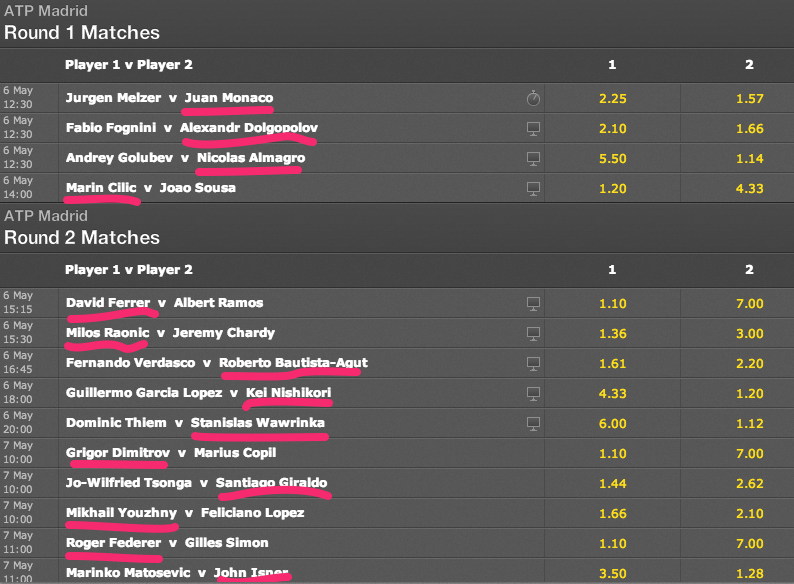 Screenshot and odds taken from Bet365. My picks in offensive pink.
So what to say about today's matches? There are definitely, like in most Masters, a couple of exciting ones early on.
Fognini vs Dolgopolov is definitely a real crowd-pleaser. Both have been playing well lately, but Fognini has had some mystical results which speaks of injury. But with Fognini you never know, sometimes he simply doesn't show up.
Dolgopolov has been making decent use of his talent in 2014, but he's still a typical yo-yo player who sometimes goes for brilliance instead of points. Still, he's my upset pick to win this match.
That's the big one for today.
Tomorrow we'll have a flashy encounter between talented youngster Thiem and world number 3 Wavrinka. I think Thiem could take a set, but not more. Wavrinka is together with the obvious choice Nadal my favourite to win the tournament.
If you're looking for upsets, I think the brilliant clay-courter Bautista-Agut could do some damage against Verdasco. Tsonga hasn't impressed this year, while Giraldo has – so that's another good one.
The rest is pretty much straightforward. Hats off to Nishikori who I think has the made the most impressive improvement in 2014 and who seems rock solid these days.