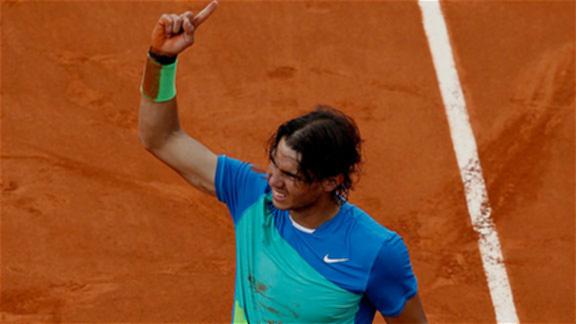 It was a strange third day of the French Open 2011. It started with clay court demon Nicolas Almagro being able to close out Lukasz Kubot and exactly like his fellow former top ten player Berdych lost a match although leading by 2-0 in sets. It's hard to see where Almagro will go for here, but he can't seem to get it together in the slams. It it some kind of mental fitness problem?
Then another strange thing happened. Sam Querrey, who haven't been able to put a foot right all year, managed to beat competent clay courter Kohlschreiber in four sets. The three last ones Querrey one quite convincingly. You would start to think something was up here, at least with all the talk of the faster balls.
To add insult to injury (at least for the clay courters), here came John Isner against Nadal with the big American being up two sets to one and looking almost unbreakable (on serve).
There was talk about another upset, but when Nadal took the fourth set convincingly, most people had the feeling that in tie-break-free fifth set he would come out on top. Which he did, making the final score 6-4 6-7 6-7 6-2 6-4 and in the process playing his first five-setter at Roland Garros (!).
Lucky loser, Ryan Harrison, fought well against two-time finalist Soderling, but lost in four in the end, in what must be said was a decent day for the Americans.
On the women's side the big upset was Ana Ivanoic who lost to up-and-coming Johanna Larsson 6-7 6-0 2-6. Good stuff from the Swede, but a really big question mark on one-time French Open champ Ivanovic.
Last but not least the tennis world says goodbye to Patty Schnyder who played her last tour match today, losing 1-6 3-6 to hard hitting Sorana Cirstea.