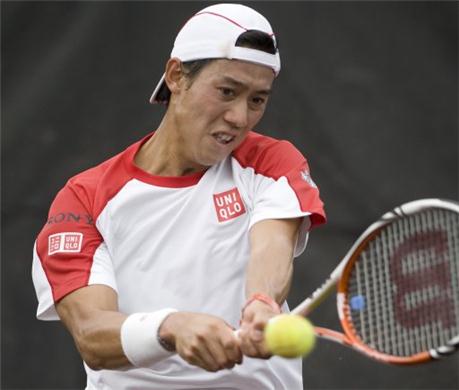 Today I'm cheering Kei Nishikori in his ATP Rome Masters first round match against Gael Monfils.
A few thoughts the early Rome action. Let's do it kinda bullet form to make it easier to read (and write) – I'll call it "My Take On Tennis: (date)"
Verdasco beat Raonic 6-4 6-4 yesterday after "trash-talking" him last time they played. He basically said that Raonic is all serve and if he could play him on clay it would be a different story. I think that was a really stupid thing to say, although it does make for decent publicity, because Raonic has since showed that he's a lot more than serve. But Verdasco was right that on clay it would be slightly different, especially now that he's started to play decent tennis again.
At the time of writing Gilles Simon is beating the shit (excuse my French) out of Andy Roddick in Rome. The Frenchman looking ready to take on the clay in his home country and the American looking ready to go…home.
I thought Spanish Pere Riba was a big talent, but he's finding it a bit tough on the tour. But being born in 1988, he's still got some time on his hands.
Tough match to predict today: Potato Starch, yes I need to get over his name, (Potito Starace) playing yo-yo player Dolgopolov. Two steamy-heads in an exciting clay match-up. Dolgopolov has better hands, but Starace's forehand might do big damage on a good day. I'll say Dolgo in two tight sets.
Slightly out of shape (meaning chubby) Xavier Malisse is playing Garcia Lopez in what could be a fierce encounter. Malisse can play tennis like a God, but also like journeyman and it's always hard to tell what kind of mood this shotmaker will be in. I'll go out on a limb and bet a Spaniard on clay (guts!).
Bagdahtis vs Tsonga? Tsonga.
That's it for now. Please comment on my picks or on something else. Let's get a discussion going.