Lucas Pouille is perhaps the shining star of the new generation of French players and are already ranked at 17 in the world. What racquet does Pouille use?
A lot of people wonder about Pouille's racquet, especially since Prince has lost a few of their sponsored players, Ferrer, Delbonis and a few others to Babolat. Why isn't a Frenchman like Pouille playing a Babolat?
His current racquet of choice is the retail version of the Prince TeXtreme Tour 100P, a racquet I've never tried, but heard many good things about. The Tennis Warehouse review wasn't bad and I am a big fan of the Prince TeXtreme Tour 95, as some of you might know.
These are Lucas Pouille's racquet specs according to a guy that sells his personal racquets on Stringforum. The racquets have the name "LucasHollywood" on them. They have also been available on prostocktennis.com
Head size: 100 sq. in
Length: 27 in.
Strung weight: 11.7 oz. / 334 gr. 
Strung balance: 315 mm 
Stiffness: 62 
Grip size: L2 (4 1/4) 
Grip type: Prince Calfskin Leather + Tourna Overgrip 
String pattern: 18 Mains / 20 Crosses 
Paint: Prince Textreme Tour 100P 
Silicone: No 
Lead: No (at least not visible) 
Pro stock code: Prince TC303C-100 7T42M 
Pro stock code printed in throat: Yes 
I have a hard time seeing a player that hits the ball like Lucas Pouille to be playing with those rather light specs. I would guess there would plenty of lead in the hoop somewhere, but with 334 grams strung weight it can't be much. Possibly the lead was removed before the sale, or Lucas really plays with those rather light racquets.
Pics from Stringforum member "Tom1″…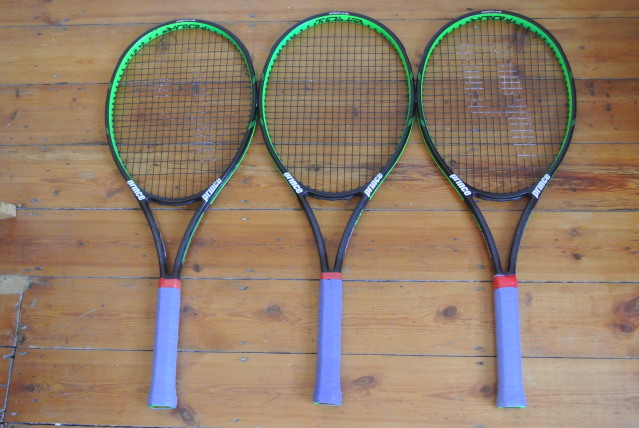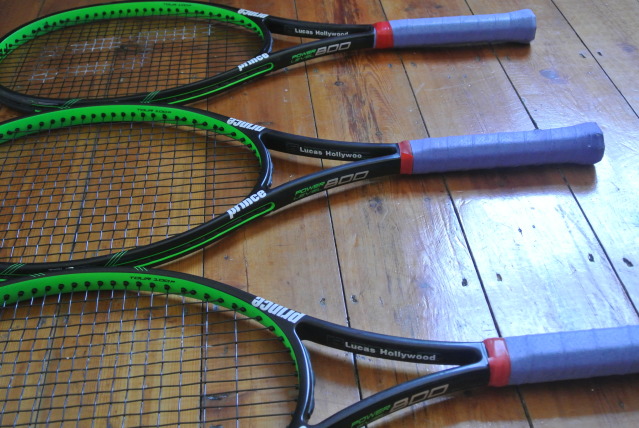 The retail specs of the Prince TeXtreme Tour 100P are:
Strung Specifications
Head Size: 100 sq. in. / 645.16 sq. cm.
Length: 27in / 68.58cm
Strung Weight:11.5oz / 326.02g
Balance:12.62in / 32.05cm / 7 pts HL
Swingweight: 321
Stiffness: 62
Beam Width: 22.5mm / 23.5mm / 21mm /
Composition: Graphite & Textreme
Power Level: Low-Medium
Stroke Style: Full
Swing Speed: Fast
Racquet Colors: Black/Green
Grip Type: Prince Resi Pro
String Pattern: 18 Mains / 20 Crosses
Mains skip: 8T,10T,8H,10H
Two Pieces
No Shared Holes
String Tension:45-55 pounds
Pouille strings it with Prince Tour XC
16L at 24 kg (depending on surface/conditions).
I'm keen on trying the Prince TeXtreme 100P
to see how it plays. If it's as good as the Tour 95
 I might make the switch! Have you played the Textreme 100p and what is your opinion of it? Let me know in the comments.
You can buy the new Prince Textreme racquets from our tennis friends:
Europe
Racquet Depot
Pro Direct Tennis
USA/CANADA
Tennis Express
Do It Tennis
Amazon