I think it would be more phonetically interesting if this racquet was called "Prince Pextreme Phantom Pro 100P", but pretty much every racquet released today is a mouthful when it comes to the title.
So what is the Prince Textreme Phantom Pro 100P
? A slight update of the popular Prince Textreme 100P
in cool, black design? Nah, this is actually provide some interesting differences.
First of all, the beam design is different. The Textreme Phantom Pro 100P comes with a CTS Beam, which goes from a thin 16mm in the shaft (for feel) to a thicker 20mm in the head (for power), which is in contrast to the Textreme 100P's more traditional 22.5mm / 23.5mm / 21mm beam. Also, the RA of the new Phantom Pro 100P is three points lower (RA 59! compared to RA 62) and a lot of racquetholics and tennis fans will be happy to see another new racquet with an RA below 60!
What Prince also has done for the Phantom Pro 100P is to increase the swing weight from the 100P 321 to the Phantom Pro 100P's 329 which I think is a move in the right direction since for a lot of players it won't need lead tape
to play stable.
Then we have the string pattern which was 18×20 on the previous 100P, but is now a spin-friendly 16×18. Suddenly the Prince Textreme Phantom Pro 100P sounds pretty much like a slightly stiffer (!) version of the legendary Exo Tour 100 with a different beam design.
Sadly, I haven't play-tested this racquet yet (I got my hands full with new strings and the Angell K7 Red at the moment), but the specs make me want to call up Prince and tell them: "Thanks!". Thanks for daring to release player- and arm-friendly specs that challenge and inspire tennis players of various levels to produce their own power. How are you supposed to improve your technique when you're playing with a rocket launcher? To me, it's much more natural to use your body to achieve more power and depth instead of your arm and swing to limit the power in your racquet. This is where elbow and wrist injuries are born.
So kudos to Prince for releasing this frame. I hope it is as good as it sounds on paper!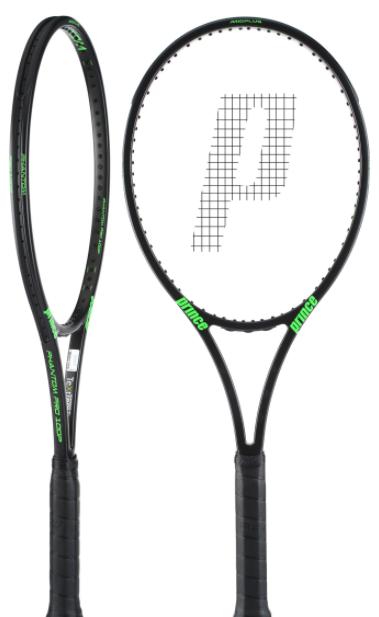 Strung Specifications
Head Size: 100 sq. in. / 645.16 sq. cm.
Length: 27in / 68.58cm
Strung Weight: 11.5oz / 326.02g
Balance: 12.79in / 32.49cm / 6 pts HL
Swingweight: 329
Stiffness: 59
Beam Width: 20mm / 18mm / 16mm /
Composition: Textreme/Graphite
Power Level: Low-Medium
Stroke Style: Medium-Full
Swing Speed: Medium-Fast
Racquet Colors: Black
Grip Type: Prince ResiPro
String Pattern: 16 Mains / 18 Crosses
Mains skip: 8T,8H
Two Pieces
No Shared Holes
String Tension: 45-55 pounds
What do you think of the specs of the Prince Textreme Phantom Pro 100P? Please comment below!
***
Do you like Tennisnerd? Don't miss a word or video by stalking us on social media. Every like and follow is appreciated!

YouTube
Instagram
Twitter
Facebook Page
Amazon Influencer
Buy tennis gear
EU
Racquet Depot
Pro Direct Tennis

USA
Tennis Express
Do It Tennis
Amazon.com
Racquet buying guides
Here is a great racquet buying guide to get you started.
What tennis racquet should I buy?
Top tennis racquets to buy right now
The Gear of the Year 2017
The Gear of the Year 2016
Tennis racquets for juniors
Tennis racquets for kids
Popular posts
What the ATP pros play
Questions about pro stock tennis racquets
Is a pro stock racquet better than a retail one?
Do professional players change racquets?
Racquet Commitment Issues