The Prince Beast Racquets are here! There has been rumours of racquet company Prince's demise, but they are definitely still around with new racquets coming out.
The Prince Beast racquets line consists of five different racquet models that range from 98-104 sq inches. The Prince Beast racquets line replaces the previous Prince Warrior line and will be endorsed by John Isner.
Here are the five Prince Beast racquets:
Prince Textreme Beast 100
How many 100 sq inch, 16×19 string pattern racquets are there on the market today? No idea, but lots of them! What does the Textreme Beast 100 bring to the table then? Well, it includes Twaron fibre, the famous material from the HEAD Pro Tour 630 racquets that so many racquet fans rave about. The idea with the aramid fiber (aramid fibers are also included in the Angell K7 Red racquet that I use myself) is to dampen the racquet without killing feedback. Racquet dampening has always been a huge thing for the racquet companies and today we have such technologies as Countervail (Wilson), Graphene Touch (HEAD), Black Micro Core (Yonex) etc etc.
Prince are usually known for flexible racquets such as the recently reviewed, Prince Phantom Pro 100P, but the dampening in the Prince Beast 100 might be more needed with a stiffness of 67 RA string. The racquet is similar to a Babolat Pure Drive, stiffer, has a thick beam (24/25.5/22mm) and weighs around 300 grams unstrung. When you string it up you usually end up on 315-320 grams depending on the spec you get and 6-7 pts head light balance. The swing weight is 322 so with some lead tape on the hoop, this could be a nice frame with decent stability for its weight class.
Who is it for? I would say this racquet fits quite a large category of players, but it's not for you who's looking for control and pinpoint precision.
Prince Textreme Beast O3 100
Okay, this is getting as confusing for the customers as the Prince Textreme Phantom series where there is a Phantom 100, Phantom Pro 100 and a Phantom Pro 100P. Too many similar models to me although it does give the discerning customer a platform to be specific.
So what's different here? Well, this racquet comes with O-ports which according to Prince:
– Increases sweetspot size by 54%
– Generates a livelier response across the entire stringbed
– Dramatically improves play for all player levels
– Gives higher swing speeds make it easier to increase pace and spin!
This is what Prince says. Racquets with ports actually do work to reduce the harshness of even a stiffer frame, but a lot of players find the feedback from the racquet a bit "mushy".
The beam width and weight is the same on this model as with the ports-free one. The swing weight is 315, balance is 4 pts HL strung and the stiffness is slightly higher (69 RA strung). Whether you like this one or the standard Beast 100 is depending on how you like the O3-ports or not.
Who is it for? Wide group of players of all levels. Got to gel with the O3 technology however.
Prince Textreme Beast 98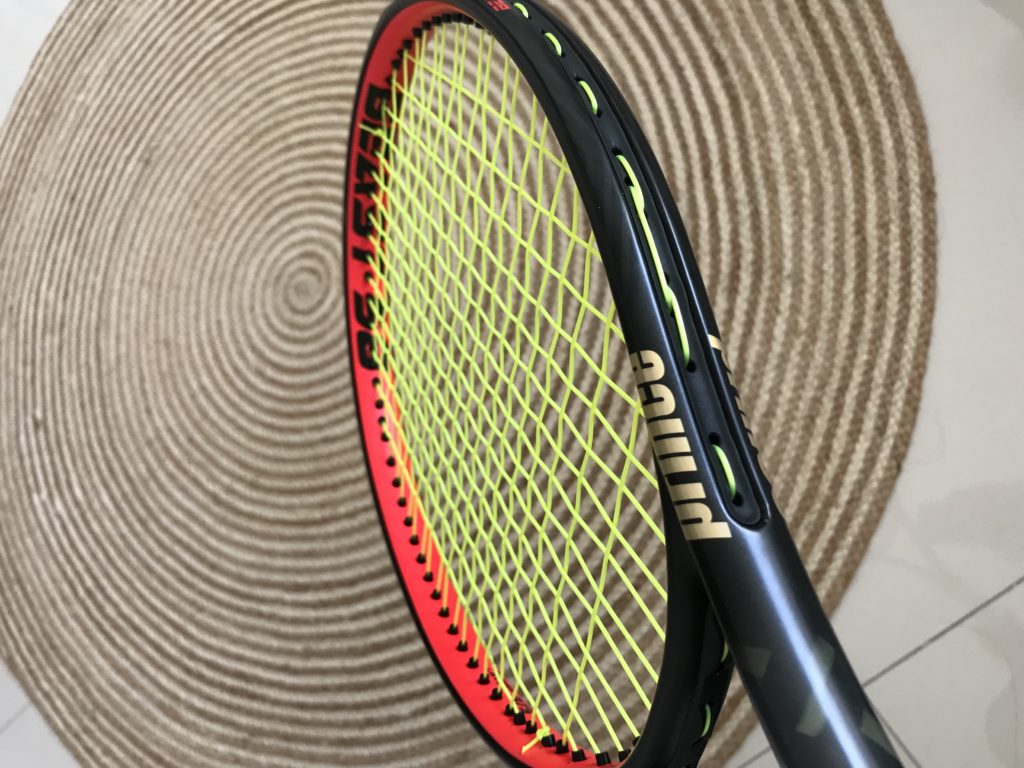 Another standard spec these days is the 98 sq inch, 310 grams unstrung, 16×19 string pattern and a stiffness around 64 RA strung. This sounds pretty close to the racquet I use and this is probably what I would gravitate towards from the new line of Prince Beasts. The swing weight of 325 also make me curious about how this racquet plays.
What would make me think twice about pulling the trigger on the Prince Textreme Beast 98 is the thick beam of 25/23/21 mm. I definitely prefer the thin, control-oriented beams of the Phantoms. This one will pack a lot of power.
Who is it for? Aggressive players looking for a little more control and heft/stability than in the 100 sq inch offerings. The thick beam might make it clunky for some.
Prince Textreme Beast 98 O3
Similar story here with the ports vs the non-ports model. The Prince Textreme Beast 98 O3 is slightly lighter (less mass with those big holes!), is slightly less head light but has a similar swing weight (326). Here again they have increased the stiffness to make sure the power is there despite the ports (69 RA). The beam has the same thick width 25/23/21 mm.
Who is it for? So here you get a more dampened version of the Beast 98. Which one you like depends on if you can get used to the O3 ports technology or not. The O3 will feel a little faster through the air.
Prince Textreme Beast 104 O3
Here's the intermediate to beginner version of the Beast line of racquets. Bigger head-size, lighter weight (285 grams unstrung), but the even balance still makes the swing weight 317 which gives the racquet decent stability. Not sure if this racquet would be very different from the Beast 100 O3 in terms of playability, but I'm sure some players want some extra sq inches on the head to magnify the sweet spot.
Who is it for? Beginners and intermediate players looking for a large sweet spot and a light weight racquet that is relatively easy to swing.
What do you think of the new Beast line from Prince? Which model would you be most keen to hit with?
***
Do you like Tennisnerd? Don't miss a word or video by stalking us on social media. Every like and follow is appreciated!

YouTube
Instagram
Twitter
Facebook Page
Amazon Influencer
Buy tennis gear
EU
Racquet Depot
Pro Direct Tennis

USA
Tennis Express
Do It Tennis
Amazon.com
Racquet buying guides
Here is a great racquet buying guide to get you started.
What tennis racquet should I buy?
Top tennis racquets to buy right now
The Gear of the Year 2017
The Gear of the Year 2016
Tennis racquets for juniors
Tennis racquets for kids
Popular posts
What the ATP pros play
Questions about pro stock tennis racquets
Is a pro stock racquet better than a retail one?
Do professional players change racquets?
Racquet Commitment Issues