I've been trying out the new line of Snauwaert racquet and strings including the Vitas 100 and the Grinta 98 racquet as well as the Black Beam and White Beam Strings and I want to give my impression of this re-release of the Belgian Snauwaert brand.
Snauwaert Grinta 98 specs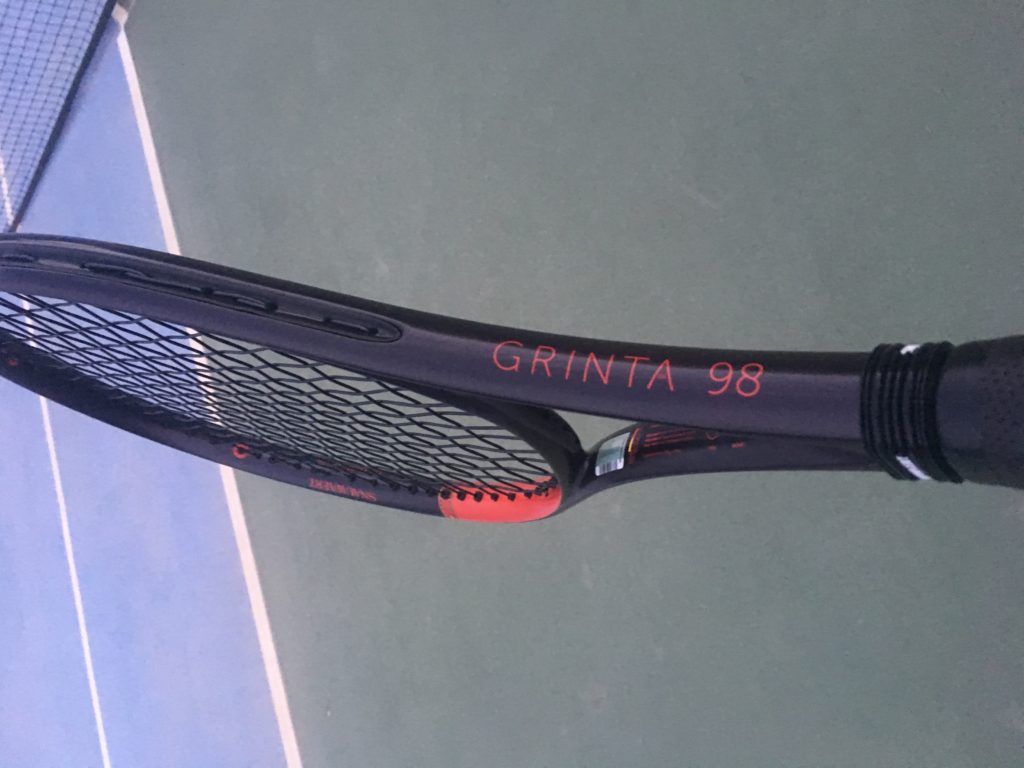 Length 27 in
Weight 315 g
Stiffness 65 RA
Headsize 98 sq.in. / 632 cm²
String Pattern 16×16
Balance 310 mm
Swing weight 290 kg x cm²
Spec-wise these are similar to for example a Yonex DR
or AI 98
, except for that the string pattern is even more open with something of a spin-effect like 16×16. And you really feel that extra spin straight away. However, if you're looking for a control-oriented racquet, I don't think the Grinta 98 is for you. This racquet gives you good power and spin and you need to really put some racquet head speed on the ball to control its flight.
I played the Grinta 98 with the Snauwaert Black Beam string and it wasn't a bad duo at all, although I think I prefer it with a Solinco Hyper-G
or Völkl Cyclone
string. I would also add lead at the 3 and 9, because it does feel slightly wobbly at time, especially when you don't hit in the sweet spot. However, when you do, it is a really nice feeling racquet.
I do think it reminds me quite a bit in feel of the One Strings Spindeeper 14×19 that I was testing for a while (and still have for sale if you're interested). It's not arm-unfriendly at all, but what you need to watch out for is the power. It really does give you what it says: power and spin. I wouldn't recommend it to people looking for a classic feeling racquet or who wants to serve an volley.
The design of the racquet is pretty cool (Darth Maul) although the head shape with is kind of "triangular" can take some getting used to visually, but doesn't really impact play in any noticeable way.
Vitas 100 specs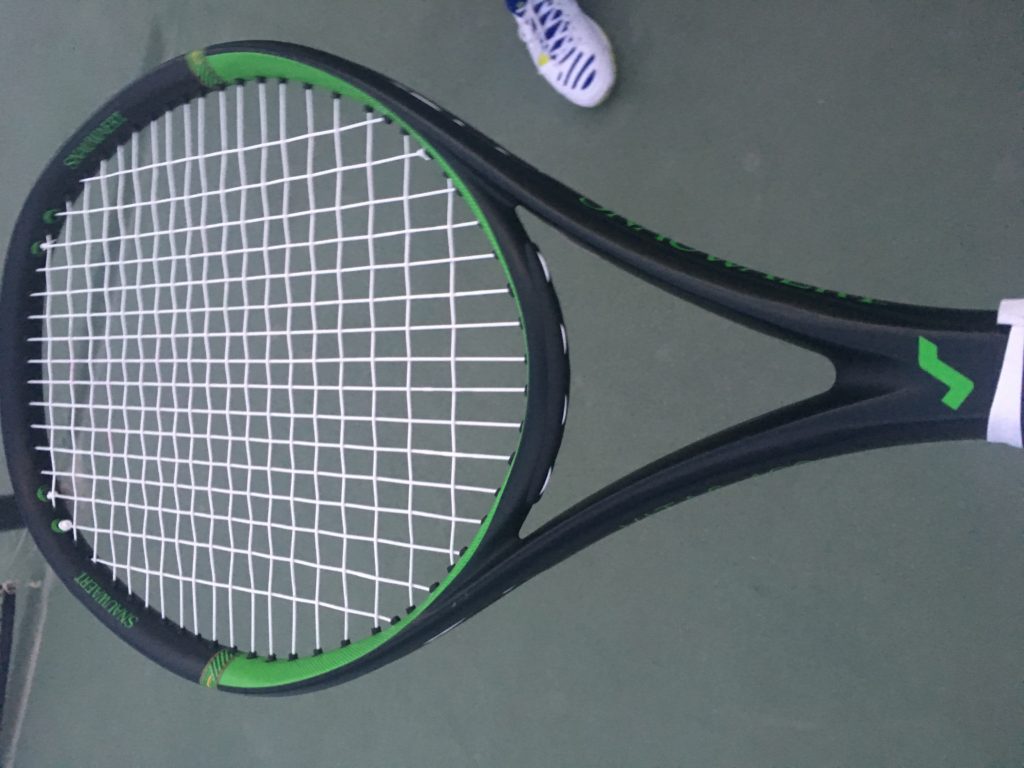 Length 27 in
Weight 300 g
Stiffness 71 RA
Headsize 100 sq.in. / 645 cm²
String Pattern 16×19
Balance 315 mm
Swing weight 285 kg x cm²
When companies want to create a "safe bet racquet", you could bet your salary that they're going for a Babolat Pure Drive
style rather stiff, 100 sq inch, 16×19 string pattern racquet. I've learned over the years that such a racquet has a large following for a reason (infectious blend of power and spin with a LARGE sweet spot), but it's simply not for me.
The Vitas 100 is definitely very similar to a Pure Drive. I would say it feels slightly less solid, but what Snauwaert has worked well on is making you feel the sweet spot of the racquet. I think this racquet, as well as the Pure Drive, appeals to a large audience. Players who wants a big margin for error and might not have the full strokes of more advanced players (hence they need the extra power). I found the racquet to be perfectly decent but had a little trouble adjusting to the Snauwaert White Beam strings. In a racquet like this I would go for a softer poly like Solinco Tour Bite Soft
, Luxilon 4G Soft
or Weisscannon Silverstring
.
I think both the Vitas 100 and the Grinta 98 played well and commend Snauwaert for doing a decent job. Like I said, they wouldn't be my first choice for control-oriented players or those who like to serve and volley, but for aggressive baselines they stand up pretty well to the competition. I much preferred the racquets over the strings, which I didn't gel with a hundred percent. The Black Beam felt a bit springy and slippery and I lacked a crispness that I think does the racquets more justice. The White Beam was soft, but had similar flaws and didn't give me the confidence to hit the Vitas all in.
I wouldn't say these are bad strings in any way, but compared to the vast choice of today's tennis industry, I'd easily find a number of strings I prefer.
Summary
First of all I want to give kudos to Snauwaert for relaunching their brand and producing well designed and interesting products. The demo kit included two decent racquets, three sets of strings that I personally didn't gel with and a can of balls which I must say was my favourite of the bunch! They had a nice, softish feel and good durability.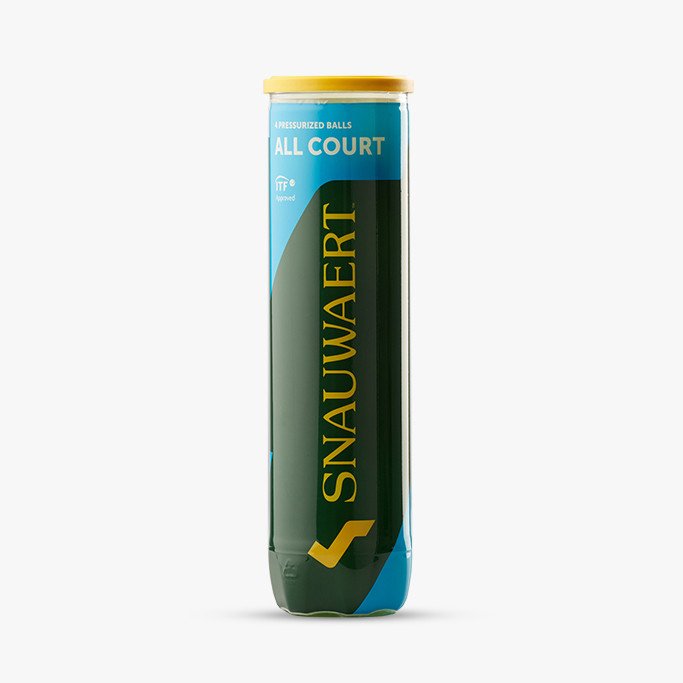 What I would have liked to personally see from their line-up of racquets was a flexier, potentially 95-inch racquet, but I realize that those things are becoming a thing of the past. The racquets they had felt modern and fast and should stand up well in comparison to quite a few racquets out there today. They were not my favourite modern racquets out now, but definitely a viable choice. The strings I didn't enjoy quite as much, but the balls I give thumbs up.