I had heard so many good things about pairing my Tecnifibre Tfight 315 ATP Ltds (16×19 string pattern) with natural gut mains and poly string in the crosses that I simply had to try it. My usual setup is with my favourite poly string Solinco Hyper-G 16L
at 22 kg, but if you're a gear nut you will want to test just for the heck of it. The Tecnifibre Tfight 315 ATP Ltd
has many times, in my view correctly, been compared to the famous Head PT57A pro stock (as used by Andy Murray, Gilles Simon and many, many more pro tennis players) or Head Pro Tour 630, racquets I've previously owned in different iterations, and the PT57A with its low stiffness rating is definitely butter with natural gut in the mains and poly crosses.
So I ordered a set of Babolat VS Touch Natural Gut in 1.35 mm gauge
(the longer life you can get out of a natural gut string, the better). It is by no means not a cheap string, no good natural gut string is, but if you want maximum comfort, tension maintenance and feel, you don't have many better options. Since I play with a decent bit of top spin I don't want to go all natural gut and the question was then what string to put in the crosses. I've previously tried Babolat RPM Blast
 (hybrid set
) and Luxilon Alu Power Rough
(Wilson Champions Choice
) and I did like them both, but I was worried that for example the Luxilon Alu Power Rough saws into the gut string too much (as shaped and textured strings will do) and I'm not a huge fan of RPM Blast after which I feel die after like eight hours of play. I didn't even want to try the Solinco Hyper-G in a hybrid because it's basically going to murder the gut in no-time, so I went with my second poly string choice – the RS Lyon.
HOW LONG WILL IT LAST?
I strung the Natural gut in the mains at 26 kg and the RS Lyon at 24 kg. Yesterday I hit played a pretty tough two-hour match against a pretty equally matched player + a 15 minute hitting warm-up and this is the result of the string bed in my Tecnifibre Tfight 315: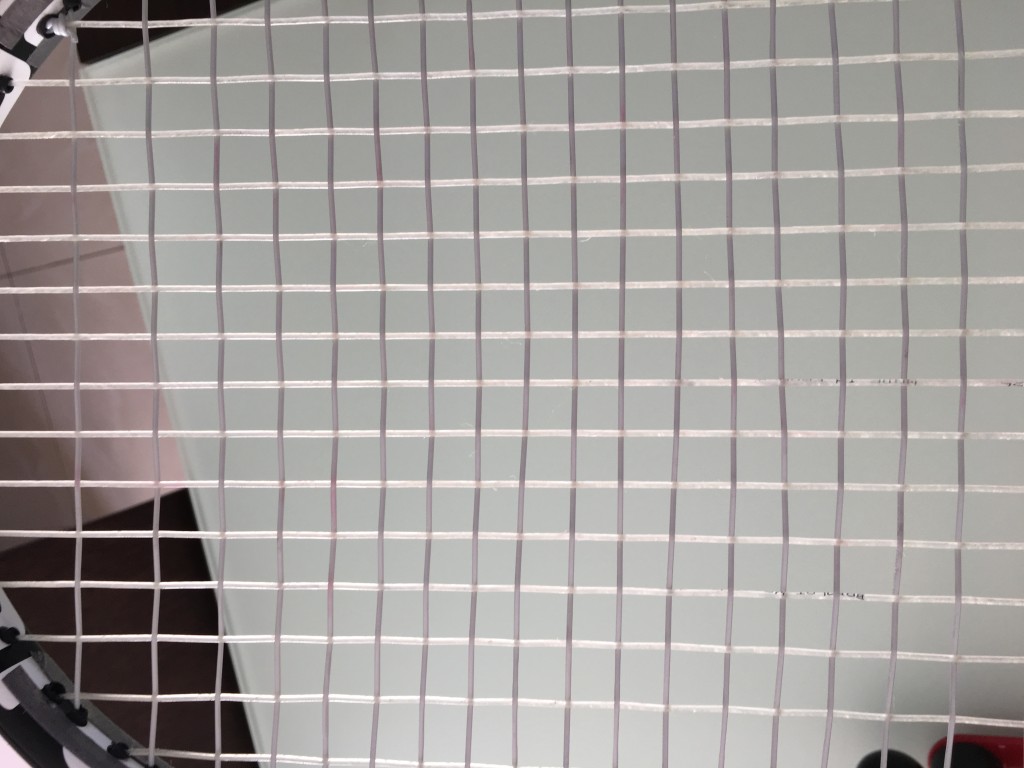 Pretty decent, right? There is one or two notches that showed up after only the 15 min warm-up: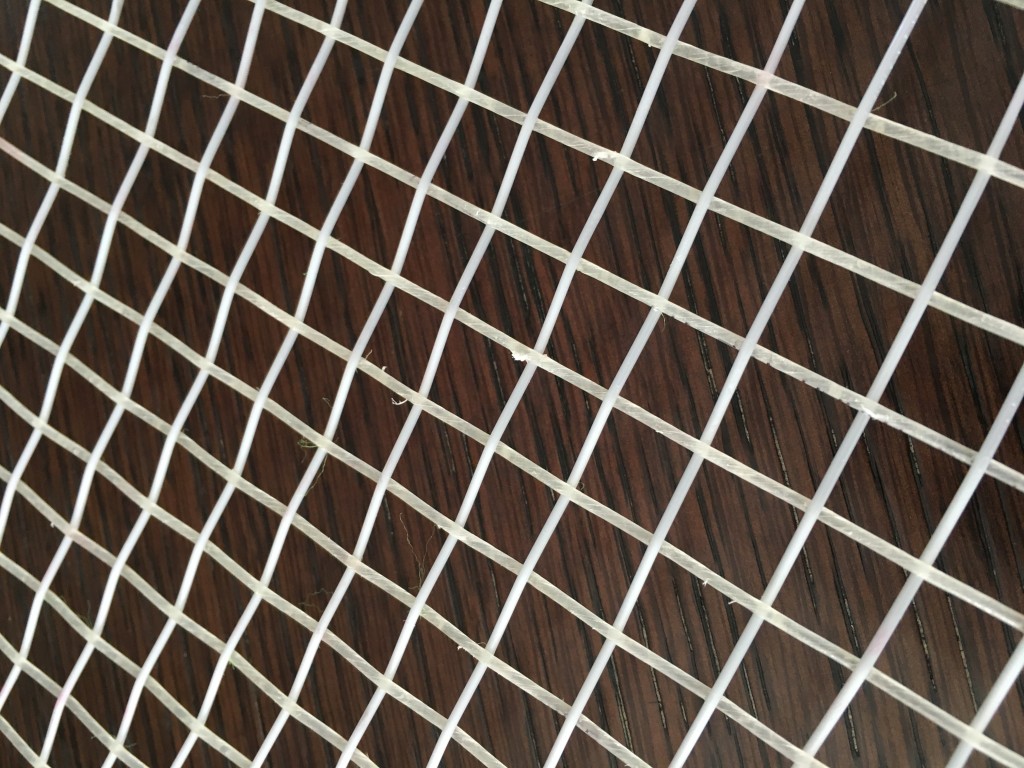 But otherwise the string bed remained relatively unharmed. I want to add that I didn't use coconut oil or any lube to extend the life of the gut. It came straight from the stringer.
I will now keep track of how long it lasts and updated this post with information on the durability. I'm pretty confident though that if you don't hit the ball very hard or with a lot of spin, you'll get great lifespan out of this string.
---
HOW DID IT PLAY?
Like I already mentioned before, you get a fantastic experience from a natural gut string
(also as a hybrid). You really feel how the ball sinks into the string bed and how the string snaps back into place after a hard shot. You get a little bit more power and I really feel my slice a lot better than with my go-to poly Hyper-G. The spin wasn't as massive with a shaped poly (but it is close – so don't be afraid you'll suddenly go all flat), but I don't need a massive launch angle on my shots anyway and I did feel I got great control from this setup.
It was simply two very enjoyable hours of tennis that the hybrid of Babolat VS Touch
and RS Lyon gave me and I hope I will get a few more hours before it snaps. I truly recommend to at least treat yourself to a set of natural gut strings once because if you hybrid you will be able to string two racquets or one racquet twice (duh). It's not cheap, but it really gives your tennis that premium feel and you end up being even more jealous with guys like Andy Murray or Roger Federer who gets freshly strung hybrid sets for each training session and match.
Recommended!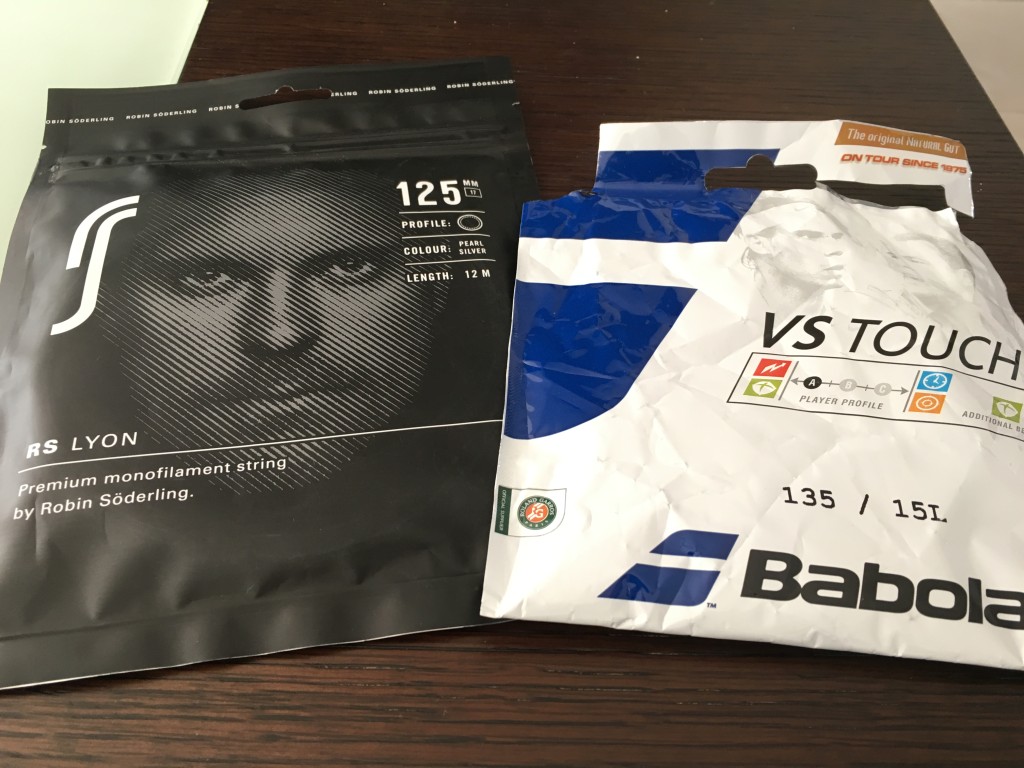 My lead and string set up right now in my Tecnifibre Tight 315s.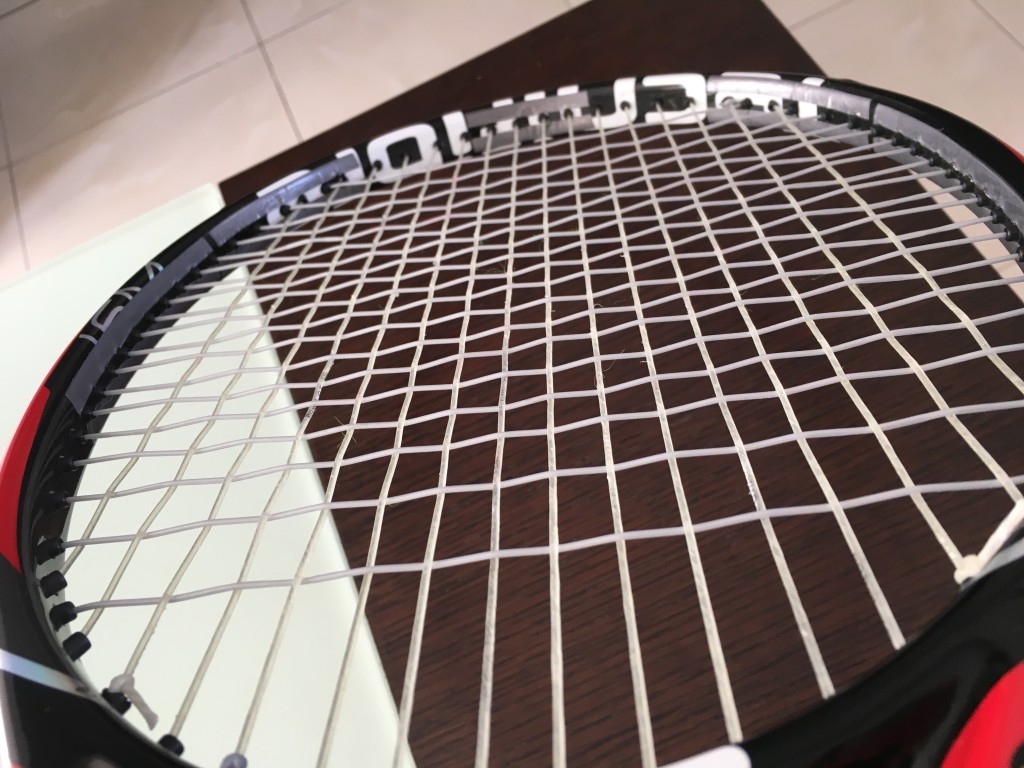 Buy Babolat VS Touch Natural Gut string at Tennis Express or from some of our other affiliates: