Was an exhibition in Abu Dhabi against Novak Djokovic that lasted 44 minutes and ended up with the scoreline 2-6 1-6 in the Serbs favor. It was Federer's first match since he won the ATP World Tour Championships and he mishit quite a few balls badly, likely due to a rusty racquet.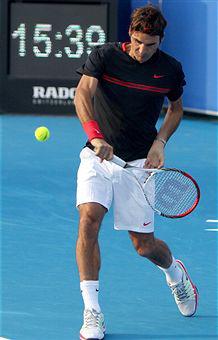 Talking about his racquet, he was playing with the new paint job (as seen in the picture). The model called Wilson Pro Staff Six.One 90 BLX will soon be available for order at all major tennis retailers and I'm seriously considering ordering one through TennisExpress as soon as it becomes available. Just to have in my bag to remind me of the mighty Federer!
I'll still have an easier time with my Head Prestige Pro but the Federer racquet sure is nice to hit with sometimes. A true scalpel!
Going back to Federer's last performance of the year, I'm sure we'll see him in better shape come Grand Slam and The Australian Open. So fellow Fed Fans, don't read anything into this performance.
Ps. If you're readying this on the 30th, tomorrow Federer plays Nadal in the third round match of the Abu Dhabi exhibition tournament. Might be well worth a watch! Ds.