It's been a strange couple of days in the tennis world. Yesterday I saw one of my tour favorites, Grigor Dimitrov, beat both his cramping legs and his opponent, world number 1, Novak Djokovic in a three setter: 7-6 6-7 6-3 in the second round of Madrid Masters. Djokovic was hitting the ball well but twisted his ankle after a rally in the end of the second set and that could possibly have hampered him. You can't take away anything from Dimitrov though, he was spot on in all respects and deserved the win.
It would be very strange if Dimitrov isn't in the top ten by the start of 2014.
Someone who didn't deserve what was given to him was French player Thomas Drouet who got headbutted by Bernard Tomic's father, John Tomic, during a practice session with Bernard.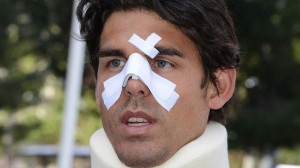 This is how Drouet describes it at tennis.com: "Bernard told him [John] he was tired of hearing his crap. I didn't interfere as it's been said here and there. After, John destroyed three racquets: Bam, bam, bam. A half-hour later, he was joking with Bernard."
Drouet also talks about seeing Bernard being hit by his father: "I witnessed it. A club coach was also there and saw everything," Drouet said. "He hit him in the head with his fist. Bernard bled from the mouth around the lips and teeth. Blood was dripping on to the court."
Why John Tomic decided to hit Drouet still seems to be a mystery. The man himself claim it was self-defense, but why Drouet would attack John Tomic, should be even more of a mystery. Bernard came to the hospital to apologize on his father's behalf and this is how Drouet describes it:
"He told me: 'I'm sorry. He went too far, it's over. I don't want him to come to tournaments anymore. Bernard has been a victim of his father forever. Many times, I've heard Bernard tell John he didn't want him on the court. After that, it's difficult for Bernard because he's only known this way of working. He's a hostage and he's developed Stockholm syndrome."
Shocking and sad stuff. You can only hope that Bernard is freed of his father's violence and that John Tomic is banned to ever get near a tennis court again. Damn you crazy sports parents, stop screwing up your children's lives.
Asshole John Tomic: