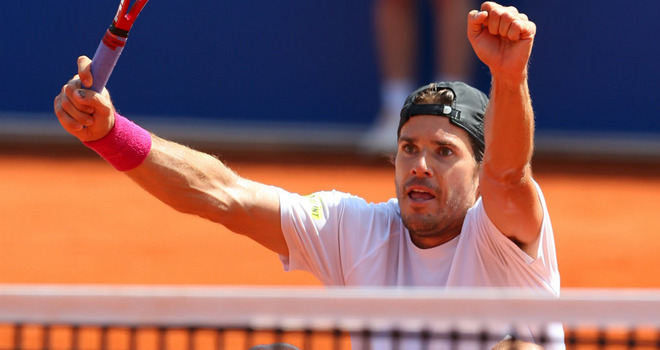 Last year 35-year-old ex number two in the world (2002!), Tommy Haas, came back to win the headlines with his rise up to nr 15 in the world. This is how the ATP World Tour website summarizes his year:
2013 — The oldest player in Top 20 and top German reached QF or better 11 times during year, highlighted by titles in Munich (d. Kohlschreiber) and Vienna (d. Haase). Finished in Top 12 for 1st time since '07…At 35, oldest winner since Santoro in Newport in '08. Also runner-up in San Jose (l. to Raonic). Oldest in year-end Top 20 since No. 7 Agassi (35) in '05…In Grand Slam play, compiled 9-4 record with 1st QF at Roland Garros (l. to Djokovic) and has reached QF at all 4 Slams in career. Also 4R at Wimbledon (l. to Djokovic), 3R at US Open (l. to Youzhny) and 1R at Australian Open (l. to Nieminen)…Reached 8th career ATP Masters 1000 SF at Miami (d. No. 1 Djokovic in 4R, l. to No. 5 Ferrer)…Also SF in Delray Beach, Halle and Washington…Records of 28-13 on hard, 14-6 on clay and 5-2 on grass…
As you can see it was quite a year for a player whose long career has been plagued by injuries. But at the age he's in it will require some serious fitness and mental stamina to keep it up as the tour keeps getting tougher. Although I'm a fan of Haas playing style and his quite "complete" set of skills on the tennis court, I was hesitant heading in to the 2014 season if he could keep it up.
So far it hasn't been all bad, but not that good either. He's currently ranked 19 in the world with a win-loss record of 11-9 and no titles to his name so far. Still, he is a fighter and will keep on fighting and maybe he'll have a week also in 2014 where everything comes together and he'll win another title. I'm doubtful at this stage, but I'll never count him out. Right now, for example, he has just won the first set 6-1 against Seppi in Rome.
Here's a feature from 2012 about Tommy Haas.
Keep up the good work, Tommy.