I thought it would be interesting to delve into some lesser known brands and first off is the German ski manufacturer Volkl (Völkl) who once created the still great Volkl C10 Pro.
Volkl has been a bit of a "background" brand in the tennis history but they do make high quality products. I was a user and a fan of the Volkl Powerbridge Mid 10, a flexible and fast frame with great feel. I got to be honest I haven't been keeping up-to-date with what Volkl is producing currently but regarding endorsements they still have Nicolas Almagro who is endorsing the Volkl V-Sense 10 Tou
r and doubles star Jean-Julien Rojer who is endorsing the Volkl V-Sense 8 315
.
Volkl has recently done like pretty much everyone else in the tennis industry and moved towards stiffer racquets (arguably they have created a more varied selection of racquets, including stiffer AND more flexible frames) and I think the risk is that they get completely lost in the market place since racquets from the different providers are very similar. If I was running Volkl, I'd probably focus on more traditional arm-friendly racquets (I call them player racquets at times, but this might no longer be the case when you look at the next generation of tennis players) which is more of a niche demographic, but a growing one with the increase in tennis elbow and other injuries.
Besides racquets, Volkl also produces one of my all-time favourite strings, the Volkl Cyclone
. It's a crisper poly string with fantastic control and spin properties for a very healthy price. It used to be my go-to-string before Solinco Hyper-G
came onto the market and is still top 5 of my most-used strings together with RS Lyon and Head Hawk Touch
.
Volkl Tennis is started its journey already in 1923 in Straubing, Germany (close to Munich) but the production of tennis racquets started in the 1970s as you can see in the infographic below.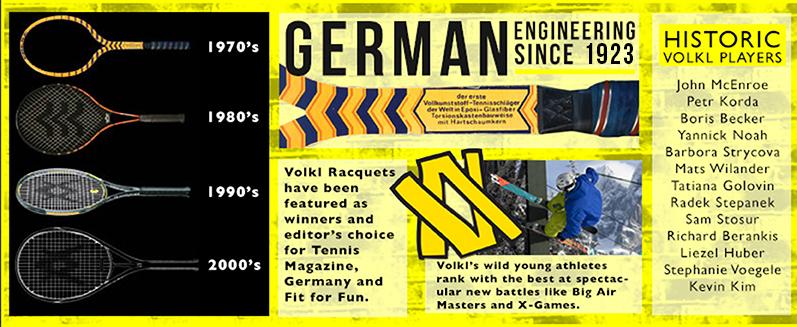 Have you used Volkl racquets or strings? What do you think about their products? Please comment below!
Racquet buying guides
Here is a great racquet buying guide to get you started.
What tennis racquet should I buy?
Top tennis racquets to buy right now
The Gear of the Year 2016
Tennis racquets for juniors
Tennis racquets for kids
Buy Volkl racquets and other tennis gear.
EU
Racquet Depot
Pro Direct Tennis
USA
Tennis Express
Do It Tennis
Amazon.com
Do you like Tennisnerd? Don't miss a word or video by stalking us on social media. Every like and follow is appreciated!

YouTube
Instagram
Twitter
Facebook Page